Down-Home Delights
Live jazz music, low lights, white linens ... and baby-back ribs that prompt a furtive finger-licking?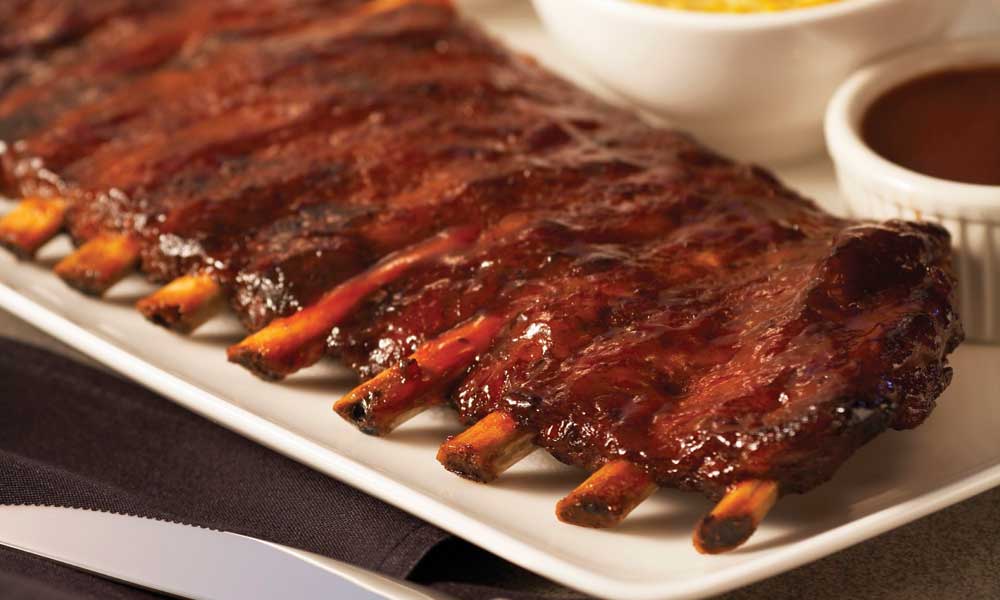 Live jazz music, low lights, white linens … and baby-back ribs that prompt a furtive finger-licking? It may not be the usual fine-dining experience, but head to Delta's Restaurant and you'll find food so tasty that it would be bad manners not to savor every last bite—no matter how messy. This is Southern cuisine migrated north to New Brunswick, without losing any of its flavor and flair along the way.
The tri-level space, with its exposed brick walls, makes Delta's roomy and yet intimate. Seated at a top- floor table, we were able to survey the entire scene while nibbling warm corn muffins with maple butter and scanning the menu.
It didn't take us long to be intrigued by the novelty of fried gator. While gator may sound exotic, the actual taste isn't over-the-top— think chicken only chewier. The meat was battered with a liberal amount of spices, fried to a golden crisp and offset with a creamy rémoulade. A different take in their own right, the Soul Folks Dump- lings were a delight. Combining the tastes of the South and the Far East, thin wonton skins were stuffed with a mixture of crawfish, collard greens, fennel and sweet potato. Served in a bamboo steamer with sides of soy sauce and spicy mustard, the dumplings were as much fun as they were tasty.
The Carolina BBQ Platter was an obvious entrée choice, with its sampling of barbecue chicken, fried whiting filets and those oh-so-yummy ribs. The half-rack was topped with a touch of sweet barbecue sauce, and the pork didn't need more than a dab—after marinating for 24 hours, the ribs were moist and tender on their own. So too was the chicken (given the choice, we opted for the dark meat), which simply fell off the bone. The whiting was a reminder of how good fried fish can be when done right: The batter added the right amount of crispness while letting the flaky filet's flavor shine.
The whiting made another appearance in our second entrée, served over jambalaya grits. The coarsely ground corn was studded with andouille sausage, peppers and onions, giving the dish all the spice of the traditional rice stew but with a (thankfully) lighter-in- the-stomach result. And that left us enough room to dig into the sides—each entrée comes with a choice of two, and selecting from the enticing options was a feat. A definite on our list: hush puppies. For the uninitiated, think of them as corn meal fritters, with a crunchy out- side giving way to a warm, fluffy inside. These were lovely—not greasy in the least and surprisingly airy. We chose veggies for the rest: Collard greens, string beans and okra stewed in tomatoes were fresh and fuss-free— not overcooked or overadorned.
After such a bountiful down- home spread, dessert seemed a bit of a stretch—but stretch we did, and without any regrets! A generous slice of red velvet cake was topped with a thin layer of cream-cheese frosting, which allowed the cake's cocoa undertones to take center stage. But the real winner was the sweet-potato cheesecake. Still sweet with a slightly savory bite, it hit the perfect final notes.
With our bellies full and our napkins dotted with barbecue sauce, all we could do was sit back contentedly and let the lively jazz music provide a fitting end to our vibrant feast.
Delta's Restaurant
19 Dennis Street, New Brunswick; 732- 249-1551; www.deltasrestaurant.com

Hours Tuesday and Wednesday, 5 p.m.– midnight; Thursday through Saturday, 5 p.m.–2 a.m.; Sunday, 1–8 p.m.

What you should know
Entrées range from $18 to $30
Reservations recommended
$5 martinis on Tuesdays
Live music Tuesdays, Fridaysand Saturdays
Major credit cards accepted