Down to the Bedside
Nurses excel at Saint Barnabas Medical Center, as its new magnet hospital designation shows.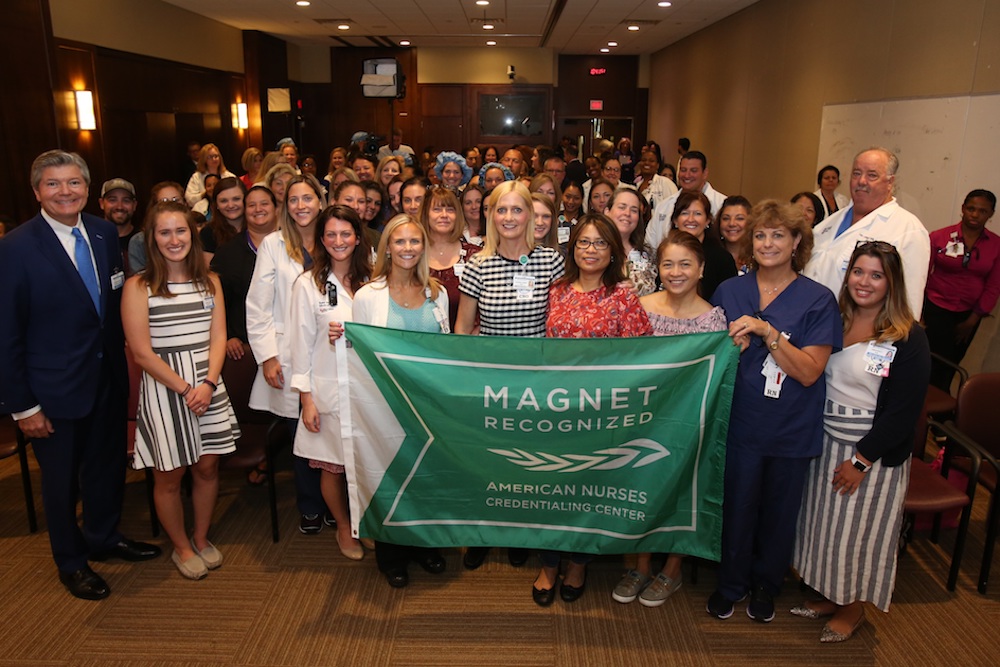 A MAGNET IS A POTENT METAPHOR— ask anyone who's ever seen iron filings scurry into position. In health care that metaphor describes a special kind of attraction: the way fine hospitals gather fine nurses and help them to be their best. This year, Saint Barnabas Medical Center has been honored by the American Academy of Nursing (AAN) as one of the 8 percent of institutions given a Magnet Hospital designation for the quality of their nursing.
In 1990, the AAN formed the American Nurses Credentialing Center (ANCC) and created the Magnet Hospital Recognition Program for Excellence in Nursing Services. The exacting standards required to earn Magnet recognition mean fewer than 10 percent of all hospitals in the nation are so honored each year.
"This is the gold standard for nursing excellence," says Jennifer O'Neill, DNP, APN, NEA-BC, chief nursing officer (CNO) at Saint Barnabas Medical Center. The ANCC is looking for organizations that demonstrate nursing excellence "by empowering front-line staff in decision making, having high-performing, transformational leadership teams and having outstanding quality outcomes, including nurse-sensitive indicators, such as falls, pressure injuries, central line infections and catheter urinary tract infections—things associated with day-to-day nursing care," she says.
The center also measures how long patients must wait to be seen in the emergency room—"We were rated 'exemplary' for emergency department measures," O'Neill says—and a healthy, positive work environment for the nursing staff. It considers the infrastructure of the nursing department and communication among staff, physicians and administration. The ANCC hopes to see that nurses are part of important committees and involved in decision making. It looks at community outreach efforts and for an environment that fosters professional development with perks such as tuition reimbursement and bonuses for specialty certification or for the professional development program Saint Barnabas Medical Center calls the "clinical ladder." All of this goes into making an institution a Magnet. "If we advance professionalism and education, it enhances the work environment, reduces turnover and improves patient outcomes," says O'Neill.
The award is "a validation of the great nursing care that is delivered here," says Gregory Rokosz, D.O., J.D., chief medical officer. "It is a very metric-driven recognition, one that is very difficult to achieve." As the physician leader, he and the other doctors know how valuable nursing care is. "Health care is a team sport," he says. "To reduce medical errors, we need great communication between the doctors and nurses. That translates to better and safer patient care."
The medical center decided to strive for the honor in 2015, a year after O'Neill was named CNO, and tapped Deanna Paxos, MSN, RN-BC, CNL, director of Clinical Excellence and Innovation, to spearhead the effort. "A significant amount of work goes into this," O'Neill says. By 2017 they were ready to tackle the more than 2,000-page application. "We wrote the application in four months, which is unheard of," she says. "It took a real team effort at all levels to write and edit the document, meet its requirements, and also to collect the data and show we were adhering to evidence-based practices."
The physicians and the entire staff were fully invested in the process. "I was always asking Jennifer, 'How are we doing?' 'What do you need?'" Dr. Rokosz says. "At one point she told me, 'I think you want this more than we do!' We were very engaged in this process."
So were those at the very top of the organization. "It is a true interdisciplinary approach to patient care and our strong nursing leadership that reinforce the medical center's culture of excellence," says CEO Stephen P. Zieniewicz, FACHE. "A special 'thank you' to Jennifer and Deanna for their leadership and unwavering dedication in our mission of providing compassionate care. This recognition gives our community the ultimate benchmark in patient care."
That care is enhanced when hospitals can establish and maintain a solid nursing staff, and the Magnet award has already made a difference in that effort, which is critical given the nationwide shortage of qualified nurses. "It significantly helps with recruitment and retention of nurses," O'Neill says. "They want to work in Magnet organizations. In the month since we received the honor we have already seen an increase in applications." Patients can also feel confident that their nurses are continually increasing their knowledge and expertise through professional development and continuing education requirements, she says. "As CNO, I am really proud of the work our nurses do, day in and day out," she says. "They create an environment that truly provides compassionate care, which is why we all go into nursing in the first place. You feel that every day in every one of our units."
And you can see the attraction.
TO LEARN MORE ABOUT NURSING SERVICES AT SAINT BARNABAS MEDICAL CENTER, CALL 973.322.8077 OR VISIT RWJBARNABASHEALTHCAREERS.ORG. TO SHARE THIS ARTICLE WITH A FRIEND OR TO RECOMMEND IT ON YOUR FACEBOOK PAGE, VISIT MSXHEALTHANDLIFE.COM.