Earning the label 'farm-to-table'
With a focus on local ingredients, restaurants bring culinary distinction to the well-named Garden State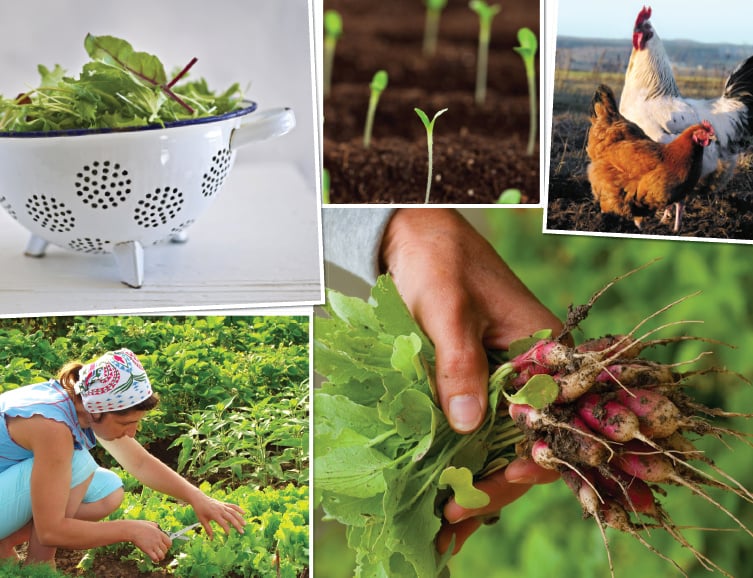 TOP FARM-TO-TABLE RESTAURANTS IN N.J.
A TOUTE HEURE
232 Centennial Ave.
Cranford
908.276.6600
atouteheure.com
BERNARDS INN
27 Mine Brook Rd.
Bernardsville
908.766.0002
bernardsinn.com
BLUE ROOSTER CAFÉ & BAKERY
17 N. Main St.
Cranbury
609.235.7539
blueroosterbakery.com
BROTHERS MOON
7 W. Broad St.
Hopewell
609.333.1330
brothersmoon.com
DUE MARI
78 Albany St.
New Brunswick
732.296.1600
duemarinj.com
ELEMENTS
163 Bayard Ln.
Princeton Township
609.924.0078
elementsprinceton.com
ENO TERRA
4484 Route 27 (Old Lincoln Hwy.)
Kingston
609.497.1777
enoterra.com
JBJ SOUL KITCHEN
207 Monmouth St.
Red Bank
732.842.0900
jbjsoulkitchen.org
MEDITERRA
29 Hulfish St.
Princeton
609.252.9680
mediterrarestaurant.com
NINETY ACRES
2 Main St.
Peapack and Gladstone
908.901.9500, ext. 1
natirar.com
PICNIC, THE RESTAURANT
14-25 Plaza Rd.
Fair Lawn
201.796.2700
picnictherestaurant.com
RAT'S
16 Fairgrounds Rd.
Hamilton
609.584.7800
groundsforsculpture.org/ratsrestaurant
STEVE & COOKIE'S BY THE BAY
9700 Amherst Ave.
Margate City
609.823.1163
steveandcookies.com
TRE PIANI
120 Rockingham Row
Princeton
609.452.1515
trepiani.com
URSINO
1075 Morris Ave.
Union
908.249.4099
ursinorestaurant.com
VINCENTOWN DINER
2357 Route 206
Vincentown
609.267.3033
vincentowndiner.com
There was a time when the phrase "fine dining" implied that a restaurant imported the costliest, most exclusive ingredients from France. That began to change with the teachings of celebrated chef and food writer James Beard, one of the first to advocate the use of regional American ingredients. But it wasn't until the early 1970s, when New Jersey-born Alice Waters opened her Berkeley, California, restaurant Chez Panisse, that what we now call the locavore movement was born. Her revolutionary idea was to base her menu almost wholly on the freshest sustainably grown, raised and foraged ingredients from nearby farms, forests and waterways.
Waters knew then what leading chefs everywhere have come to understand: that starting with pristine, justpicked produce creates meals that simply taste better. Plus, using produce, meat, eggs and dairy products conscientiously grown or raised on local farms often reaps additional benefits in terms of nutrition, the lessening of impact on the environment, the maintenance of open space and the humane treatment of farm animals. And these chefs and their restaurants draw upon not just local sources but also local food artisans, such as cheese makers and bread bakers, who transform the bounty. For all involved, it means that dollars are pumped back into the surrounding communities.
In the decades that followed Chez Panisse's debut, northern California cuisine became widely copied across the country—sometimes, ironically, by chefs who sourced ingredients from that region rather than following the localsourcing example. But here in New Jersey, one groundbreaking restaurant broke that mold as early as 1974, when brothers John and Dennis Foy established the Tarragon Tree in Meyersville. They reached out to local farmers for the besttasting, most natural ingredients, which they incorporated into their acclaimed modern American fare. Then, in 1991, a 30-year-old chef who had trained under the Foys took over the Ryland Inn in Whitehouse Station. Craig Shelton remains to this day New Jersey's most lauded chef. Among the innovations he brought to that late lamented restaurant was an organic garden right on the restaurant's grounds—a novelty back then.
Today, Garden State restaurants of all stripes—from worldclass gourmet meccas to neighborhood cafés—cook with ingredients sourced from their very own gardens and, increasingly, their own multiacre farms. Failing that, they use justharvested ingredients from local farmers' markets, or from Zone 7, an innovative service based in central New Jersey that delivers products direct from regional farms to restaurants around the state. These restaurants rightly term their fare "farm-to-table." They're finally taking proper advantage of the fact that our geographically diminutive state ranks among the top 10 producers nationally of blueberries, cranberries, peaches, spinach, cucumbers, bell peppers, snap beans, squash and, of course, tomatoes.
Few farm-to-table options existed even a decade ago. It was in 1999 that Jim Weaver, chef/owner of Tre Piani restaurant in Princeton, founded the first New Jersey chapter of Slow Food. In his new book Locavore Adventures (Rivergate Books), Weaver writes: "I had long been frustrated that I couldn't directly purchase all the wonderful fresh foods that were being produced virtually next door to my restaurant." At the time, the only option for chefs was to use large out-of-state distributors. This meant, he writes, that "a locally farmed tomato would be trucked back to my door days later at three times the price and half the quality." Thankfully, better days have arrived.
NINETY ACRES AT NATIRAR, PEAPACK-GLADSTONE
For a serious farm-to-table restaurant, nothing beats having your own farm, as executive chef David Felton of Ninety Acres will tell you. The restaurant is part of a culinary center that also features a cooking and wine school. The culinary center, in turn, lies within the stunning 500-acre Natirar Estate, situated amid the rolling mountains of Peapack- Gladstone. Nineteen of those acres are devoted to vegetable production and pasture land for the pigs, lambs and chickens that are raised there.
"This is the farm's third year," Felton says, "and we're focusing on increasing production this year. That's how long it takes for soil to come into full fertility." As part of that effort, the farm is installing fruit trees. "Last year we emphasized berries—we planted blueberries, raspberries, blackberries and eight rows of strawberries," he says, proud to report that in January the farm saw the birth of three lambs. It also buys animals from three New Jersey farms, among them grass-fed cows from River Bend Farm in Far Hills, which are butchered in the kitchen at Ninety Acres. The restaurant, housed in a handsome restored carriage house and garage, makes its own sausage, braised pork belly and cured meats.
In fact, it's difficult to find an item on the restaurant's modern American menu that doesn't include ingredients from Natirar or other local farms, whether it's their own greenhouse lettuces, wheat berries from Oak Grove Plantation in Pittstown (Hunterdon County) or cheese from Valley Shepherd Creamery of Long Valley. In addition, many of the wines are biodynamic, organic or sustainable, and the restaurant offers craft beers from Cricket Hill in Fairfield. Seafood is sourced, so the website says, "with the utmost respect for our oceans." Sustainability was even taken into account with the overall development of the culinary center: Trees cut down were fashioned into furniture, pieces of art and stair risers.
Related Read: Four Foods to Always Buy Organic