Easy Pickin'
Produce Pete loves his weekly TV segment, but it's his sweetheart that's always at the top of this North Jersey favorite's list.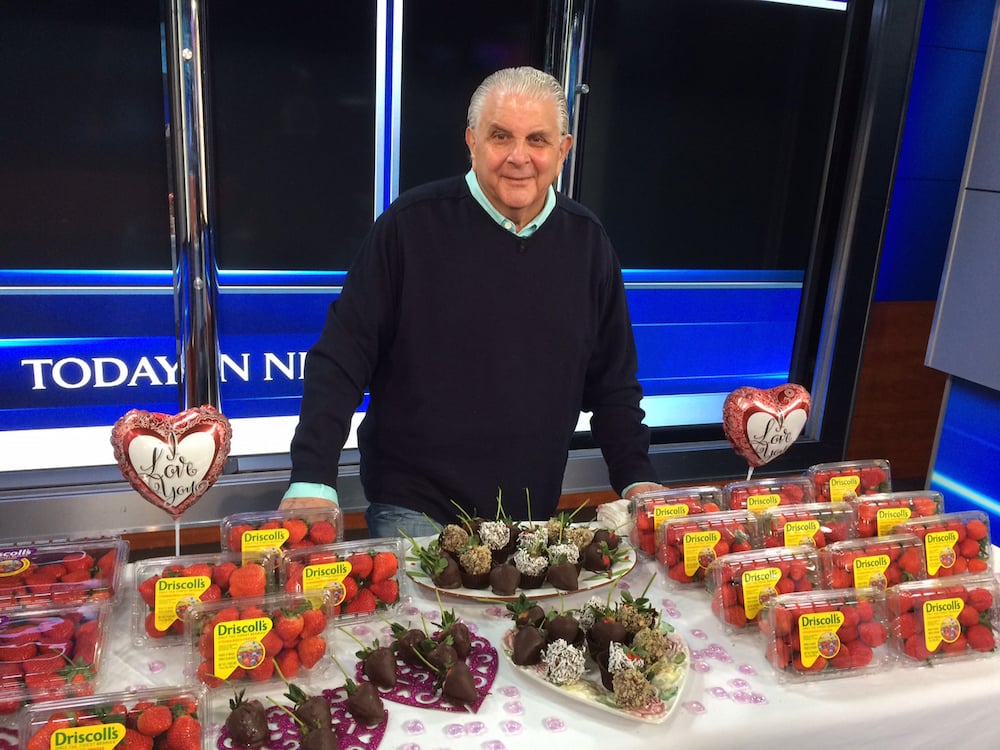 Think you know the correct way to peel a banana? "Produce Pete" Napolitano will likely tell you to make like a chimpanzee and try a little monkey business.
"Your first inclination is to open it from the top, which results in those annoying loose strings," says Napolitano, who's considered the New York metro area's authority on fruits and vegetables. Our distant jungle cousins, he notes, pinch and peel from the bottom for cleaner, easier access to the fruit. "If you're not doing that, try it."
Napolitano, 72, has been offering tidbits like these from his childhood days as a peddler for the family business to his successful run as a mom-and-pop farm stand owner to his 30-year career as a local television personality—with the past 25 years spent on WNBC's Weekend Today in New York. And while he loves produce, he wouldn't be where he is today without his wife, Bette. It was her foresight that brought the Produce Pete persona to life.
Napolitano's history on television traces back to 1986, when, not satisfied with work, he was on the verge of closing his family's North Jersey-based Napolitano's Produce Store. One day that year, a customer overheard Napolitano joyfully speaking with other shoppers. That customer was Rosemary Henri, a local TV producer who "found me very interesting and thought I would be good for television" he recalls.
"I told her I was too busy," Napolitano says. "She continued to call, but I turned her down each time."
But things changed the day Bette answered the phone. When Napolitano came home from work that afternoon, she told him to get dressed—the network was sending a car to bring him to its New York studio. "Bette convinced me that going on TV might be good for business," he says. "She's the one who saw something good."
He's been talking produce on the air ever since. Fruits and veggies are Napolitano's passion, and it's seen every week during his regular TV appearances, when he converses about any and every piece of produce that's in season. His long stint on Weekend Today is a testament to that passion, earning the "Produce Pete" and "Pete Your Produce Pal" nicknames along the way.
"Most of the stuff I talk about is common sense, but they're tips that people want," he admits. "Why is a fruit that's heavy in the hand better than others? Simple: It has more juice. If it's light like a feather, then there's usually nothing inside."
The segments got more and more popular over the years "because people love to eat, and they love to eat good food," he says. "And I think it's because of my honesty. When I'm in front of the camera, my first line is usually thought out, but everything else, when I talk about a product or produce, that's just me running my mouth. It also helps to throw in some humor and stories about my family, because viewers can relate even more."
Family, he says, turned him into the produce guru. He learned about fruit as a child, helping his parents' produce stand by selling tomatoes door-to-door in Englewood and Tenafly. In 1969, he took the reins of the family business.
"Bette helped me in the store for 20 years on the business end and was also there to raise the family and take our two kids to soccer and football," he says. "She's been a trouper, and I give credit to her for all the success I've had."
The couple have been side-by-side for most of their lives: The two were high school sweethearts—he was 15 and she was 14 when they fell in love. They've lived in Bergenfield and Oakland in Bergen County, and now reside in nearby North Haledon in Passaic County. So did it hurt when Bette decided to leave the business to pursue an administrative career with large companies such as Konica? Not at all.
"She's such a hard-working woman and so smart when it comes to business. I didn't want her to regret not making a change, and I think she made a great decision," he says. "But everyone at Napolitano's missed her a lot." Napolitano's finally closed in 2006 after a 52-year run, but Pete and Bette are still partners in produce and in life. They will celebrate their 50th anniversary this summer.
"Bette has been my rock and my foundation all these years," he says. "None of this, the store or Produce Pete, would've happened without her."