Editor's Picks for Smart Grill and Barbecue Buys
Smart tools for grilling.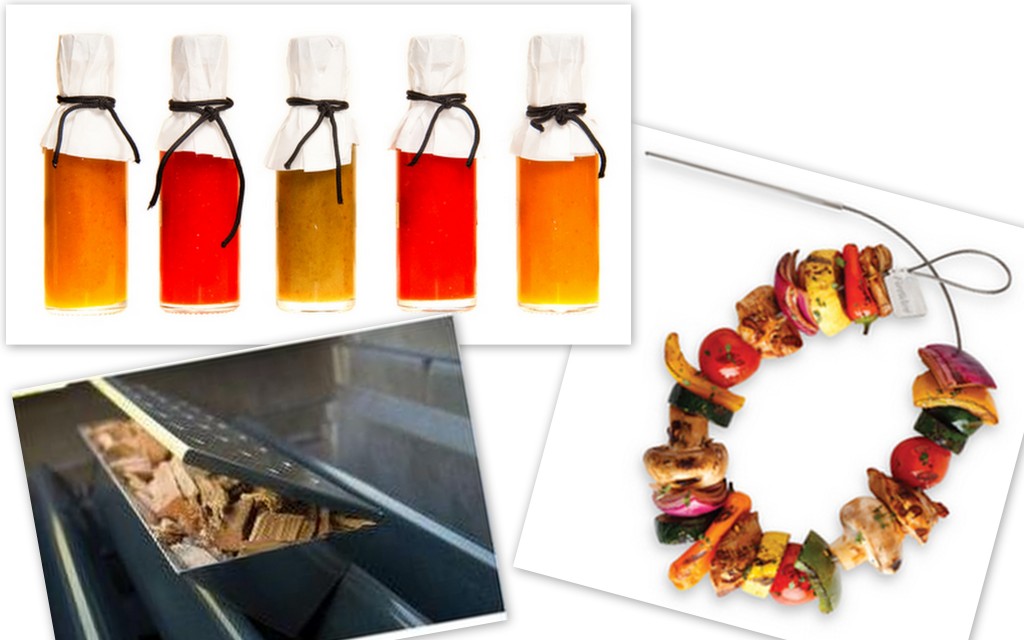 Grilling's a cinch with these clever barbeque products. So invite some friends and family over, grab your favorite recipe and get grilling!
1 The V-Shaped Smoker Box, $20, from Charcoal Companion can sit between the grates for an even smokier finish for your chicken, fish or vegetables. Sears, Cedar Knolls, 973.984.0098.
2 Marinate kabobs more easily with FireWire Skewers, $10, made from flexible metal wires that can adjust to fit any bowl. Bed Bath & Beyond, East Hanover, 973.884.4287.
3 To get the most out of your grill with every use, keep it clean. The Ultimate Grill Cleaning Set, $30, from Williams-Sonoma will scrape off marinades, clean between the grates and scrub away debris. Williams-Sonoma, Short Hills, 973.467.3641.
4 Grilling fruits and vegetables while plank-grilling fish or poultry is a breeze with the Grill Grid and Plank Holder, $25, by Sur La Table. surlatable.com.
5 Go all-natural—and all-Jersey—when you want to spice up your next barbecue. These flavorful sauces are all made or inspired in the Garden State:
• "Ain't nothin' funni 'bout a sauce this good!" say Jim Barbour and Ryan Marrone of West Windsor, best friends and founders of a firm called FunniBonz. Its sauces come in spicy, fiery chipotle, sweet and tangy mustard and original. $5.99, Kings, Morristown, 973.898.4512.
• Edmund McCarthy, also known as "Hoboken Eddie," hand-makes all of his sauces, including Hukilau Hannah, a blend of teriyaki, apricot, wasabi and ginger, which is named for his first-born daughter, Hannah Rose. $7.49, Burrini's Olde World Market, Randolph, 973.895.6100.
• Made in Ridgewood, Blended Spice by Manpreet's Indian-flavored Tandoori Masala spice blend includes ingredients such as turmeric, cumin and coriander. Use it as a rub or combine it with yogurt for a spicy marinade. blendedspice.com.
• Born to Hula's Habanero Guajillo Pepper hot sauce is made with habañero peppers handpicked from farmers' markets in New Jersey. $5 plus shipping and handling, borntohula.com.
---
Related Read: Winning Recipes from our Grill and Chill Contest