Eight Years, Eight Babies
The hospital was an hour away, But for one couple, having a child there became a cherished annual custom.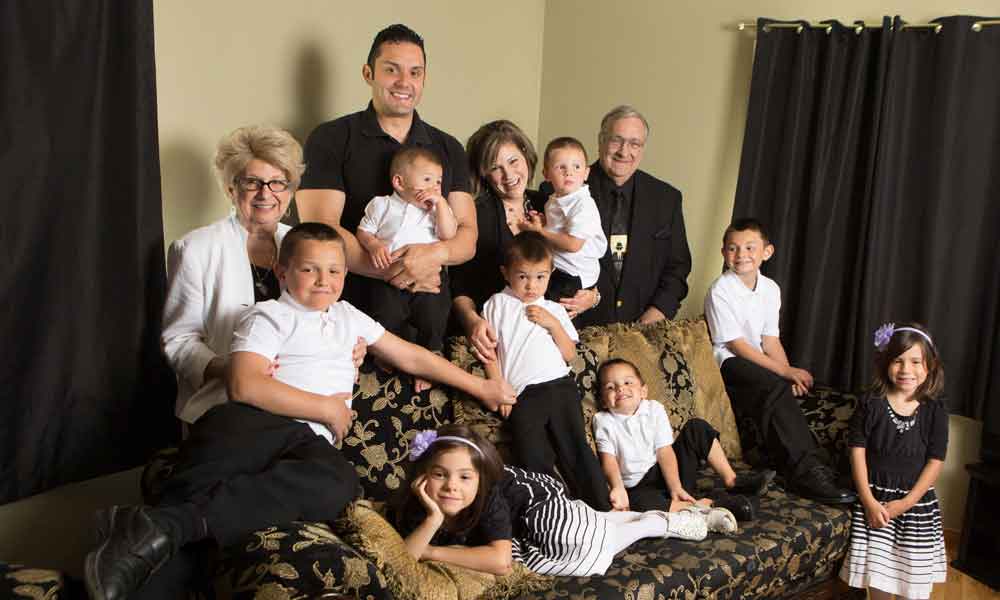 Think one hospital is pretty much the same as the next? You'd get an argument from JoAnne and Nicholas Diaz. They've proven their devotion to Saint Peter's University Hospital.
When JoAnne's first pregnancy began, the Diazes were Raritan residents and her obstetrician-gynecologist practiced at Saint Peter's. But in her first trimester the family moved to Easton, Pa. After checking with her doctor to see if traveling that far to give birth would be safe (the answer was yes), JoAnne had her first baby at Saint Peter's.
"It was the best possible experience," she recalls.
Apparently it was. In the next seven years, she had seven more babies at Saint Peter's.
What has led this family to have such faith in Saint Peter's? Faith itself, for one thing. Devout Catholics, the Diazes appreciate the hospital's religious affiliation. "The chaplain, Father David, is a family priest we know well," says JoAnne. "To be able to receive the sacrament of confession and celebrate Holy Mass with him, and to have him give each baby his or her first blessing, is very special. And it's a comfort to have him there in case there is any problem with me or a baby."
JoAnne, now 38, also has two close friends who work at Saint Peter's—Ann Scotti, director of Care Coordination, and Linda Khalil, a nurse—and her stints in the mother-baby unit there have been a chance to catch up.
Today the Diazes have six boys and two girls, including 3-year-old twins who were delivered by Cesarean section. Most of the children's births were uneventful, but one of the twins did have to stay briefly in the Neonatal Intensive Care Unit, where, as JoAnne recalls, "I loved the staff and how good they were about supporting my desire to breastfeed."
The busy mom has a sense of humor about the family's experience. "Going to Saint Peter's is like a vacation for us," says JoAnne. "Each time, we know we'll get a few nights away, have a chance to sleep, and have great people bring us food—and a baby! During my last delivery I was Facebooking my whole labor, saying we were at our annual resort."
The family's devotion to Saint Peter's now includes JoAnne's father, 72-yearold Mike Mahar, who lives in Cresco, Pa., with his wife, Bel-Mehr, 74. (The Mahar family has five children, 21 grandchildren and one great-grandchild.) He worked at Johnson & Johnson for 16 years before forming his own healthcare sales and marketing company. Now retired, he is president of the Marriah Foundation, a charitable organization started by his daughter Jeanne Murphy in 2014 to raise funds to assist the needy, especially children, in the mid-Atlantic region.
"When we decided to name this our 'Year of the Child,' I thought, well, my daughter had eight kids in eight years at Saint Peter's," he says. He contacted the Saint Peter's Foundation to offer his support. "It was the right karma," he says. The Marriah Foundation has several fundraising events planned for 2015–16.
As for the Diazes, they say they would like to have more children at Saint Peter's. But right now they are considering a possible move to Warren County, N.J., as Nicholas, now 34, takes a new job as superintendent of the Frelinghuysen Township School District. Their new house has to be within an hour's drive of Saint Peter's University Hospital, JoAnne says.
"People still say I'm crazy to go that far," she says. "But it's totally worth it."
Celebrate the "Year of the Child"
To help support the "Year of the Child" campaign by the Marriah Foundation, of which JoAnne Diaz's father is president, go to marriahfoundation.org. You can also follow the adventures of JoAnne Diaz and her brood at her blog, camaraderiemom.com.
To find out more about services available for you or your family at Saint Peter's University Hospital, please call 732.745.8600 or visit saintpetershcs.com.