Elevating Cancer Care
A Long Branch man discovers treatment at Monmouth Medical Center goes beyond cuttingedge technology—a pleasant staff helps heal too.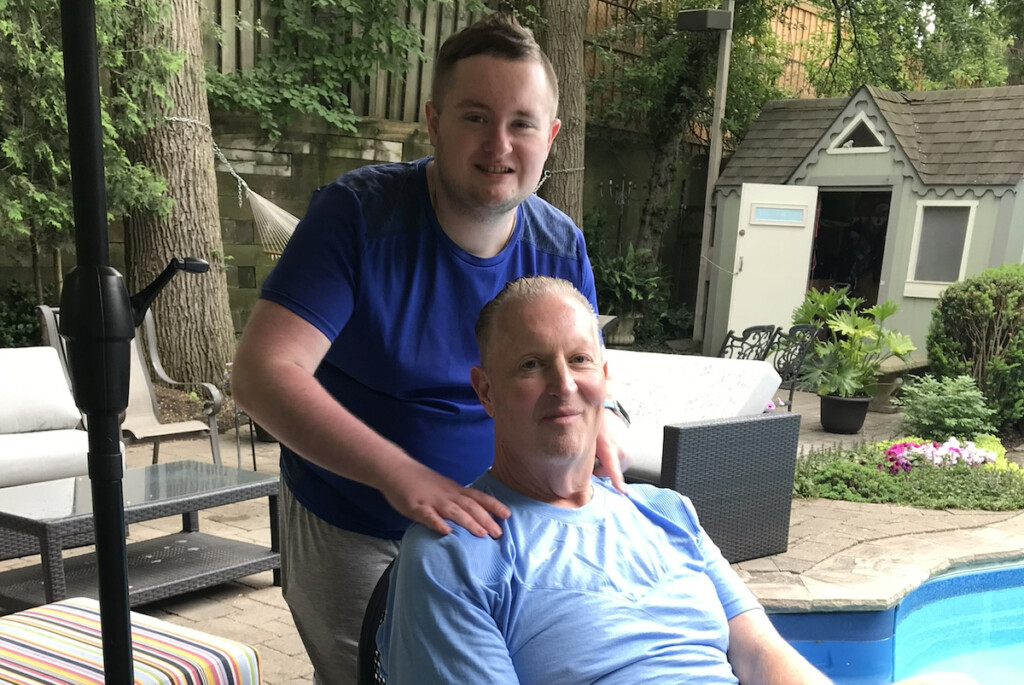 You can't get by on a good reputation alone, especially in healthcare, where good bedside manner and patient comfort is almost as important to treatment itself.
That's exactly what 64-year-old Jeff Prusan discovered in 2018 when he began treatment for what doctors originally believed was tonsilitis. Prescribed antibiotics didn't work, and the Long Branch resident said symptoms worsened.
"My throat felt like it was closing up, and I was having trouble breathing," Prusan recalls. "My friend even suggested I might have throat cancer, which was concerning because I had lost my wife years earlier to ovarian cancer."
He then sought care at a large reputable hospital, where a biopsy on his tonsils confirmed Prusan developed tonsil cancer. He immediately started treatment and responded well to a three-month chemotherapy plan, but Prusan didn't continue with additional treatment—and by July 2019, a cancerous mass formed on his right tonsil.
"That hospital provided standard care, but there was a lot of red tape," says Prusan. "I wasn't happy there, so I went to Monmouth Medical Center."
In October 2019, Prusan met with Mitchell Weiss, M.D., Chair of the Radiation Oncology Department at MMC, and soon started 6½ weeks of concurrent radiation and chemotherapy to treat his right tonsil and lymph nodes in his neck.
"The treatment went well," Dr. Weiss says. "We used advanced technology to treat him, including TomoTherapy." Before delivering radiation, the TomoTherapy unit (a form of image-guided radiation therapy, or IGRT) allows radiation oncologists to take advanced imaging immediately before treatment to "make sure we are targeting the right areas and minimizing any long-term effects," Dr. Weiss adds.
By the end of January 2020, doctors told Prusan there was no evidence of cancer in his body.
"Monmouth Medical Center got me in quickly, and doctors assured me that tonsil cancer is highly curable," he says. "And everyone made the process so easy: I went in once a week (chemo was once a week, radiation was daily), I had an iPad or a book, complimentary food and snacks and even a few laughs. The level of care at Monmouth Medical Center is so good. So many people check in on you, from doctors to nurses and nurse practitioners. You never feel alone.
"Dr. Weiss made me feel comfortable from the start," Prusan adds. "Cancer is not a joke—there's a lot to worry about. But to go to a place that makes treatment easy for you, what else can you ask for?"
Dr. Weiss credits the department's multidisciplinary team for the first-rate care, including nurses, patient navigators, nutritionists and radiation therapists, as well as the medical oncologists with whom they work.
"Radiation therapists see patients whenever they come in and form close relationships with them," he says. "They really make people comfortable. Everyone at Monmouth Medical Center treats patients like they're family."
---
RWJBarnabas Health and Monmouth Medical Center, in partnership with Rutgers Cancer Institute of New Jersey— the state's only NCI-Designated Comprehensive Cancer Center—provide close-to-home access to the most advanced treatment options. To find out more, call 8443.CANCERNJ or visit rwjbh.org/beatcancer.