Emergency Department Earns Excellence Award
Monmouth Medical Center's E.D. lauded for top-notch leadership, innovation, advocacy and research.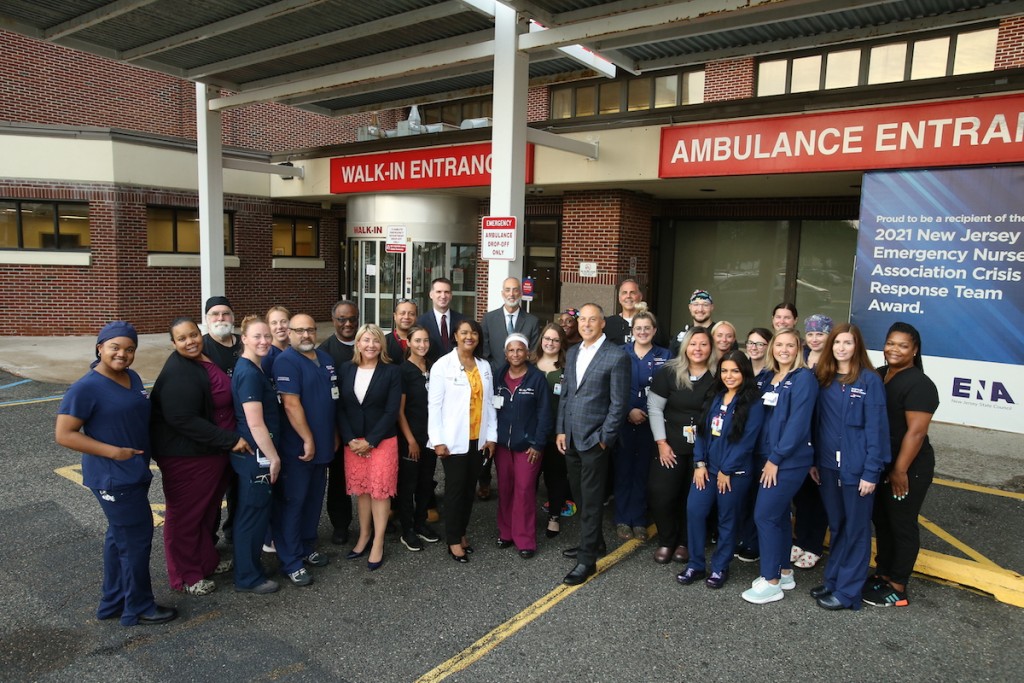 Monmouth Medical Center (MMC) is one of 34 U.S. hospitals selected to receive the Emergency Nurses Association's (ENA) Lantern Award, which recognizes emergency departments that demonstrate exceptional and innovative performance in leadership, practice, education, advocacy and research.
The award recipients will be recognized at the Hall of Honor awards ceremony Oct. 2 in Denver.
The ENA Lantern Award application focuses on innovative practices and noteworthy attributes of the emergency department, collaborative approaches to delivering optimal care for patients, performance and outcome metrics, characteristics of the nursing team and facility and emergency department demographics. It distinguishes an emergency department's commitment to quality, safety and presence of a healthy work environment.
"This award is such a testament to you and your team—to be able to achieve this award during one of the most challenging times in healthcare, you should be so proud," ENA President Jennifer Schmitz said in announcing MMC's award. "To be able to keep your team engaged and on track despite the challenges of the pandemic is so remarkable."
In 2021, the MMC Emergency Department received the Crisis Response Team Award from the New Jersey chapter of the ENA in recognition of the department's significant contributions and response to the challenges of the public health crisis stemming from the COVID-19 pandemic.
"Recognition with the Lantern Award is such a great reward for our team," says Sharmine Brassington, PhD(c), MSN, RN, Administrative Director of Emergency Services. "They are a focused and dedicated team, especially with COVID-19, they exemplify altruism, resiliency and endurance. Showing up to work every day to provide culturally competent and conducive patient care."
Chief Nursing Officer Darla Harmer, MSN, RN, NE-BC, notes that the Emergency Department's patient satisfaction scores have been consistently high despite the challenges of COVID-19.
"Our team prioritizes patient care from the time of arrival," she says. "The Lantern Award serves as a visible symbol to our community that excellence is valued, and that exceptional care is provided in our Emergency Department."
MMC RECEIVES HONORS IN INAUGURAL 'BEST' LIST BY MONEY AND THE LEAPFROG GROUP
The digital platform Money announced its inaugural list of the Best Hospitals in America on July 6th, with Monmouth Medical Center among just 148 U.S. hospitals to receive the award.
Created in partnership with The Leapfrog Group, a national watchdog organization of employers and other purchasers focused on health care safety and quality, the list identifies the facilities that consistently deliver the safest, highest-value care for patients and excellence in hospital experience.
Among the criteria that weighed heavily in the Best Hospitals in America List selection process was a hospital's infection rates, maternity care, pediatrics, medication management, hand hygiene practices, nursing workforce and critical care. Leapfrog also tracked the number of highrisk surgeries, including bariatric surgery for weight loss, lung cancer surgery and hip replacement surgery, among others.
The recognition comes on the heels of MMC receiving its 15th consecutive Leapfrog A rating in the spring. It also follows an announcement last fall of MMC's recognition for a third time as a Top Teaching Hospital by The Leapfrog Group, which is widely acknowledged as one of the most competitive honors American hospitals can receive. "These recognitions are designed to inform communities how well their hospitals perform in providing the highest quality care in a safe and compassionate environment. Every member of our team is essential to achieving and sustaining these outstanding results," said MMC and Monmouth Medical Center Southern Campus President and CEO Eric Carney. "They are a testament to our staff's unwavering commitment to our patients, our communities and each other. They truly make a difference to those we serve."
"COVID-19 changed how people think about and prioritize health care—and Money's Best Hospitals will help readers navigate this new normal with these great recommendations," said Mike Ayers, Executive Editor at Money.
"Leapfrog is honored to partner with Money to recognize hospitals that truly put patients first," says Leah Binder, president and CEO of The Leapfrog Group. "Americans are heavily invested in our health care system, and we have a right to expect the best quality in return. Money recognizes that hospitals on this list meet the highest standards of quality and safety and tirelessly work to improve health care in their communities across the country."
The Leapfrog Hospital Survey is the gold standard for comparing hospitals on standards of safety, quality and efficiency. To compile its new list of the top hospitals in the country in partnership with Money, the Leapfrog Group used data from the 39 performance measures in the seven different categories in its 2021 hospital survey, which participants were required to submit by August 31, 2021.
To qualify for the list, eligible hospitals were required to carry an "A" letter grade on the Leapfrog Hospital Safety Grade assessment for fall 2021. Hospitals were also required to meet a qualitative assessment of excellence, and were disqualified if they exceeded national mortality rates for heart attacks, heart failure, pneumonia, chronic obstructive pulmonary disease or coronary bypass surgery or if they earned a "C" or worse on the 2022 spring Safety Grade assessment. Leapfrog applied additional criteria related to safe medication ordering practices, intensive care unit staffing and performance related to certain high-risk surgeries including bariatric surgery, hip replacements and lung cancer surgeries.
---
For more information about Monmouth Medical Center, visit rwjbh.org/monmouth.