Enjoy the Great Outdoors!
Whatever your chosen activity, you couldn't ask for a sunnier time of year—or a finer array of recreation spots. Here's a sampling.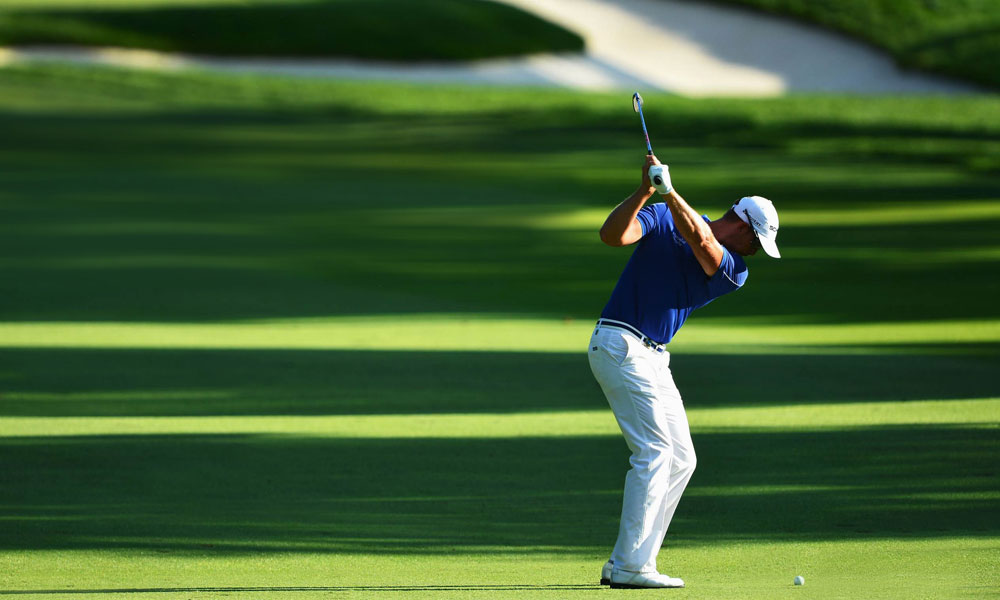 Golf
You know you love the game—here are places in our area where you can show that little white ball who's boss.
Horseback riding
There are many excellent opportunities in central Jersey for riders of all ability levels to saddle up.
Parks
Bored with your backyard? Check out this roster of parks and what they offer.
Hunterdon County
Spruce Run Recreation Area
68 Van Syckles Rd.
Clinton
6 picnic areas, charcoal grills.
Round Valley Reservoir
Lebanon
2,000+ acres, featuring 3 marked trails, with camping, swimming, boating, fishing, hiking.
Mercer County
John A. Roebling Memorial Park
W. Park Ave.
Hamilton Twp.
Hiking trails, biking trails, fishing, marshlands, picnic areas, nature center.
Lawrence Hopewell Trail
Lawrence Twp.
Biking trail, access to the watershed, educational gardens, equestrian center.
P Herrontown Woods Arboretum
624 Snowden Ln.
Princeton
142-acre wooded park, nature trails.
Princeton Battlefield State Park
Mercer Rd.
Princeton
Hiking trails, bird watching, historic battlefield.
Woodfield Reservation
Old Great Rd., Drakes Corner Rd.
Princeton
Nature trail, bird watching, Council Rock and Tent Rock.
Washington Crossing State Park
Route 29 North
Titusville
Hiking trails, nature trails, horseback riding, mountain biking, museum, open-air theater, picnic areas, playground, camping, fishing.
South Riverwalk Park
John Fitch Way
Trenton
Bicycle and pedestrian walkways, playground, pavilion.
Mercer County Park
1638 Old Trenton Rd.
West Windsor
17 athletic fields, 28 lighted tennis courts, mountain biking and biking trails, festival grounds, rowing center, hiking and nature trails, fishing, inline skating, picnic areas, basketball courts, sand volleyball courts, cricket pitches, 10 softball fields, Vietnam and 9/11 memorials.
Middlesex County
Joseph Medwick Memorial Park
15 Hermann St.
Carteret
3 picnic areas, playgrounds, synthetic and natural soccer, football and Little League fields.
Ireland Brook Conservation Area
Parkview Ct., Riva Ave.
East Brunswick
Ideal for hiking, photography, wildlife viewing, nature study.
Jamesburg Park Conservation Area
Helmetta Blvd., Old Stage Rd.
East Brunswick
Several miles of trails perfect for hiking.
Tamarack Hollow Preserve
Hillcrest Ave., Albrecht Ln.
East Brunswick
2 miles of hiking, walking, bird watching and photography trails.
Roosevelt Park
151 Parsonage Rd.
Edison
"Plays-in-the-Park," 7 picnic areas, lake, playgrounds and lighted tennis courts.
Thomas Edison Park
Mill Rd.
Edison
Softball fields, soccer field, 16 lighted tennis courts, model airplane field, baseball field, running paths.
Donaldson Park
S. 2nd Ave.
Highland Park
5 picnic areas, boat ramp, playgrounds, lighted tennis courts, sports field.
Middlesex Greenway
Metuchen
10-ft.-wide paved trail for walking, biking, and jogging.
David B. Crabiel Park
38 Elkins Ln.
Milltown
Playground, paved walkways, soccer/ lacrosse turf field, Little League field.
M Thompson Park Conservation Area
Prospect Plains Rd.
Monroe Township
9 miles of trails for hiking, walking, bird watching and photography.
Thompson Park
Perrineville Rd.
Monroe Township
Lighted tennis courts, basketball and handball courts, fields for baseball, softball and soccer, picnic areas, playgrounds, hiking trails, lake/fishing, animal haven, performance gazebo, 18-hole disc golf course.
Alice Jennings Archibald Park
Van Dyke Ave.
New Brunswick
Playground, picnic pavilion, 10.5 acres of facilities for baseball, softball, soccer, football, tennis, basketball and handball, lighted for night play.
Buccleuch Park
Easton Ave.
New Brunswick
78 acres of rolling terrain, with a historic mansion, a 1.5-mile cross-country/fitness trail, playground, flower garden, rock garden, fields for baseball, softball, tennis, soccer and cricket. Gazebo and picnic pavilion.
Elmer B. Boyd Park
Route 18 North
New Brunswick
20 acres with river and city views, ¾-mile tow path, historical swing bridge, canal and locks.
John A. Phillips Park
Maple St.
Old Bridge
3 soccer fields, playgrounds, cricket pitch, softball and baseball fields, paved walkways.
John A. Phillips Preserve
Pleasant Valley Rd.
Old Bridge
6.5 miles of marked hiking trails, 1.5-mile self-guided nature trail.
Old Bridge Waterfront Park—
Laurence Harbor
Laurence Pkwy.
Old Bridge
Playground, boardwalk access, walking paths, fishing pier, gazebo.
Paul's Beach
Route 35 North
Old Bridge
Bay access, fishing pier, boardwalk access, comfort area.
Pirate's Cove at Cliffwood Beach
Raritan Blvd.
Old Bridge
Playground, gazebo, kayaking access.
Ambrose & Doty's Brooks Park
South Randolphville Rd.
Piscataway
Undeveloped conservation area.
Johnson Park
River Rd.
Piscataway
Animal haven, 7 picnic areas, sports fields, playgrounds, ponds.
Plainsboro Preserve
80 Scotts Corner Rd.
Plainsboro
Lake, 1,000+ protected acres, hiking trails, environmental education center.
Raritan Bay Waterfront Park
O'Leary Blvd.
South Amboy
Concerts, walking paths, playground, sports fields, bocce.
Davidson's Mill Pond Park
Riva Ave.
South Brunswick
Small boat launching ramp, fishing, lake, hiking trails.
Heathcote Meadows Preserve
21 Monroe Ct.,
Monmouth Junction
Hiking, walking and wildlife viewing.
Scott's Corner Conservation Area
50 Rowland Rd.
South Brunswick
½-mile wildlife loop trail for hikers.
Spring Lake Park
Plainfield Ave.
South Plainfield
Concerts, playground, tennis and basketball courts, paved paths.
Alvin P. Williams Memorial Park
Sewaren Peninsula @ Cliff Rd.
Woodbridge Twp.
2 picnic areas, playground, paved path, playing fields.
Fords Park
King George's Post Rd.
Woodbridge Twp.
1 picnic area, lighted tennis courts, 2 lighted street hockey rinks, pond.
Merrill Park
Middlesex Tpk.
9 picnic areas, animal haven, playgrounds, sports fields, lighted tennis courts.
Pin Oak Forest
Omar Ave.
Woodbridge Twp.
97 acres of protected land, hiking trails, butterfly garden. William Warren Park
Florida Grove Rd.
4 softball fields, concerts, 3 picnic areas, playgrounds.
Somerset County
Lord Stirling Park
190 Lord Stirling Rd.
Basking Ridge
Hiking and nature trails, environment education center, stable.
Little Brook Sanctuary
Stevens Ln.
Bernardsville
Nature trail, wildlife lookout.
Duke Island Park
Old York Rd.
Bridgewater
Biking/hiking trails, 5 picnic areas, playground, softball field, fishing.
North Branch Park
355 Milltown Rd.
Bridgewater
Picnic areas, playground, fishing, fields for softball, soccer and model aircraft.
Washington Valley Park
Miller & Newman's Lns.
Bridgewater
Hiking, mountain biking, hawk-watching, pine and hemlock forests, wetland marshes, 21-acre reservoir.
Leonard J. Buck Garden
11 Layton Rd.
Far Hills
33-acre wooded stream valley, trails.
Washington Rock Park
Washington Rock Rd.
Green Brook
Lookout point, picnic sites, nature walk.
Sourland Mountain Preserve
421 E. Mountain Rd.
Hillsborough
Hiking, mountain biking, bird watching, bouldering.
Natirar
2 Main St.
Peapack
404-acre scenic hilled property, walking trail, nature trail.
Skillman Park
Main Blvd.
Skillman
2.25-mile paved multiuse loop trail, chess.
Colonial Park
156 Mettlers Rd.
Somerset
Picnic areas, pavilion, playground, walking, jogging, bicycling, fishing, softball field, putting course, paddleboats.
Union County
Esposito Park
659 Madison Hill Rd.
Clark
Playground, skateboard park, soccer and baseball fields.
Oak Ridge Park
136 Oak Ridge Rd.
Clark
Fitness trails, archery range.
Rahway River Parkway Jackson's Pond
Clark
Ponds, canoeing, kayaking, fishing.
Rahway River Parkway Osceola
Clark
Fishing, multi-use paved paths.
Hanson Park Conservancy
38 Springfield Ave.
Cranford
Nature and walking paths, butterfly meadow, canoeing, fishing.
Lenape Park
130 Kenilworth Blvd.
Cranford
Nature trails, bicycle path.
Nomahegan Park
1024 Springfield Ave.
Cranford
Bicycle path, fitness trail, softball, soccer.
Rahway River Parkway
Mohawk Dr. & Sperry Pond
Cranford
Bicycle path, basketball, fishing.
Unami Park
Hickory Ave.
Cranford
Playground, picnic area, baseball, basketball, soccer, softball, tennis.
Wheeler Park
West Stimpson Ave.
Linden
Picnic area, playground, pool, snack bar, skateboard park, softball, soccer.
Cedar Brook Park
Pemberton Ave.
Plainfield
Fitness trail, picnic area, handball, playground, baseball, basketball, cricket, fishing, spray pool, tennis courts, soccer, softball.
Green Brook Park
36 W. End Ave.
Plainfield
Playground, picnic area, fishing, baseball, basketball, soccer.
Madison Ave. Park
Madison Ave.
Rahway
Playground, baseball, soccer.
Milton Lake Park
Midwood Dr.
Rahway
Fitness trail, bicycle path, fishing.
Rahway River Park
St. Georges Ave.
Rahway
Pool, fitness trail, bicycle path, picnic area, fishing, running track, snack bar, swimming pool, tennis courts, baseball, basketball, soccer, softball.
Ponderosa Farm Park
1600 Cooper Rd.
Scotch Plains
Picnic areas, playground, soccer, water-spray playground.
Note: Many parks extend beyond the boundaries of the listed town into other nearby municipalities.
Dog parks
Your pooch needs to run wild for a while, and your living room isn't the place for it. Fortunately, a number of area parks have established special canine zones.