ERIC S. ADLER, D.M.D. & MICHAEL C. ADLER, D.M.D.
ADLER FAMILY DENTAL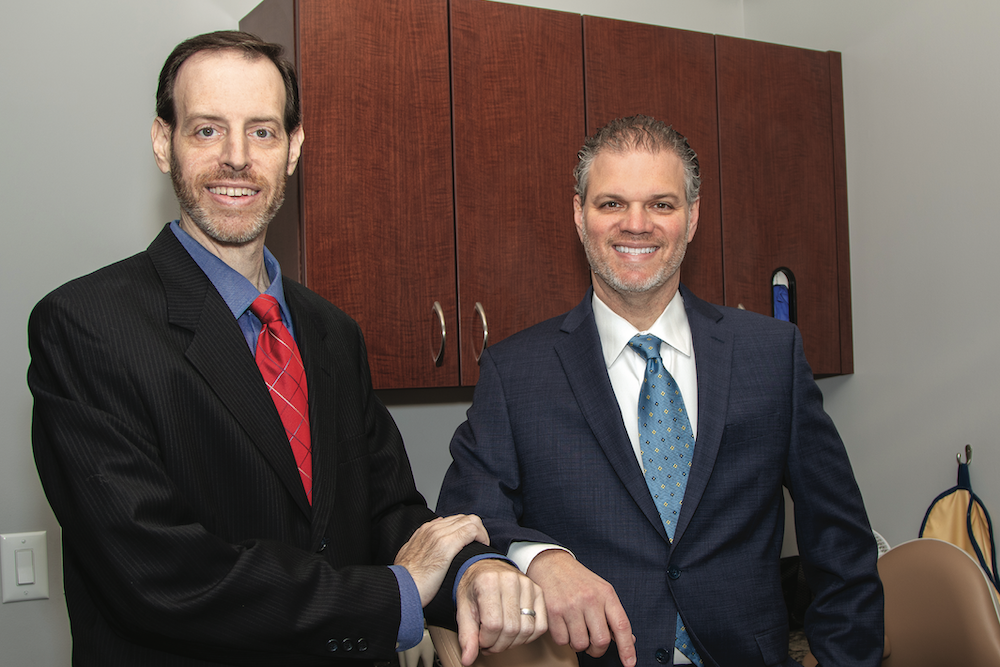 BORN AND RAISED IN MONMOUTH COUNTY, Drs. Eric and Michael Adler continue to have deep roots in the community. Both brothers graduated from The University of Pennsylvania School of Dental Medicine and completed residencies at Monmouth Medical Center. Since taking over a longtime dental practice on Church Street in Aberdeen, they've tended to loyal patients and their families for over 20 years. The key to the practice's success is treating patients the way they'd want to be treated. They put patients at ease by helping them overcome their fears and take time to educate them about procedures.
The doctors grew up surrounded by healthcare; their parents owned a pharmacy in Oakhurst, NJ. But dentistry was their calling—Dr. Eric Adler's life changed when his braces came off as a teenager and Dr. Michael Adler was advised early on that his steady hands and personality were perfect for dentistry. Today, they continue to expand their advanced, high-tech practice down to the details including text messaging appointment reminders.
Drs. Adler and Adler have grown their general family practice to include in-house specialists in endodontics and periodontics. From pediatric dentistry to geriatric dentistry, Adler Family Dental's comprehensive list of services spans all aspects of cosmetic oral care, including whitening, bondings, veneers, implants, Invisalign®, and facial injections including Botox® and dermal fillers.
Drs. Adler and Adler monitor every patient's oral health as a way to ensure their general healthcare and well-being. Their dedication to delivering the highest quality of healthcare have been recognized with NJ Top Dentists and America's Best Dentists awards for the last several years. Both dentists teach at Monmouth Medical Center, where they, and their children, were born. The doctors remain grounded in the community, allowing them to understand the needs of families they serve. If you'd like to see why generations of patients come to Adler Family Dental, make an appointment to visit their recently renovated office and enjoy convenient, free parking.
301 Church St., Aberdeen, NJ 07747 • 732.583.1616 • adlerfamilydental.com