Escapes: Crystal Springs Golf Resort
This luxe resort in the state's northernmost county will suit you to a tee.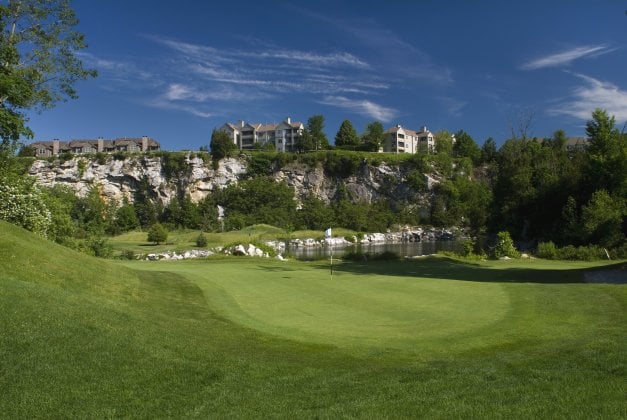 Jonesing for a golf getaway? Sure, you could travel to Myrtle Beach, Orlando or San Diego, but why deal with the hassle and expense of flying when you can choose from seven courses, including the highly ranked Ballyowen, just an hour's drive away at Crystal Springs Resort in Hardyston, N.J.?
Designed by renowned golf course architect Roger Rulewich, the linksstyle Ballyowen was built in 1998 atop a plateau and features near-treeless terrain with fescue grass framing the plush green fairways. In addition to six other golf courses (including the familyfriendly, nine-hole Minerals Golf Club), Crystal Springs also has a natural grass putting course, a David Leadbetter Golf Academy and a golf simulator (play Pebble Beach!).
But there's a lot to love at Crystal Springs even if golf's not your game. Wine enthusiasts will appreciate the immense wine cellar that houses more than 7,000 labels and more than 100,000 bottles. Roughly 30-minute tours of the cellar provide a fascinating look at the collection of resort owner Gene Mulvihill, who began amassing wine more than 50 years ago. One high-light: more than 100 vintages of Chateau Latour dating back to 1863.
This vast collection (the second largest on the East Coast after Bern's Steak House in Tampa, Florida) draws wine connoisseurs to the resor t's four-star Restaurant Latour, where the impressive wine list is presented in two cork-covered binders, one for white and champagne and one for red and port. The restaurant showcases locally grown produce, meat and fish from the Hudson and Delaware Valleys and organic rack of lamb from its own ranch in Colorado. Latour's chef de cuisine is John Benjamin, who has worked under world-renowned chefs Thomas Keller and Charlie Palmer. Keller's influence was evident in a divine amuse bouche, an oyster in a bed of tapioca pearls with a crème fraiche sabayon and caviar, which was the best thing I tried in an altogether outstanding three-course dinner. (Three- or eight-course tasting menus are offered.)
The resort actually consists of three hotels: Grand Cascades Lodge, Minerals Resort & Spa and The Appalachian, a lodge at the base of the Mountain Creek ski area. In addition to Restaurant Latour, Grand Cascades Lodge boasts Reflections Spa, an eye-catching space with fire-inspired red art glass aglow throughout and 8,000 quartz crystals hanging from the ceiling. Minerals has its own spa, called Elements, and a sports club with tennis, basketball, a running track and fitness classes. All three of the resorts offer swimming pools, but the Grand Cascades Lodge has a four-season tropical paradise called the Biosphere Pool Complex, consisting of an indoor free-form pool, a 140-foot water slide, a grotto-like Jacuzzi, a cave-themed steam room and sauna and a café, all housed under a retractable roof.
Crystal Springs makes for a great family trip (Minerals caters more to kids than Grand Cascades) or a romantic couples getaway (book early for Restaurant Latour), and with so much to do, you'll wish you had more time to enjoy a guided hike along the Appalachian Trail, fishing with the family, a yoga class or the water park at Mountain Creek. Luckily, you can easily return with another hour's drive west into the hills of Sussex County.
Getting there
Grand Cascades Lodge
Three Wild Turkey Way
Hardyston, N.J.
973.827.5996
crystalgolfresort.com
Driving time: about 2 hours
---
Related Article: Visit Mohonk Mountain House