Expert Care for Children
Kids need their own hospital. The one at Saint Peter's is among the very finest.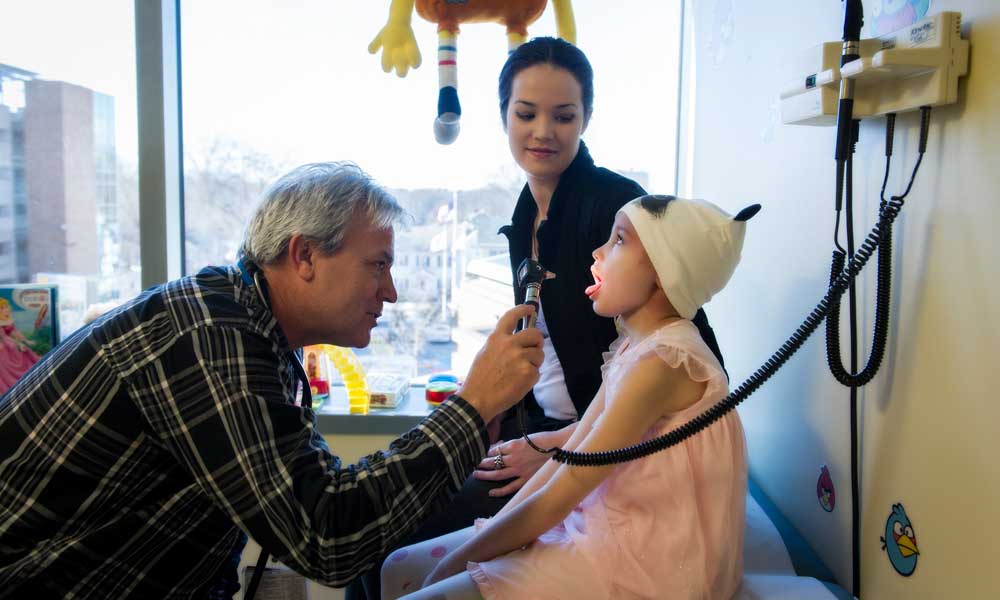 How many of us find true joy when we go to work each day? Bipin Patel, M.D., does, because it's his job to provide medical care to children. "There is nothing like seeing a child with an illness and knowing you can make that child better," he says.
Dr. Patel is chairman of the Department of Pediatrics at The Children's Hospital at Saint Peter's University Hospital. As such he leads one of the largest pediatric hospitals in New Jersey, and one of only nine state-designated acute-care children's hospitals.
"Our mission is to offer warm and comforting family-centered care to children and their families," Dr. Patel says. "We pride ourselves in providing this in a very safe manner."
The hospital has 40 pediatrics beds, plus eight more in the Pediatric Intensive Care Unit (PICU) and six "step-down" beds designed for the transition from the PICU to the pediatrics unit in the main hospital. "Saint Peter's also operates the largest neonatal intensive care unit (NI CU) in New Jersey, with 54 beds," Dr. Patel says.
EMERGENCY CARE
Saint Peter's was one of the first hospitals in the state to have a separate emergency department just for children, the doctor adds. "It is staffed by physicians and nurses who are specially trained for all pediatric emergencies," he says. "We upgraded the facility just last year. It is now a brandnew, state-of-the-art unit with 16 beds and accommodates about 25,000 pediatric patient visits a year." Along with doubling the space, the environment was remodeled to help children and their families feel more comfortable. The Dorothy B. Hersh Pediatric Emergency Department now features special child-friendly décor and spacious private rooms, and the hospital employs a fulltime child life specialist whose job it is to use toys, iPads and other distractions to ease the stress kids experience in a medical emergency.
WHEN KIDS NEED SURGERY
​Surgery is in the capable hands of pediatric surgeons John G. Gallucci, M.D., and Steven Palder, M.D. They are two of only about 14 specially trained pediatric surgeons in the state. "Kids are not little adults," explains Dr. Gallucci. "They have their own issues." That's why surgeons need special training in treating the young, and also why they handle a wider variety of clinical areas than their adult-surgeon counterparts.
"We do it all," says Dr. Gallucci. "That's the nature of pediatric surgery."
He and Dr. Palder perform 700 to 900 procedures a year. The most common operations are to treat appendicitis, hernias and bowel obstructions, he says. They also operate on gallbladders, perform tumor biopsies and remove masses in the chest and abdomen, often using minimally invasive laparoscopic techniques.
Rarer and often more challenging cases include repairs of congenital anomalies in the esophagus, heart and bowels. The surgeons' training prepares them to operate on the very smallest of patients, premature infants who sometimes weigh only about 1 pound and face critical health issues. It is satisfying work indeed to be able to surgically resolve these life-threatening conditions and set these infants on course for many decades of healthy living. "In a different time or place," says Dr. Gallucci, "many of these babies wouldn't make it. But our success rate is high. And the variety we see! In the same day I can operate on a 450-gram micropreemie and then a 300-pound teenager."
"Dr. Gallucci and I provide 24/7 availability to our patients and their families," says Dr. Palder. "Every family who comes into my office leaves with my cellphone number. I'd rather have them call me for what turns out to be a small problem than not call and later wish they had."
CANCER IN THE YOUNG
The pediatric cancer program in The Children's Hospital at Saint Peter's University Hospital draws patients from all over the world to receive its cutting-edge treatments, some of them in collaboration with the ProCure Proton Therapy Center, provider of a new type of radiation therapy that is the safest to date. (See "How Proton Radiation Works" on the right side.)
Stanley Calderwood, M.D., directs the hospital's Department of Pediatric Hematology/ Oncology. "Cancer care in children is a continuum, from diagnosis through treatment and into long-term follow-up to deal with any consequences later in life," he says. "We continue to see our patients regularly to monitor their growth and look for any side effects of treatment."
The division, comprising three physicians, a nurse practitioner, a social worker, a child life specialist, three nurse/case managers and a clinical research associate, "provides the full range of surgical, radiation and chemotherapies, a full diagnostic imaging department and all the supportive and ancillary services that patients and their families might need," Dr. Calderwood says. (These include nutrition counseling, insurance advice and help with temporary housing for out-of-towners.)
"We also belong to the Children's Oncology Group, a national clinical trials association," says the doctor. "And we are an approved test site for National Cancer Institute trials of new treatments." That resource, he says, means that some patients for whom traditional therapies haven't succeeded can find another hope for a cure.
When children come from afar to be treated at ProCure, that facility helps them find low-cost temporary housing. And Saint Peter's offers supportive care and counseling to deal with the physiological and psychosocial aspects of treatment. "We view pediatric oncology in terms of its impact not just on the patient but also on the family," says Dr. Calderwood. "It can be devastating for a family to have a child diagnosed with cancer."
He and his team do all they can to help. He remembers a 6-year-old boy from the Netherlands who was treated for a brain tumor. "He had a number of medical issues with difficult side effects and socialemotional needs as well—and he didn't speak English," Dr. Calderwood says. "Our child life specialist and social worker got involved, and within a few days he was very comfortable. The family left us with a nice portrait—and a sincere thank you." (The boy is now in remission back home.)
Says Dr. Calderwood: "When these families come here, we embrace them and treat them like part of our family."
Nobody hopes for encounters with a children's hospital. But if and when the need arises, residents of central New Jersey can have confidence in the care available at The Children's Hospital at Saint Peter's—whatever the nature of their youngster's illness or injury. "Instead of taking your child into Manhattan or Philadelphia," says Dr. Gallucci, "you can stay here closer to home and get the absolute best care."
HOW PROTON RADIATION WORKS
Since summer 2013, Saint Peter's University Hospital has been affiliated with Somerset-based ProCure, providing medical management for the cancer patients it treats with proton radiation, which is now available in only five places in the United States. Patients have traveled from as far away as the Netherlands, Israel and Central America for this treatment.
Understanding the difference between proton radiation and traditional photon radiation takes a bit of physics. But Stanley Calderwood, M.D., director of the Division of Pediatric Hematology/ Oncology in The Children's Hospital at Saint Peter's University Hospital, says that photons essentially are waves of highenergy, electromagnetic radiation that are shot "like a laser beam" at a cancerous tumor. They are aimed from different angles to collide at the tumor, but they must travel through healthy tissue to get there. "Everything in the path is affected by the radiation," he says.
Protons, on the other hand, are particles that don't release their energy until they hit the target. "They are more like bombers than lasers," he says. "There is a lot less collateral energy delivered, and thus fewer side effects. This is a distinct advantage for children, because conventional radiation can impair bone growth or cause significant disruption in other facets of development."
Children receive their proton therapy at ProCure and get all their other cancer care from Saint Peter's. "We work collaboratively with referring hospitals in the area and around the globe," says Dr. Calderwood. "We review each case and develop an overall treatment plan."
WHEN YOUR CHILD NEEDS A SPECIALIST
Top-quality subspecialty care is provided at The Children's Hospital at Saint Peter's University Hospital in a number of areas, including:
adolescent medicine
anesthesiology
audiology and occupational, physical and speech therapy
cardiology
craniofacial surgery
critical care
developmental/behavioral pediatrics
Dorothy B. Hersh Child Protection Center
endocrinology and diabetes care
For KEEPS acute behavioral program
gastroenterology
genetics evaluation and counseling
hematology/oncology
immunology/allergy
infectious disease
neonatology
nephrology
neurology and epilepsy
neurosurgery
orthopedics
otolaryngology (ear, nose and throat)
pediatric surgery
psychological services
pulmonology
sports medicine and concussion
urology
To find out more about services available for your child at the Children's Hospital at Saint Peter's University Hospital, please call 732.565.KIDS (5437) or visit saintpetershcs.com.