Fab Fiber
This food ingredient can help you lower cholesterol and lose weight.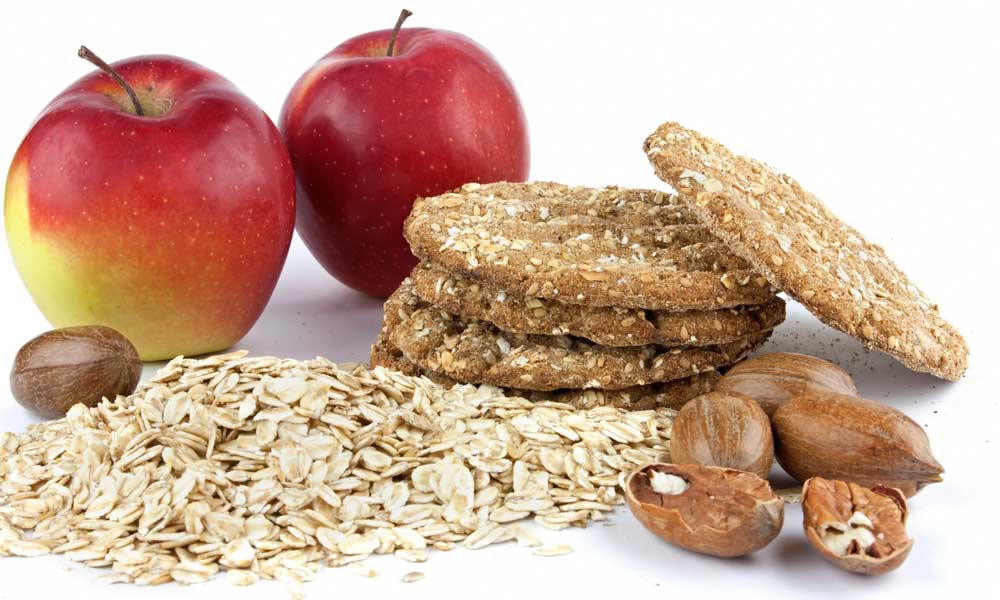 Looking to live longer? High-fiber foods such as oatmeal and whole grains are for you. Based on findings from a study published January 5, 2015, in the online version of JAMA Internal Medicine, Harvard School of Public Health researchers estimate that each one-ounce serving of whole grains added to your daily diet reduces your overall risk of an early death by 5 percent and your risk of death from heart disease by 9 percent.
Other studies have found that fiber helps people lose weight, lower cholesterol and control blood sugar levels, says Deanna Schweighardt, a registered dietician and outpatient nutritionist at Saint Barnabas Medical Center. "Fiber absorbs cholesterol and gives you a sense of fullness after you eat, so it helps you eat less," she says.
There are two different types of fiber, soluble and insoluble fiber. Soluble fiber is found in oat bran, barley, nuts, seeds, beans, lentils, peas and some fruits and vegetables, attracts water and turns to gel during digestion. This slows the digestive process. Insoluble fiber is found in wheat bran, vegetables and whole grains. It adds bulk to the stool and appears to help food pass more quickly through the stomach and intestines.
Most Americans fall short of the recommended daily amount of fiber in their diets, according to the Academy of Nutrition and Dietetics. It says that women should aim for 25 grams of fiber per day, while men should target 38 grams (or 21 and 30 grams daily, respectively, for those over age 51). "For children, add 5 grams of fiber to the child's age, so an 8-year-old, for example, needs 13 grams a day," Schweighardt adds.
But don't go overboard. "Too much of anything is no good, so increase your fiber intake gradually," she suggests. "I advise patients to fill half of every plate with fruits and vegetables and make sure half of their daily grains are high-fiber items. Also, drink plenty of water and engage in regular physical activity to help prevent gas, bloating and constipation."
'Fiber up' through your day
Make these simple changes to increase your intake of healthy fiber:
Breakfast: Eat steel-cut oats with nuts and berries instead of a lowfiber refined cereal.
Lunch: Forget the spongy white bread. Make your sandwich or wrap with a whole-grain tortilla or wholegrain bread and add veggies, such as lettuce and tomato.
Snack: Skip the chips. Choose fresh vegetables or whole-grain crackers with hummus.
Dinner: For your "starch" dish, go for brown rice or whole-grain noodles instead of white rice or pasta made with white flour.
Source: The Academy of Nutrition and Dietetics
To find out more about nutrition services available at Saint Barnabas Medical Center, please call 973.322.5664 or visit barnabashealth.org/sbmc.