Faces of St. Peter's: Derick J. Christian, M.D.
Meet St. Peter's liver and pancreatic cancer surgeon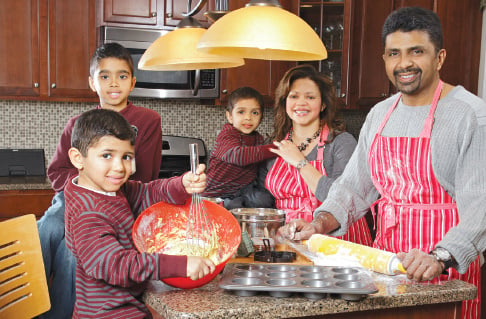 A native of India who came to this country at age 11, Derick J. Christian, M.D., 39, grew up in Jersey City and attended Saint Peter's College before earning his medical degree at Saba Medical School in the Dutch Antilles. He completed a surgical residency at the University of Connecticut and fellowships in minimally invasive surgery at the University of Pennsylvania and in liver and pancreatic surgery at Methodist Hospital in Dallas. Dr. Christian now lives in East Brunswick with his wife, Nicole, 39, and sons Justin, 8, Jacob, 5, and Joshua, 3. He joined Saint Peter's University Hospital in November 2011.
I'm told you've called your specialty—liver and pancreatic cancer surgery—"the last frontier." Why?
We've made great strides in every other area of abdominal surgery, but in this area not much has changed in the past 20 years. Cancers of the liver and pancreas are lethal diseases; they need significant attention.
Is that why you chose this work?
Yes. I wanted to do something that could make a difference. I chose it because it was a challenge worth devoting one's life to. Saint Peter's is the only medical center in the area to offer this type of surgery, which has only been a fellowship-trained specialty for five years. We have the opportunity to get to the next level, and that excites me.
Why is the specialty so new?
These are very complex diseases, and recent research has found that outcomes are better if surgeons specialize in this kind of surgery. You need to do at least one a month. In my fellowship we did approximately 100 a year.
What are your off-hours like?
I played soccer in high school, and though I don't play now, my kids do. My wife coaches our son Justin, and I help out—I bring the soccer balls and carry the clipboard. We also like to cook together as a family—we especially like Indian and Thai food.