Faces of St. Peter's: Steven L. Shoen, M.D.
An avid skier-doctor who performs both hand and cosmetic surgery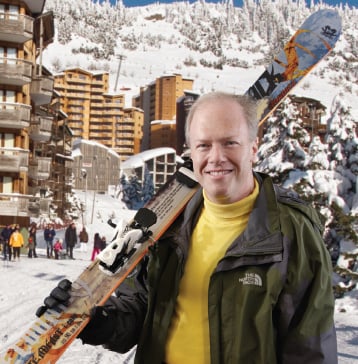 If you want to find this surgeon outside of work, look to the mountains. An avid skier, Steven L. Shoen, M.D., 51, hits the slopes with his family whenever he has the time. The Long Island native was educated in the Bronx, N.Y.—first at Yeshiva University, then in medical school at the Albert Einstein College of Medicine, and then in residencies in general surgery and plastic surgery at Montefiore Medical Center. He also did a fellowship in hand surgery and microsurgery at Boston's Beth Israel Deaconess Medical Center. Dr. Shoen now lives in East Brunswick with his wife, Judy, 46, a speech therapist, and their three children, Ezra, 18, David, 16, and Tamar, 13.
PLASTIC SURGERY AND HAND SURGERY SEEM VERY DIFFERENT. WHY DO YOU SPECIALIZE IN BOTH?
Both involve solving diagnostic problems, which interests me a lot. There's a lot of uncertainty, unlike with basic cosmetic surgery. About 40 percent of my practice is hand surgery, while 40 percent is plastic surgery for cancer-related reconstruction of the breasts, skin and face. Cosmetic plastic surgery accounts for perhaps another 10 percent.
HOW DID A LONG ISLAND BOY GET INTO SKIING?
I've always loved the outdoors, and in high school I'd take the Long Island Rail Road to Penn Station and then take a bus up to the closest ski resorts. I spent most of the first day on my backside, but I loved it nevertheless. I'm still no Jean-Claude Killy, but I love to get into the mountains.
HAVE YOU SKIED IN MANY PARTS OF THE WORLD?
During my internship I took a vacation to Europe. A guide led us and we skied from France to Switzerland, had lunch in Switzerland and skied back to France. It was wild. Now, my family takes a vacation out West every year, usually to Colorado, and I take a few days in southern Vermont. My wife skied a lot as a kid but doesn't love it like I do. She just humors me.
Related Read: Getting the Family into Shape