Facing New Challenges
A uniquely skilled surgeon treats the complex health challenges of a past gastric bypass patient.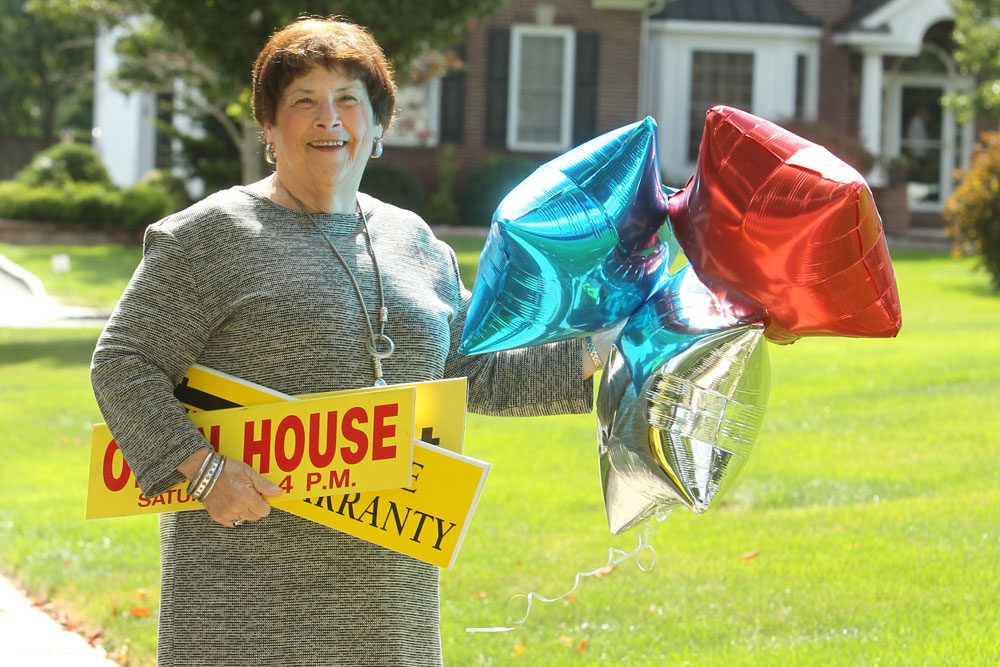 above: Monroe resident Anne Haas turned to Dr. Frank J. Borao, director of the Center for Minimally Invasive Esophageal and Gastric Surgery at Monmouth Medical Center, when she was looking for the right bariatric surgeon.
When Anne Haas had gastric bypass surgery years ago, she did her research and found the right bariatric surgeon for her needs. But in recent months, when ensuing medical problems required complex procedures, she faced a challenge: finding the right doctor to bring her back to health. Anne ultimately turned to accomplished bariatric surgeon Frank J. Borao, M.D., FACS , FASMB, director of the Center for Minimally Invasive Esophageal and Gastric Surgery at Monmouth Medical Center. Today, she feels very fortunate for her decision. "I thank my lucky stars that I found him," says the Monroe resident. "I had to have had someone looking over me."
New issues arise
Anne had dieted throughout her life with no lasting success. In 2003, she underwent standard gastric bypass surgery. Though she maintained a 75-pound weight loss for nearly a decade, her situation grew more complex. Afflicted by unrelated kidney problems since adolescence, in 2010 she received a kidney transplant. And the transplant required Anne to take the steroid prednisone over the long-term, which weakens the body's tissues. In the past few years, she also developed severe acid reflux—a sign something had gone wrong with her older bypass. "I gained 20 pounds in a year and a half. Up until then, my weight had been pretty stable," says Anne, 67. "I just didn't feel good; I knew something was wrong." Anne's gastroenterologist diagnosed her with a gastrogastric fistula—a connection between the small stomach pouch created as part of her bypass and the rest of her stomach. So Anne began looking for a bariatric surgeon to fix her gastric bypass, and she found Dr. Borao "by happenstance." "I came upon his name, scheduled an appointment and fell in love with him," she recalls. "Anne needed surgery," says Dr. Borao. "In addition to the fistula, she had a hiatal hernia with a significant amount of stomach in her chest. Although it is a formidable surgery, it can be done through a few small incisions." That message was a wake-up call to Anne. "Until I went to Dr. Borao, I didn't think it was a big deal," she says.
Intricate procedure
Dr. Borao performed an eight-hour operation, which included removal of a portion of Anne's stomach and small intestine and repair of her hiatal hernia, with a takedown of the fistula. "It wasn't an easy surgery but everything went well," says Anne, who was out of bed the next day, and returned home one day later. "The staples wouldn't hold because of the condition of my tissues from the prednisone use, so Dr. Borao had to hand-sew all of the connections." Three weeks after her surgery, Anne returned to her job in real estate. She tired quickly at first, but after a short time, she felt "a lot better." Plus, Anne's reflux and heartburn are "totally gone," she reports. "Dr. Borao is amazing," says Anne. "I would recommend him to anyone. In fact, I already have!"
For more information about the Center for Minimally Invasive Esophageal and Gastric Surgery at Monmouth Medical Center, call 732.923.6070.
Frank J. Borao, M.D., pictured far right, and his team.
New Patient Lecture Series
For those considering a bariatric procedure, the most up-to-date information on gastric bypass surgery, gastric banding and sleeve gastrectomy is available through the new patient lecture series at Monmouth Medical Center. Afternoon and evening sessions are available. The evening new patient lectures take place 6–7 p.m. in the Community Meeting Room, and the Support Group meets from 7–9 p.m. in Stanley 206, 212 and 214. Feb. 23, March 23, April 27, May 25, June 22, July 27, Aug. 24, Sept. 28, Oct. 26, Nov. 16, Dec. 21.
Afternoon new patient lectures only take place 3–4:30 p.m. in Stanley 212. Feb. 13, March 13, April 10, May 8, June 12, July 10, Aug. 14, Sept. 11, Oct. 9, Nov. 13, Dec. 11.
To learn about the programs and services of Monmouth Medical Center, visit barnabashealth.org/monmouth.