Fall for Oktoberfest
Hankering for German food? These three eateries will satisfy all your cravings.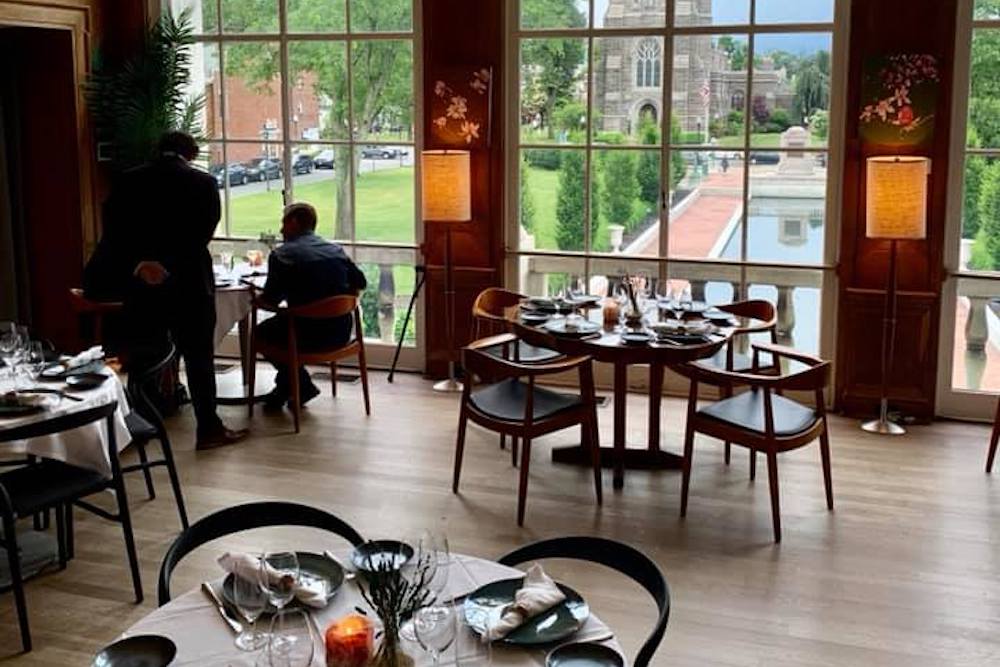 'Tis the season of pumpkin spice and apple cider doughnuts, but this is the time of year when my brain (and palate) go into Oktoberfest mode. This German celebration is more than 200 years old, its roots going back to 1810, when Bavaria's Crown Prince Ludwig married Princess Therese of Saxony-Hildburghausen. Today, most of us commemorate it at festivals filled with mouthwatering German fare and wonderfully brewed auburn lagers. But because of our busy fall schedules, making it to a festival isn't always feasible. The next best thing is to visit one of our area's many establishments with seasonal specials. Places like Montclair Brewery, Cloverleaf Tavern in Caldwell and The Office Tavern and Grill (locations in East Hanover and Morristown), for instance, have an unforgettable lineup of drink specials. Here are my three favorites for beer and brats.
—Darius Amos

Redd's Biergarten, Newark
Asbury Park and Jersey City have their gems, but Brick City has its own must-try beer garden. Though Redd's sits in the shadow of the Prudential Center, you don't have to wait for a Devils game to visit. Fall was on my mind when my friends and I stopped at Redd's this summer, and fortunately its menu features the best of Oktoberfest all year long. There are typical tavern appetizers like wings and mozzarella sticks but the menu also features a selection of German-inspired foods—soft pretzels, kartoffelpuffer (potato pancakes with applesauce) and bier bacon (slabs of smoky bacon with a beer and honey glaze). We skipped apps on this trip and went straight for the big meats. My crew split the German Wurst Platter, a complete package with regular and cheddar brats, kielbasa and Weisswurst. Each sausage had the perfect snap when I sank my teeth into the casing, and sides of kraut and fries made me feel like I'd gone to foodie heaven. Redd's also has a variety of burgers, schnitzel and sandwiches (how does a cordon bleu on pretzel roll sound?) as well as soups and salads. Of course, we had to wash everything down with a brew, and Redd's has plenty of German beers and local crafts on tap. I went light on this visit: a Schofferhofer grapefruit beer was perfect for my still-summer-but-thinking-fall vibe.
Redd's Biergarten, 220 Market St., Newark, 973.877.6600, reddsbiergarten.com Redd's Biergarten, 220 Market St., Newark, 973.877.6600, reddsbiergarten.com
Jockey Hollow Bar and Kitchen, Morristown
I admit I have never eaten in the exclusive Washington Room at Jockey Hollow, but only because the more relaxed Rathskeller usually calls my name. Located on the basement level of the Jockey Hollow mansion, the Rathskeller (German for council's cellar) has limited hours and few seats but boasts a sizable drink list and mouth-watering grub. Oktoberfest-goers can order from Jockey Hollow's Oyster Bar menu (steak, poultry and seafood entrées galore) or select from Rathskeller's specials. My friend and I shared two dishes, pork schnitzel and potato and cheese pierogies. The thin pork cutlet had a wonderful crisp and great flavor, especially with the side of braised cabbage and capers. The pierogies, too, were delicious, but perhaps a bigger portion or a third plate would have filled our empty tummies. But that left more space for drinks: A couple of von Trapps did the trick for me, while my companion capped the evening with a glass of rosé cider.
Jockey Hollow Bar and Kitchen, 110 South St., Morristown, 973.644.3180, jockeyhollowbarandkitchen. com

Revolution, Morristown
Over the past few months, this restaurant/beer hall/ social club has easily become one of my favorite spots in Mo-Town. So what's the attraction? It's definitely the food. And the brews. And the vibe. Classic Oktoberfest fare is available year-round, from starters like giant soft pretzels and schnitzel chicken fingers to entrées like wienerschnitzel and Bavarian sausage sandwiches. During a visit earlier this year, a friend and I split a trio of appetizers before Revolution's nightlife scene picked up. Our first, Revolution's signature fladenbrot (flatbread), had unbelievable flavor thanks to the toppings, namely bacon, caramelized onion and a crème fraiche spread. We also shared a plate of pierogies, each generously stuffed with potato and cheese and sprinkled with bacon and crème fraiche that similarly appeared on the flatbread. A third app—fried mac and cheese balls—doesn't appear on many Oktoberfest menus, but the crispy breadcrumbs and stringy cheese filling makes it perfect any time of year. Revolution had yet to roll out its Oktoberfest drinks during this recent, but there are plenty on tap now.
Revolution, Morristown, 9 South St., Morristown, 973.455.0033, revolutionmorristown.com