Fare of gold
Fresh, light, airy— it's how you feel when you walk into D'Oro on Chatham's Main Street.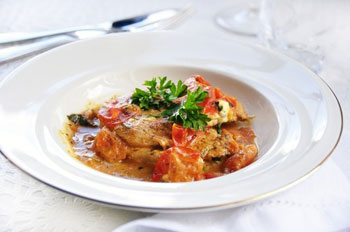 Fresh, light, airy—it's how you feel when you walk into D'Oro, a recent addition to Chatham's Main Street eateries. How could you not? The A-frame ceiling is high and gabled, the walls have been freshly painted the hue of Tuscan wheat fields (a gold evoking the restaurant's Italian name), seating is sleek and spacious, and the smiles easy and generous. Most of them emanate from owner Sam Brancaj and his brother-in-law, waiter Giovanni Kadrija, affable tablehoppers with a talent for making you feel at once special and at home. Accommodating to a fault—You want this table? No problem! You want to order your appetizers now and your entrée later? Go right ahead!— they're a one-two team that handles requests with humor and aplomb.
It's a breezy attitude that translates to the fare, which echoes the fresh, light, airy ambience. A prime example? The Portobello pizzette, Portobello caps layered with pesto, diced tomato and onion, and mozzarella and baked till the flavors melt and meld into a satisfying whole. Gamberi Toscana—cannelloni beans and shrimp—was also well turned out, thanks to perfectly grilled seafood and the addition of sage, which nicely complemented the seafood's slight char. A splash of white wine added character and complexity without detracting from the classic flavors. But perhaps the kitchen's most impressive achievement was keeping the spedini—mozzarella battered in egg and fried—downright fluffy. Cut into thick triangles, the appetizer had the consistency of a croque monsieur or French toast. Made without ham, it was subtle and took well to the anchovy dipping sauce, which provided a piquant counterpoint. (Kids—and anchovy-averse adults—can dip into marinara instead.)
For a pasta dish that won't weigh you down, the penne rustica is a good choice. Chunks of eggplant combine with a lovely marinara, while shaved ricotta salata adds an edge that elevates the plate from humble to haute.
As for the entrées, order the scallopine con asparagi and you'll get buttery veal sliced to quasi-carpaccioworthy thinness. It was barely floured and sautéed with a handful of asparagus and sun-dried tomatoes in a light, brothy sauce. Steamed zucchini (prepared a little too spa-like for my palate) and simply roasted potatoes rounded out the dish, which was satisfying if not raveworthy. Capesante del Babbo (herb-crusted scallops) was lightly sautéed in a beurre blanc that teased out the seafood's sweetness. The scallops were juicy and aromatic and, like the scallopine, served with zucchini and roasted potatoes.
Desserts—homemade on the premises—are far more indulgent than the savory main-meal fare, but that's nothing to complain about! The rich Italian ricotta cheesecake had a pleasing consistency and a milky subtlety that made it a standout. Cheesecake appeared again in D'Oro's own midnight cake, where it lusciously bound together layers of chocolate cake. Also excellent was the flourless chocolate cake (offered to us courtesy of Sam)—a dense, cocoa-rich delight. Luckily, after the lightness of the entrées they follow, these are indulgences you can enjoy with minimal guilt. And that, to us, is golden indeed.