Farewell to 45 Pounds
Surgery Helps a Long Branch Woman Achieve a Dramatic Weight Loss-- And Become More Active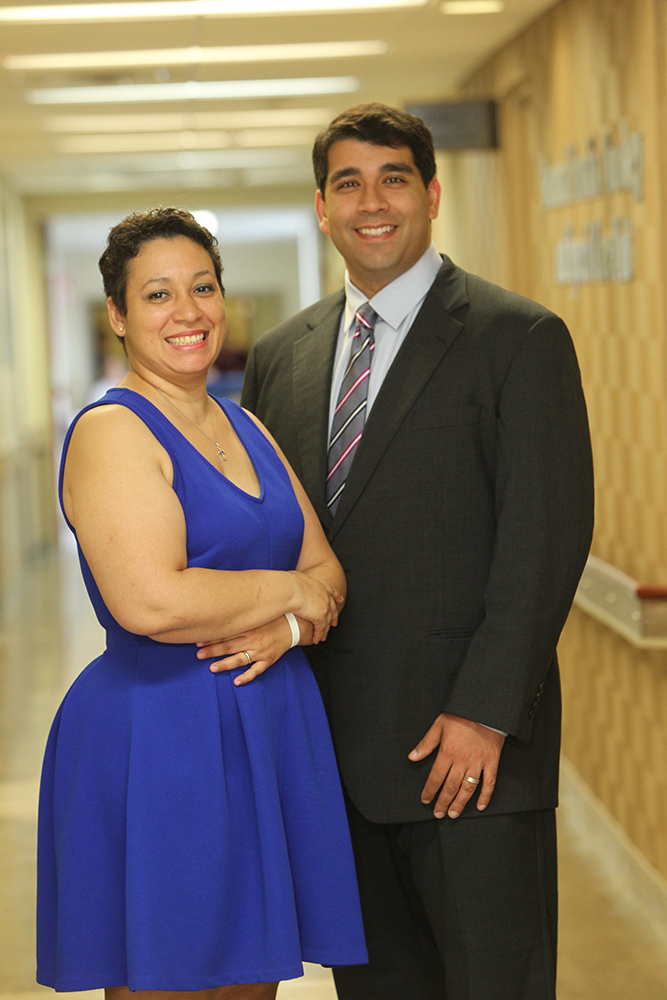 Talk about bouncing back, Forty-one-year-old Dawn Singleton got such positive results from a bariatric (weight-loss) procedure at Monmouth Medical Center that "I can do stuff I couldn't do for years," she says. "One of our grandchildren had a birthday party recently, and I could climb to the top of a giant 'bounce house' and play. I couldn't do that before the surgery. I had a great time!"
Dawn is a buyer for the Barnabas Health system; besides husband Tom, a security guard for the system, she has three children (one age 6), four stepchildren and five step-grandchildren. Her trouble started years ago, when after suffering two miscarriages she turned to food for comfort. She saw her weight balloon to 230 pounds, a lot for her 5-foot, 1-inch frame. Though active physically—she played roller derby and was a regular at the gym—she couldn't lose the weight. So she went to a weight-loss surgery seminar at the medical center.
The seminar was led by Gurdeep S. Matharoo, M.D., an advanced laparoscopic and bariatric surgeon with the Barnabas Health Medical Group. As Dr. Matharoo described the surgery, Dawn knew she wanted to try it. "I felt comfortable listening to him, and made an ap-pointment to see him to start the process," says Dawn, a Long Branch resident. "I really liked him; he had a great bedside manner." She was especially excited when he said he was training to do the surgery using the da Vinci surgical robot system. "As a buyer for Barnabas Health, I know what the da Vinci is," she says. "I saw it when it first came to the hospital."
The robot affords surgeons an enhanced, three-dimensional view of the surgical site and precise, computer-aided movements of surgical tools. "The instruments move just as your hands and wrists move," Dr. Matharoo says. The result is fewer complications, less pain, shorter hospital stays and a quicker recovery. Dr. Matharoo does all types of gastric surgery, including sleeve gastrectomy, gastric bypass, inguinal hernia, ventral hernia repair, single-site gallbladder removal and hiatal hernia repair. For Dawn, he recommended a sleeve gastrectomy, in which most of the stomach is removed, causing the patient to feel full after much smaller meals. She had the procedure February 4. And she couldn't be happier that she did. By May, she had lost 45 pounds on her way to her goal weight of 150. She feels much better too.
TO LEARN MORE ABOUT SERVICES AVAILABLE FOR YOU OR YOUR FAMILY AT MONMOUTH MEDICAL CENTER, PLEASE CALL 888.724.7123.
TO SHARE THIS ARTICLE WITH A FRIEND OR TO RECOMMEND IT ON YOUR FACEBOOK PAGE, VISIT MONMOUTHHEALTHANDLIFE.COM