Farmhouse Flair
Somehow both capacious and cozy, a new-construction Holmdel home became a country-inspired "wow" for its owners.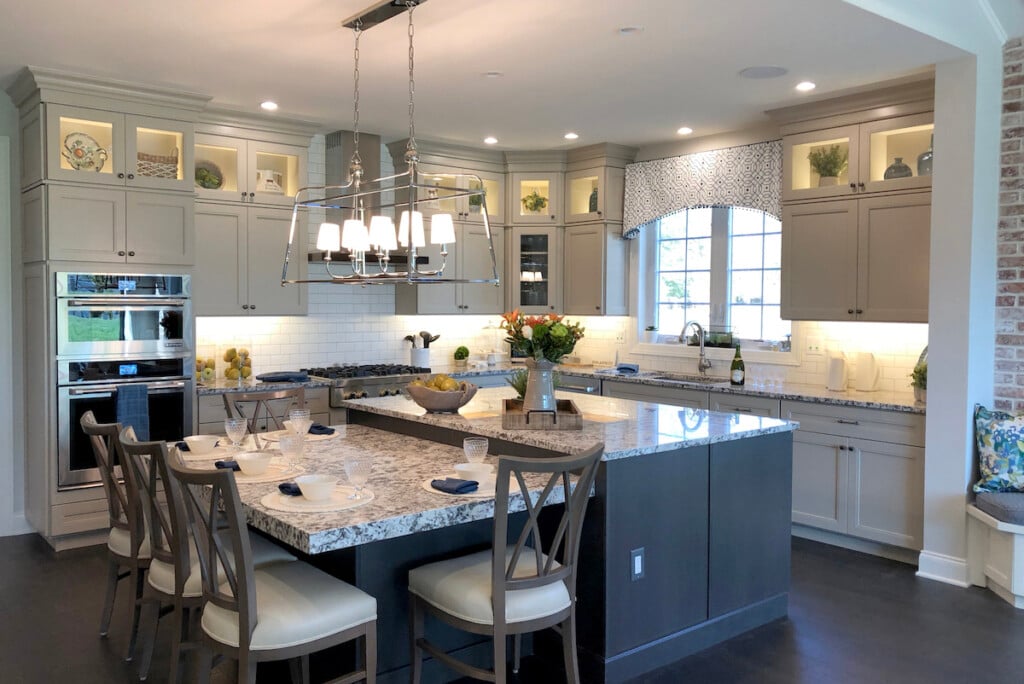 Design by Jill Ryan
Photography by Jill Ryan and Victoria Mancino Kroeck
Text by Haley Longman
It was an HGTV moment. After a year of planning and six weeks of getting everything in place, the designers who revamped this brand[1]new home in Holmdel orchestrated a big reveal for their clients to see it once it was completely redesigned and finished—and not a minute before. "They kept saying, 'Girls, how did you do this?'" says Victoria Mancino Kroeck, an associate of Jill Ryan Interiors in Tinton Falls. "They were in shock and excited." And that's because Jill Ryan and her team turned what was originally called a "vanilla box" new-construction build into one of their favorite design projects of all time.
This home is the antithesis of cookie-cutter. The house was built on a prime spot in the Bell Works development—you can see the Bell Laboratories Transistor Water Tower from the kitchen window and backyard. And the interior needed to reflect its fantastic location. The clients, who have six kids and seven grandkids, wanted "modern with a little bit of a farmhouse flair," says Ryan. The three-bedroom, four-bathroom home needed to be cozy, accommodating to their large family and suited to their personal style.
Instead of falling back on all-white everything, Ryan and her client worked with the contractor, Toll Brothers Regency at Holmdel, to select and install the vanities and cabinets in the bathrooms and kitchen, respectively—and make them interesting. A drop-down island in a rich navy blue has a dual purpose: food prep on one side, seating for five to six people on the other. The bedrock granite island is custom, as are the beams and millwork in the ceiling, a pair of built-in window seats and even the brick accent wall behind the banquettes. Complementary but not too matchy-matchy is the nearby dining room, for which Ryan chose wide-plank flooring, silk draperies by Kravet and a wool-textured geometric pattern rug by Masland that also goes up the stairs as a runner.
This home isn't lacking in the sitting-room department, with one conveniently located on each floor. Off the foyer and the dining area is what the homeowners have dubbed "the Friday room," where they sit and relax with a cocktail in anticipation of the weekend. But with a duo of custom-built desks, it's become useful during working hours too, and is among their favorite spaces to hang.
On the lower level, the design team divided the large, "cavernous" basement by building a half-wall of sorts in the middle (with custom cabinetry and millwork by Brick-based Sharpe Creations). One side has a countertop with stools for a custom bar and TV area, along with a custom banquette and dining table for game playing and dining. There's also a football shrine here, a nod to the homeowners' two grown sons, who played at the college level. On the other side sit four swivel chairs and a studded hexagonal ottoman from Precedent Furniture, to keep that cozy vibe going. This zone is primarily neutral, but gets a welcome punch of color from the orange dog painting by Wendover Art.
Enough seating? Not a problem. Upstairs between two bedrooms is a loft space featuring a double chaise sectional by Sherrill Furniture. The design team built the fireplace from scratch (with the help of Woodsmith Woodwork in South Amboy) and painted it blue and white to resemble the kitchen, in Sherwin-Williams Sea Serpent and Benjamin Moore's White Dove. Flanking the fireplace on either side are twin shelving units by Lexington Furniture.
Whimsy is the word for the grandkids' bedroom, featuring the library-inspired Bella Books Confetti wallpaper by Kravet and a grainy, starry wallpaper on the ceiling. Shaker molding millwork separates the two prints so that they're beautiful together, rather than too busy.
"We used a lot of textured wallpaper in this home," says Ryan. Examples include a silver damask grass cloth in the powder room, a metallic floral in the laundry room and a sophisticated solid blue suede with a geometric design of tiny metallic rivets by Wolf-Gordon. The lady of the house got a custom walk-in closet here. "She really wanted a lot of texture and comfort in the primary bedroom," says Ryan. Her husband's stuff is stored in an equally spacious built-in wall of custom cabinetry.
The couple didn't live in the home while every detail was being put in place, and they weren't even allowed to peek while it was in progress. The six-week-long installation period involved all the custom millwork, the painting, the drapery and shutter installation, as well as the staging of all the furniture and accessories, Ryan says, which led up to the perfect "wow" moment. "We spent the entire week before they moved in at the house ma[1]king sure every detail was perfect, and we served champagne, Orange Crush—our clients' favorite drink—and crudités," says Mancino Kroeck. "This job was truly a labor of love, and they loved everything."