Fast Action Saves a Life
She wasn't a classic heart-attack candidate, but fortunately, when symptoms struck, she didn't delay.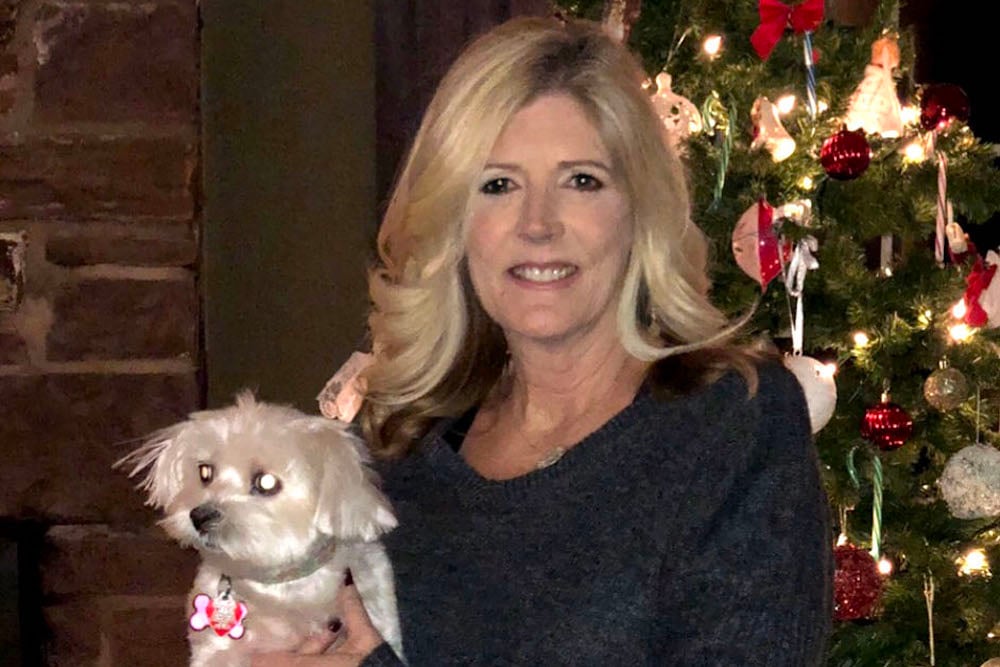 THIS PAST DECEMBER, SANDY SULLIVAN, a 55-year-old mother of four children, was looking forward to seeing her twin boys, United States Army Rangers, who were coming home for Christmas. On December 16, 2018, at 4:00 a.m., Sandy woke up with a pain in her throat.
"It definitely did not feel like a normal sore throat," Sullivan recalls. "It was just getting worse and then I started to break out in sweats." She woke up her husband and they went to the Emergency Department at Saint Barnabas Medical Center. The doctors quickly concluded that she was having a heart attack and rushed her into the Cardiac Catheterization Lab, where Bruce J. Haik, M.D., system director of Cardiac Catheterization Labs for RWJBarnabas Health, placed a stent in her heart.
"What was unique about Sandy's case was the fact that although she did have a history of tobacco use, she had no other heart-attack risk factors and was relatively young for a woman to suffer a heart attack," says Dr. Haik.
"The whole thing happened pretty quickly," says Sullivan. "I remember being on the table telling the doctor, 'I hope this goes well because my twin boys are being deployed in a couple of weeks.' I wasn't sure if I was going to be alive or not."
Sullivan recovered in the Coronary Care Unit and was up and walking the next day. She was able to start getting back to her normal daily routine a week later, just in time to see her sons. "The entire Emergency Department staff and Cardiac Department were amazing and made me feel very comfortable," says Sandy. "Thank you for saving my life."
"Although Sandy's symptoms were textbook—chest pain and associated diaphoresis [excessive sweating without a known cause] waking her up from sleep—she did initially present with a sore throat," explains Dr. Haik. "Nausea, dizziness, anxiety as well as chest pain, which may include back or neck pain or throbbing in arms—that's not an uncommon presentation for women." "If it doesn't feel right, it's probably not right," Sullivan now warns people. She continues her cardiac care with cardiologist Devang Gandhi, M.D., and is enrolled in Cardiac Rehabilitation at Saint Barnabas Medical Center.
Saint Barnabas Medical Center provides a full array of advanced cardiovascular services including transcatheter aortic valve replacement (TAVR), noninvasive cardiac imaging, advanced echocardiography techniques, coronary CTA (computed tomography angiography), diagnostic and interventional cardiac catheterization, peripheral vascular services including carotid stenting, and full range of open-heart surgery including valve surgery and coronary revascularization. In addition, a full range of electrophysiology services including pacemaker and cardiac defibrillator implantation, Watchman, electrophysiologic studies and atrial fi brillation ablation are offered. Saint Barnabas Medical Center has received The Joint Commission disease-specific certifications for Acute Coronary Syndrome, Heart Failure and Cardiac Rehabilitation.
HEART ATTACK: KNOW THE WARNING SIGNS
CHEST DISCOMFORT: Most heart attacks involve discomfort in the center of the chest that lasts more than a few minutes, or that goes away and comes back. It can feel like uncomfortable pressure, squeezing, fullness or pain.
DISCOMFORT IN OTHER AREAS OF THE UPPER BODY: Symptoms can include pain or discomfort in one or both arms, the back, neck, jaw or stomach.
SHORTNESS OF BREATH with or without chest discomfort.
OTHER SIGNS may include breaking out in a cold sweat, nausea or lightheadedness.
SYMPTOMS IN WOMEN CAN BE DIFFERENT: As with men, women's most common heart attack symptom is chest pain (angina) or discomfort. But women are somewhat more likely than men to experience some of the other common symptoms, particularly shortness of breath, nausea/vomiting, and back or jaw pain.
—American Heart Association