Faster Breast Findings
Now women can get their mammogram results within hours.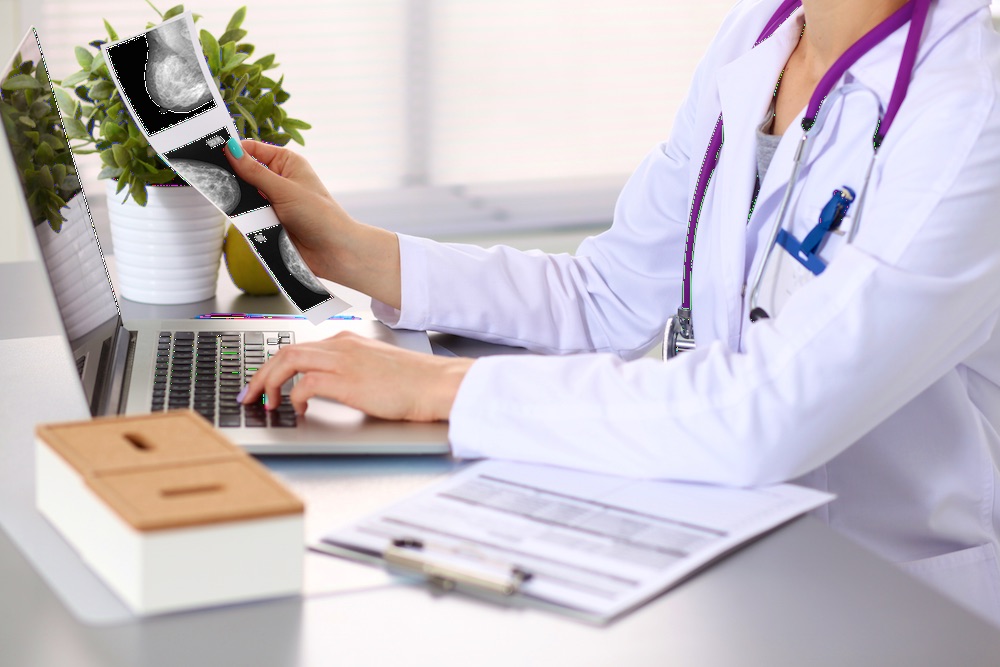 MAMMOGRAPHY IS ALMOST ALWAYS THE INITIAL IMAGING study used for the detection of breast cancer. It's not perfect, but it offers a potentially lifesaving benefit in return for a few moments' physical discomfort—and most women like that deal. What they don't like is the suspense.
"The worst part of a mammogram isn't being pressed between the plates to get the image; it's waiting for the results," says Linda Sanders, M.D., medical director of the Breast Center at the Saint Barnabas Ambulatory Care Center. But now that wait is dramatically shorter.
The Breast Center recently implemented a faster way to get mammogram results to patients—and end the worry. As soon as the radiologist interprets the test and writes the report into the patient's electronic medical record, a piece of software called PenConnect generates an email to the patient. Its wording is the same as that of the letter sent by postal mail. That means patients now can receive their results the same day or, if they're screened in the evening or on the weekend, the next business day. The mail can take up to a week, so this approach is much quicker.
Many women are frightened by what they may learn from a mammogram. They may have a personal history of breast cancer or family members who had it. So it is helpful to end the suspense as quickly as possible.
Because 90 percent of mammograms turn out to be normal, according to Dr. Sanders, most women will be reassured when they get their results. Of course, even a positive finding doesn't necessarily mean you have cancer, but for that minority further testing is required. For most women, why delay good news?
"As a radiologist, I love it," Dr. Sanders says of the new system. "It cuts the waiting time for results to an average of five to six hours. Some women get the email by mid-morning and can call us immediately to schedule their next step, if needed. Some even turn around and come back the same day. I'm thrilled that we can offer this service."
Stephen P. Zieniewicz, FACHE, president, CEO
Linda Sanders, M.D.
The email service, which is password-protected to ensure patient privacy, is entirely optional; patients are given a registration card and instructions by the front desk staff, who can also help them understand the process. Since PenConnect became available in January, about 80 percent of patients have opted to receive their results through the email system.
The letter, whether sent electronically or by "snail mail," is very generic, Dr. Sanders explains. "It never says anything other than that the mammogram is normal or that we have a finding that needs additional screening," she says. Included in the letter is the phone number for the nurse line, so patients can call with questions immediately.
"We help patients understand the results and go through the report with them," says Joanne Persing, assistant director for Breast and Osteoporosis Services. "The doctors love that too. They are busy, and they appreciate knowing that their patient has the results and can call a nurse for the next step. We have received good feedback from doctors and patients."
PenConnect is not the only new feature at the Breast Center. The center recently added a second three-dimensional tomography scanner for the most accurate mammogram screening, tomosynthesis. The scans it produces are better able to determine whether an irregularity in the breast tissue is actually cancer or a "false positive," Dr. Sanders says. "The major benefit is that it reduces callbacks," she says. "Tomosynthesis is also better at finding hidden nodules and architectural distortions in dense breast tissue."
Medicare covers this enhanced screening, but many private insurance policies do not. Patients with such coverage can purchase it for a small fee if they ask for it, Dr. Sanders says. Women can take advantage of one of the center's nurses for help understanding their options, Persing explains: "Nurses have played an important role since the center opened in 1998. If a patient needs further studies or a surgical appointment, a nurse will review everything with the radiologist and serve as a resource for the patient and the referring physician."
"This technology provides our patients with tremendous peace of mind as they receive their resutls much more quickly," states Stephen P. Zieniewicz, FACHE, president and CEO, Saint Barnabas Medical Center. "For those individuals who need follow-up, it expedites communication and the scheduling of any additional testing or treatment."
Start annual mammograms at 40, breast doctor advises
When should women get a mammogram? How often? The guidelines from various medical groups sometimes change and conflict. Linda Sanders, M.D., medical director of the Breast Center at the Saint Barnabas Ambulatory Care Center, keeps it simple. She recommends that all women have an annual mammogram beginning at age 40.
"No question," she says. "But there are still many women we don't reach with that recommendation, and that is sad. Once women are educated that they are all at risk for breast cancer and that they should have a yearly mammogram, it becomes a routine health screening."
For more information on the Breast Cancer at Saint Barnabas Medical Center, please call 973.322.7800 or visit rwjbh.org/accmammoscheduling.