Faster Mammogram Results
By providing information sooner, Saint Barnabas Medical Center takes some of the stress out of breast cancer screening.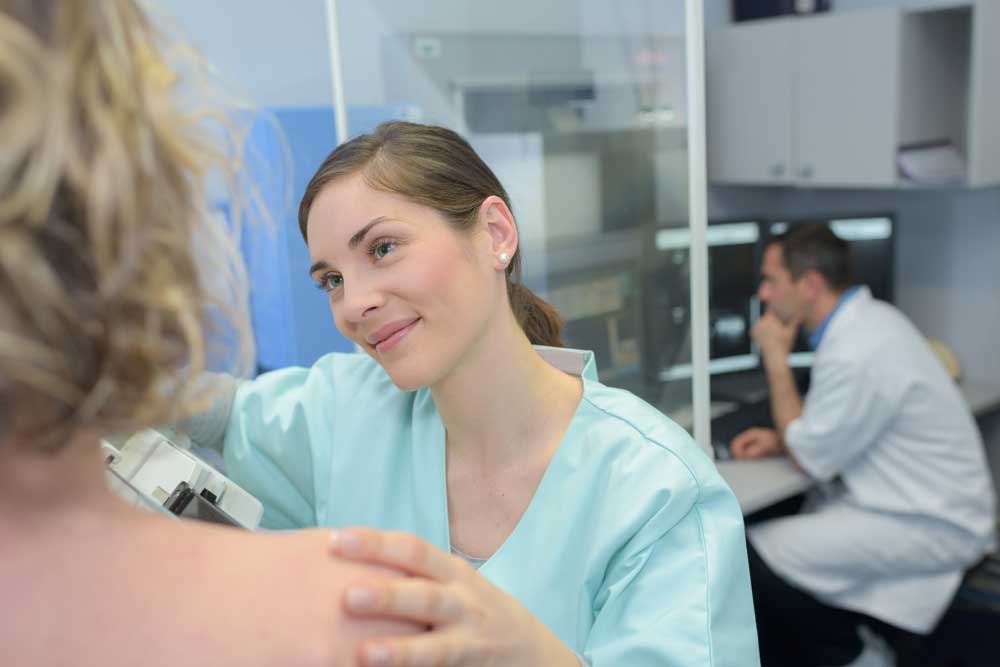 When a woman being screened for breast cancer must wait a week or longer to learn the results of her screening mammogram mammogram, anxiety can build. And approximately 10 percent of patients learn that they must have additional imaging to provide more information. That can add to the stress.
"Most often, follow-up imaging finds nothing of concern," says Linda Sanders, M.D., medical director of The Breast Center at the Barnabas Health Ambulatory Care Center at Saint Barnabas Medical Center. "But we want our patients to know their screening results as soon as possible. That helps them avoid some of the anxiety—and helps ensure that any additional imaging or tests are done promptly."
At a typical mammography center, the follow-up appointment can be a week or more after the screening. And if a biopsy is needed, a third date must be set for even further in the future. In total, the process can take several weeks.
"So we've put several new services in place to fast-track this important information," says Dr. Sanders.
Today at the center, when a patient calls to schedule a screening mammogram, she has the option to have any additional imaging done on the same day as her screening mammogram. Besides alleviating some of her anxiety, this service saves her from having to make a return trip.
"We've been doing this for years for women who we know have difficulty getting to appointments, but we've now formalized it so that every patient has this option," Dr. Sanders says. "Our patients really appreciate it."
This service can help a significant number of people since one in 10 women who have a screening mammogram need a follow-up exam, Dr. Sanders says.
Same-day follow-up is especially helpful to those who live far away, have difficulty traveling due to a health condition or disability, or depend on others for transportation. It also makes planning more convenient for women—those with cystic disease, for example—who know that they often need follow-up tests after a screening mammogram.
If the patient requires a biopsy, the goal of Saint Barnabas Medical Center's staff is to schedule that as quickly as possible too. If the imaging shows a possible cancer, for example, staff schedules the biopsy within a day or two, and sometimes on the same day.
Another new program at the medical center involves emailing results directly to the patient—as an alternative to postal mail—if she prefers.
"And because we read all of our screening mammograms by the end of the business day, patients often have their results within hours," Dr. Sanders says. "This very quick turnaround time is one more way we have improved care." For weekend and after-hours appointments, she adds, patients receive results by the end of the next business day.
The Breast Center staff work closely with The Cancer Center at Saint Barnabas Medical Center. In the event of an abnormal finding, the patient navigators at each facility work together to seamlessly coordinate care. Saint Barnabas Medical Center is one of the largest breast cancer programs in the state, with breast surgeons, medical oncologists, radiation oncologists and plastic surgeons, as well as focused pathologists to provide exemplary care to our patients and their families.
The Breast Center at the Barnabas Health Ambulatory Care Center is one of the few in New Jersey that are accredited by the National Accreditation Program for Breast Centers (NAPBC) and that have received the American College of Radiology's designation as a Breast Imaging Center of Excellence. These recognitions involve adherence to rigorous standards set by experts in the field.
The same-day follow-up option
If a radiologist believes you should have additional testing after your screening mammogram, that testing can occur on the same day—if you choose this option in advance and are prepared to wait. The specialists at Saint Barnabas Medical Center designed this program especially for women who are elderly, disabled, live far away, have transportation issues or have extreme anxiety. To sign up, take these two steps:
When calling The Breast Center at the Barnabas Health Ambulatory Care Center for your screening mammogram, tell them you want this same-day follow-up option.
Before your appointment, contact your doctor to get a prescription for "extra mammogram and ultrasound views if needed."
Note that if you need extra imaging, this will extend your appointment time by several hours. "That is why this service is not for everyone," Dr. Sanders says. "But for many, it's an important way to reduce anxiety and to quickly get any additional tests or treatments."
On any specific day, a limited number of same-day follow-up appointments are available. This allows the center to provide this service and still see as many people as possible for screening mammograms each day.
Is it time for your Mammogram?
If you're over age 40 and haven't had a mammogram, it's time to start.
"Have a yearly mammogram without fail," says Linda Sanders, M.D., medical director of The Breast Center at the Barnabas Health Ambulatory Care Center at Saint Barnabas Medical Center.
You may need to start getting mammograms earlier or more often, depending on your personal and family medical history. Your doctor can help you decide.
To schedule a mammogram at the Breast Center, please call 973.322.7888 or visit BARNABASHEALTH.ORG/ACCMAMMOSCHEDULING. To share this article with a friend or to recommend it on your Facebook page, visit MSXHEALTHANDLIFE.COM.