Feel Good: 5 Things You Can Do Right Now
Five easy feel-good things to do right now.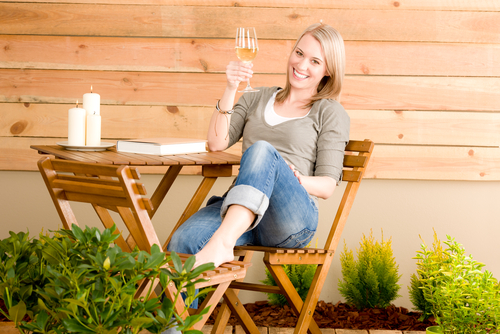 If you're feeling a little sluggish and would love to have just a bit more energy, take note of this list. Sometimes it's necessary to do a whole life overhaul if we're really stuck, but at other times we only need to indulge in a few little pick-me-ups to recharge. These five things are easy to do (chocolate and wine made the list), but they'll give an instant boost to your day. Take one or a few or all of the hints and enjoy more energy, happiness, and better health and productivity.
1. GET OUT!
You already know that fresh air and Vitamin D will do wonders for your mood and health, but stepping out can have added benefits for your productivity. A study by Psychological Science found that interacting with nature outdoors for at least an hour can improve memory and attention span. So take a walk in the park or eat lunch in the garden for a mental boost.
2. THE NOT-SO-GUILTY AFTERNOON PLEASURE
People experience a natural dip in energy and focus sometime between 1 and 4 o'clock in the afternoon. It's related to the natural rhythm of our internal clocks, and it's hard to shake off the slump in a culture that doesn't enjoy the siesta. A tall glass of water and a small snack of chocolate (a handful of peanut M&Ms or a few squares of dark chocolate) will give you the amount of energy you need to feel back on track.
Try one of these healthy chocolate-date brownies if you like to prepare your snacks in advance.
3. HUG IT OUT (OR BACKSLAP VIGOROUSLY)
Having good friends strengthens your immune system and keeps you healthy. So that weekly poker game or girls' night might be just what you need for a quick pick-me-up. Even a phone call or coffee with a friend can bring you a laugh or the connection you need.
4. KICK BACK WITH A GLASS OF WINE
Stress is one of the biggest killers in our culture, so feel free to sit back and unwind with a glass of wine. A glass of wine lowers blood pressure and relieves your body of tension.
Just remember that in this instance, less is more. I can cite studies in the hundreds that all conclude that most healthy people who drink moderate amounts of wine regularly live longer. But binge drinkers never do well on any of these studies. So it's better to have a glass of wine a few times a week than to get drunk and sloppy at a party once a month.
5. JUST BREATHE
Feeling hot, bothered, and anxious? Practice deep breathing for a few minutes. Belly Breathing helps release toxins from our body, aids digestion, lower blood pressure and relieves stress.
How to Breathe from your Belly
---
Related Article: TAKE CHARGE OF YOUR WELL-BEING