Fighting a Deadly Cancer
Because of a new medication, a flight attendant survives a virulent breast malignancy.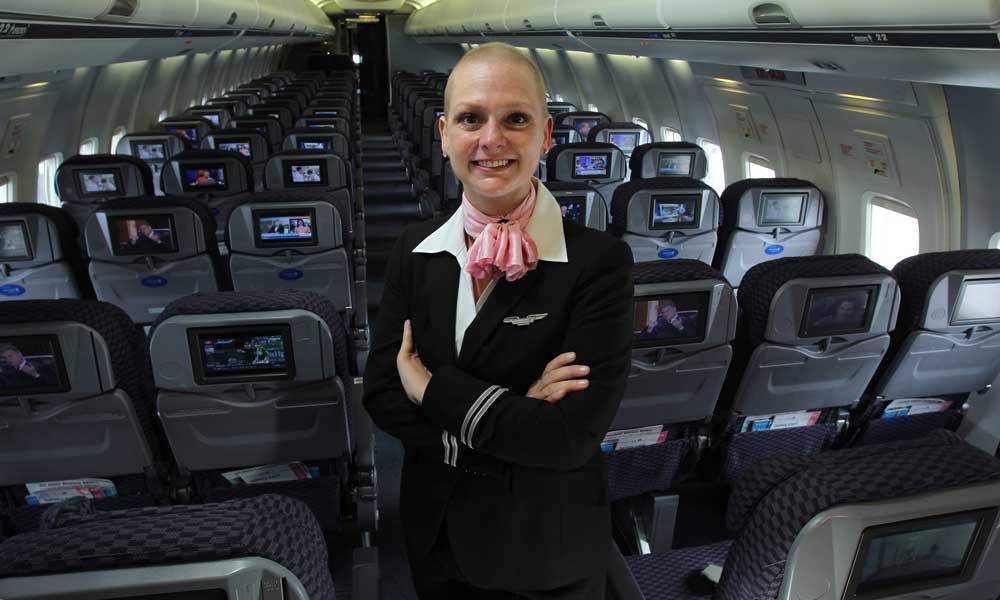 Breast cancer, which strikes one in eight women in this country, usually has a familiar course: It slowly forms a mass that is discovered through a mammogram or a physical exam, and in most cases the patient is treated successfully and survives. But there's a particularly virulent form of the disease, inflammatory breast cancer, that appears seemingly out of nowhere, invades much of the breast tissue in a matter of weeks, and is almost always fatal. Sharolyn Kennedy, a 41-year-old flight attendant from Colts Neck, is one of the unlucky few to develop this disease. She's also one of the lucky few who have survived.
She and her husband, Patrick, 42, owner of a graphic design company, had just bought a new house and were moving in, in early January 2015, when she noticed a rash on her left breast. When she was putting lotion on it one day soon after, she felt a lump. "I knew it was something more serious than detergent rash," she says. She visited her ob/gyn, who ordered a mammogram and a breast ultrasound exam. She recalls: "The technician kept pushing underneath the lump, and I said, 'You found something else, didn't you?'"
The radiologist told her to see a breast surgeon—immediately.
"I was in shock," says Kennedy. "I was just 40; where do you look for a breast surgeon? My husband had surgery at Saint Barnabas a few years ago, so he called some doctors there and asked. They all said to see Dr. Michele Blackwood."
M. Michele Blackwood, M.D., is the director of Breast Health and Disease Management at Saint Barnabas Medical Center. "Sharolyn came in, kind of panicked, with her husband," she remembers. "Her left breast was very, very red, hot and three times the size of her right breast. Cancer had enveloped all the breast and lymphatic tissue. They were scared to death."
The physician knew right away it was inflammatory breast cancer.
"Dr. Blackwood told me, 'Whatever you do, please don't Google it,'" Kennedy says. But she already had—and she'd read that only 5 percent of patients survive for five years.
"I had a lot of confidence in Dr. Blackwood, but that was still a very scary thing to learn," Kennedy says. "Still, I had the attitude that she and her associates knew what they are doing, and I needed to beat this. You have the choice to fight or not. I was not ready to let this get me at 40."
Amid all this bad news came a ray of hope. The pathology report on her biopsy showed that her cancer, though already at Stage 3, would respond to a recently developed drug called Perjeta (pertuzumab). Dr. Blackwood, who had been involved in trials for the drug, knew that this cancer required chemotherapy before surgery—reversing the typical protocol—followed usually by radiation. "If you don't do it this way, it can be deadly," Dr. Blackwood says. "It's like putting out a wildfire, then cleaning up the ashes with surgery. The good thing was that I knew her cancer would respond beautifully to this medication."
It did. Just 10 days after her initial exam, Kennedy began chemotherapy, and after only a couple of treatments of Perjeta, in combination with the better-known breast cancer drug Herceptin (trastuzumab) and three other drugs, the swelling and redness were gone. After about 10 of her scheduled 20 weeks of chemotherapy, Kennedy saw the results of a new MRI (magnetic resonance imaging) scan. "We realized how amazingly the treatments worked," she says. "I saw my two MRI s next to each other, and I was shocked at the difference. It was like night and day."
Her last round of chemo was on June 11, after which she took a month to regain strength and visit her family in California. By the time of her operation, a modified radical mastectomy, on July 14, she was cancer-free—although surgery was still needed as a safeguard. "Sharolyn's results were very dramatic, very exciting," Dr. Blackwood says. "They're what we hope to achieve with all cancers someday."
In August, Kennedy was still a bit sore from the surgery and was scheduled to begin radiation therapy. But she remained as upbeat as ever. "I feel great," she says. "Sometimes I get pity parties from people, but I tell them I don't want pity. Be strong for me instead. Let's fight this. My husband would say I have been 'strong with a smile'—what's my alternative?"
How rare is Kennedy's case? Inflammatory breast cancer accounts for only about 5 percent of all breast cancers, says Michael Scoppetuolo, M.D., medical oncologist and chief medical officer at Saint Barnabas Cancer Center. And of those, only about 20 percent of breast cancers have the right genetic makeup for this therapy. "Because this condition is so rare, we don't have good statistics for patients who receive this combination of therapies," he says. "But her prognosis is dramatically improved. For her to have a complete response and have her cancer go away completely is rare, and our hope is that she is on her way to a potential cure."
That represents an exciting new development in cancer care. "Things are changing fast in the cancer world, and it's pretty impressive when you can eliminate every malignant cell in a breast that is full of cancer," Dr. Blackwood says. "It is our hope and prayer that we can reach the point where we do that with every type of cancer."
To find out more about cancer services at Saint Barnabas Medical Center, please call 973.322.2929 or visit barnabashealth.org/sbmccancer.