Fighting MS-Conception
The new director of a multiple sclerosis center says debunking myths is part of the battle against this tough-but treatable-disease.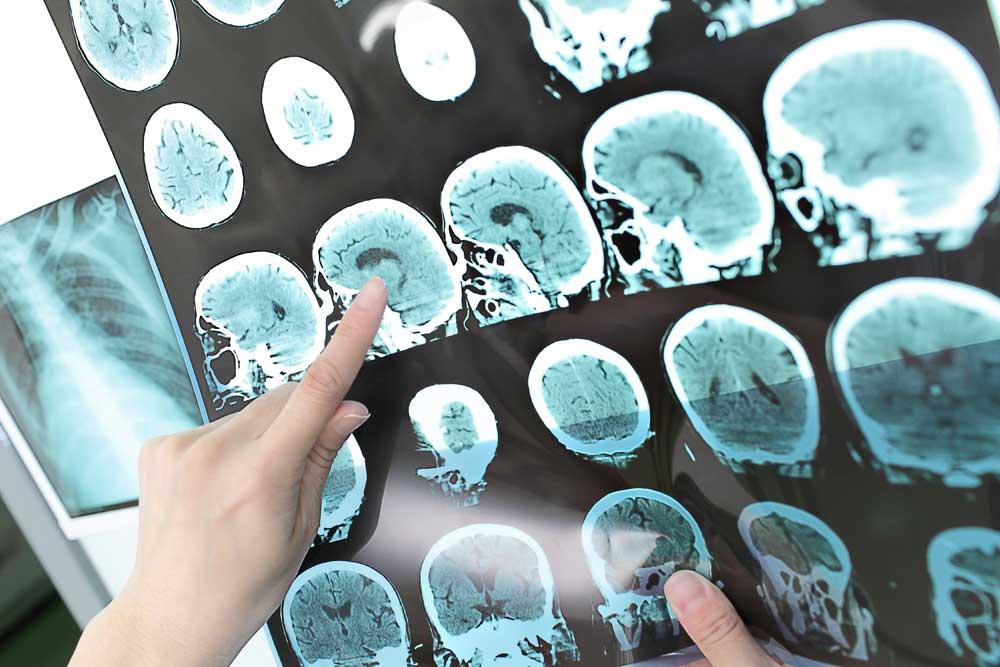 "When it comes to the chronic disease multiple sclerosis (MS), misunderstandings abound. "Most people— including some physicians—think it always gets worse and is always disabling, and that the focus of treatment is only to slow the disease down," says Andrew Sylvester, M.D., a neurologist and MS specialist at Saint Barnabas Medical Center. "That's not true. Research now bears out what many of us have believed for years: that the ultimate goal for treatment should be to stop MS from progressing. For most patients, especially with an early diagnosis, that goal is achievable."
That is Dr. Sylvester's emphasis as he begins his new position as medical director of the Multiple Sclerosis Comprehensive Care Center. (See "A Seasoned Specialist," below.) Recent research published in the Journal of the American Medical Association supports a shift in treatment goals away from simply slowing the disease's progression and toward making patients symptom-free.
"We have a team of MS experts and therapists, plus more than 20 medicines that we can use alone and in combination," he says. "We want our patients to expect that, with diligence, we can help find what works. And we can help manage symptoms in those whose MS has progressed. We can't reverse MS, but we have many ways to help stabilize it."
Of all the neurological conditions that can disable young adults, multiple sclerosis (MS) is the most widespread. However, researchers don't yet fully understand its causes, and it's difficult to predict whether, how or how fast a patient's condition will worsen over time. Furthermore, treatment can be a challenge because of the broad range of symptoms.
In MS, changes in the nervous system disrupt communication between the brain and the rest of the body. In some people it can cause a wide range of disabling symptoms, from difficulty walking to vision problems and pain. And it can also produce other physical and cognitive challenges as well as related emotional difficulties.
Some patients have none of these medical issues, Dr. Sylvester says. But those who do need the expertise of multiple specialists.
"Each of these symptoms is treatable," Dr. Sylvester says. "Patients deserve to find what works."
Unfortunately, for most people with MS around the country, care is not coordinated closely among specialists. But there are MS centers, like the one at Saint Barnabas Medical Center, where patients get advanced testing, see a variety of specialists and have therapy all in one place—and all in one day. According to the National Multiple Sclerosis Society, this "one-stop shopping" approach offers great advantages.
"With this centralized model of care, everyone on a patient's treatment team is on the same page," Dr. Sylvester says.
Besides providing advanced treatments, staff at the Center focus on getting to know patients so they can help them find ways to accomplish their personal goals for study, work and recreation. So instead of the 30- to 45-minute "new patient" appointment that is common elsewhere, Dr. Sylvester spends 90 minutes or more with each patient. And follow-up visits are 30 minutes or longer.
The MS center takes many other steps to keep the patient at the center of its work. For example, staff invites patients to call between appointments with questions or concerns. So if they have symptoms that pop up suddenly—something that can happen with MS—they can get those issues resolved quickly, often the same day. "It only takes a little effort on our part to offer this kind of care," Dr. Sylvester says. "And it makes a huge difference in our patients' lives."
Multiple sclerosis remains a tough medical challenge. But today's doctors, with an improved understanding of that challenge, are offering treatment that is more comprehensive and effective than ever.
A Seasoned Specialist
Multiple sclerosis is a many-faceted disease that is different in different people. Its complexity demands coordination between medical disciplines and the focused attention of physicians who have up-to-date expertise in the condition. One of those doctors is Andrew Sylvester, M.D.
"The leadership at Saint Barnabas Medical Center has committed significant resources and staff to expand our MS services here," says Dr. Sylvester, the newly named medical director of the Multiple Sclerosis Comprehensive Care Center. "They asked me to put programs in place that focus fully on the needs of each patient. I'm excited to join the team here."
Dr. Sylvester has spent almost 20 years identifying the most effective combination of diagnosis, education and treatment for people with MS and support for their loved ones. Most recently, he was an MS specialist at the International Multiple Sclerosis Management Practice in Manhattan and an assistant clinical scientist at the Tisch Multiple Sclerosis Research Center, also in New York. He has pursued specialized study in neurology and completed additional training in the subspecialty of MS and in neural (nerve) repair and rehabilitation. His work has included research and study at national and international levels, something he plans to continue at Saint Barnabas Medical Center.
Advanced medical treatments are a key component of his and his colleagues' work at the MS Center at Saint Barnabas Medical Center, but that's not the only focus.
"It's not simply about whether we choose the right treatment or medicine," he says. "It's about helping our patients achieve their goals. With that in mind, we're transforming our services for MS patients daily."
To learn more about The Multiple Sclerosis Comprehensive Care Center, please call 973-322-7484.