Fighting Prostate Cancer with the CyberKnife
A new device delivers radiation more quickly, accurately and safely than ever before.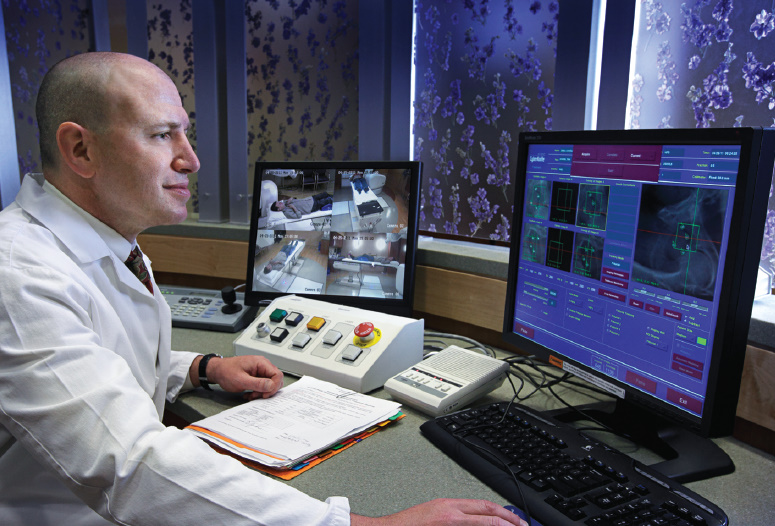 Each year, more than 186,000 American men learn they have prostate cancer. In early 2010, Saint Peter's University Hospital became the only hospital in central New Jersey to install the most advanced radiation delivery system available for treating that dangerous illness.
The device, the CyberKnife, uses advanced computer guidance software "like you'd find in a jet fighter plane," says urologist Anthony J. Catanese, M.D., allowing radiation oncologists to target and lock into the cancerous lesion more precisely than before. In addition, the guidance system follows the prostate as it naturally moves, ever so slightly, while the treatments are under way.
Because the radiation is so precisely delivered, minimizing the chance of its hitting surrounding tissue, patients can safely receive about three times as high a dosage per session as they can with traditional radiation treatments. The process takes longer per session—roughly 30 minutes, as opposed to about 10—but requires far fewer sessions overall. "With other radiation systems, patients typically need 40 to 42 treatments over eight weeks, but the CyberKnife can deliver the same amount of radiation in five treatments," says Gopal Desai, M.D., of University Radiology Group, chair of the department of radiation oncology. "Patients receive treatment on alternate days, so they're done within a week and a half."
Most patients with cancer confi ned to the prostate and no other serious health problems are candidates for CyberKnife therapy, he says. Treatment begins with creating "a plan to optimize killing the cancer and avoiding side effects," adds Dr. Catanese. "I spend hours with the radiation oncologist, physicist and technician to design a custom plan for each individual."
The patient's urologist implants gold markers just 2 millimeters in diameter into the prostate. "It's done the way one would take a prostate biopsy, in the office as an outpatient procedure," Dr. Desai says. Four to five days later, a computerized tomography (CT) scan confirms that the markers are in the right place. A couple of days after that, treatments can begin.
"My patients have tolerated the CyberKnife well," says urologist Ramon E. Rodriguez, M.D. "I have had at least 20 patients use it, and complications—some discomfort in urination in some cases, for example—are minimal and temporary." The CyberKnife can also be used to treat brain tumors, vascular malformations, lung and pancreatic cancers and other disorders, says Dr. Desai. "It's more convenient and less disruptive than the tools we had before and produces strong results with minimal side effects," says David H. Koota, M.D., chief of the section of urology.
Agrees Dr. Desai: "It's a great tool that helps in many ways."
The Cyberknife Unit
---
Related Article: A Better View of Seizures