Finishing Strong
An Asbury Park designer didn't get to set the course of a fixer-upper home's grand transformation, but her skill completed its modern industrial farmhouse look.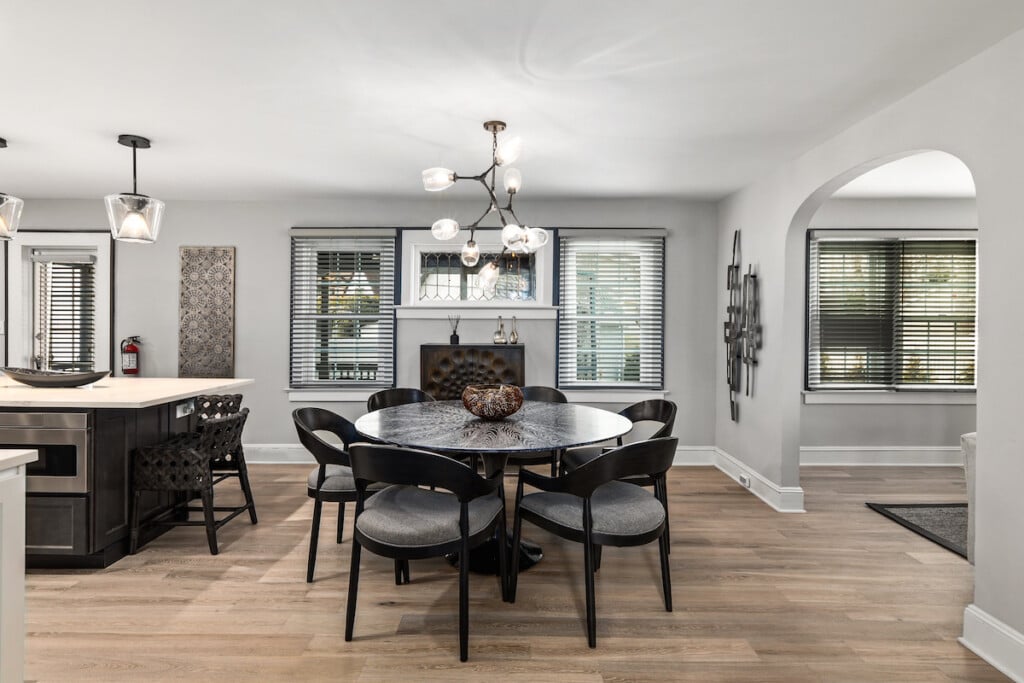 Design by Nancy Mikulich
Photography by Visual Marketing & Design
Text by Donna Rolando
Sometimes interior designers get the luxury of a clean slate with no challenges to work around. But often they don't, and in these cases their skill in completing judiciously what's already begun can determine whether the project results in harmony or design chaos.
That was the case with an older, three-bedroom, Tudor-style home in West Allenhurst that a doctor bought as a fixer-upper. A builder first tackled the gut-job renovation, but then Nancy Mikulich, owner of Oasis Home Designs, was called upon in 2019 to complete the home in a modern industrial farmhouse style.
"My job was to interpret what the owner said he was looking for, but then also work off the vibe of the house," she says. Besides a masculine aesthetic, Mikulich discerned that he wanted a hint of Europe—"so I was trying to deliver on a modern industrial farmhouse, but with a very artful perspective." All this was right before the COVID lockdown with its supply-chain issues.
That the owner was a doctor factored into Mikulich's choices. In the kitchen an iron-and-glass chandelier by Renwil above the table "reminded me of a sculpture of a molecule," says Mikulich, describing it as a deconstruction of the island's contemporary pendants. "He is very science-driven, and I thought it would appeal to him—and it did."
Other sculptural elements are the cerused wood chairs from Universal Furniture at the table and the island chairs by Arteriors of oversized rattan and wood, she says, admiring their "beautiful form as a unit." Also art-like, the table marries a hammered bronze fluted base with a cerused oak top.
Some existing features became a springboard for design, such as the wide-plank oak flooring—a "really good palette" for inspiration—and the dark island base, which "told me he wanted a real monochromatic design," she says. The farmhouse-style cabinetry (done by the builder) fit a doctor's persona: functional and clean. Together, these features invited a contrast-driven black, white and gray aesthetic.
In the living room, a dark fireplace with an Aztec tile design was "definitely an inspiration for the overall space," but the homeowner's white sofas posed a challenge. Mikulich achieved unity for the space with a custom area rug in a black-and-white textured pattern that "pulled the whole seating area together."
Additionally, the caramel leather chair from Moe's Home Collection with its earthy influence and a wood trunk worked to take the emphasis off the sofas and achieve harmony. Of the smokey-glass wall sconces, says the designer: "I like how these hang down like lanterns."
In contrast to the living room's pale gray walls, the den glammed it up a bit with York fabric wallpaper with a slight gold texture. The geometric deconstructed mirror from Uttermost reflects light from the modern chandelier by Hudson Valley, while the abstract shag rug from Surya creates what Mikulich calls a "Mad Men kind of mid-century feel" with pops of turquoise and gold.
Because round objects can convey space, Mikulich chose an egg chair (Sarreid) in faux shearling and introduced a velvet sofa (Sunpan) while prioritizing textures. The anchor is a terrazzo table with speckles reflecting the neutral palette.
Not only lighting but unity flows from the floor lamp, which owes its industrial vibe to iron and glass just like the island pendants, which are visible from the den. When the homeowner has parties, says the designer, "he uses both rooms at the same time," so the connection was key.
Like a cherry and icing on a scrumptious cake, this West Allenhurst home needed the wow of Mikulich's grand finale of design.