Five Fantastic Spring Cocktails
The best Spring cocktails are colorful, refreshing and delicious.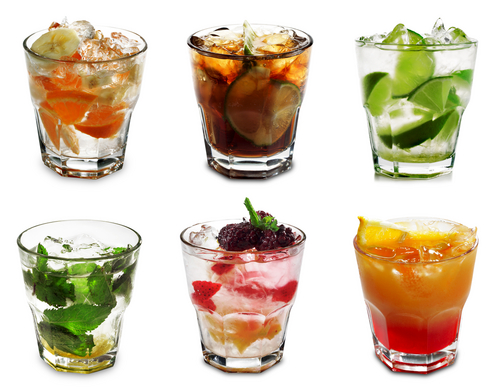 As we come out of winter hibernation, I always feel like throwing a party to celebrate the beginning of spring. The first four cocktails are good for any season, but I like to serve them at impromptu spring cocktail parties because they are colorful and fresh without being too fruity. The last drink, the official mint julep of the Kentucky Derby, is sweet and ice-cold, and gives you a little taste of the summer to come.
1. Ginger Lemonade = Vodka + Ginger Ale + Lemon Juice + Mint
I love everything about this cocktail, and I call it ginger lemonade because I've never come up with a better name for it. It's so simple to remember and to mix, but it has just the right amount of fragrance and flavor. Go slow, because these are easy to drink.
RECIPE: Mix a shot of vodka, three shots of ginger ale and the juice of half a lemon. Garnish with a mint leaf.
2. Strawberry Kir = Creme de Strawberry + White wine
This wine cocktail makes your table a little bit more colorful, and it's an easy version of the traditional Strawberry Kir Royale.
RECIPE: Mix one part Creme de Strawberry with 4 parts very cold dry white wine. Serve in a wine glass with or without crushed ice. Garnish with fresh strawberries.
3. Gin Jubilee = Gin + Honey + Cherries + Blueberries
Most people I know prefer vodka drinks, but I've converted even the most adamant anti-gin drinkers with this easy cocktail. The Gin Jubilee is full of fruit but is not overly sweet.
RECIPE: Muddle pitted cherries and blueberries in a mixing glass. Add two shots of gin and one tablespoon of honey. Fill glass with ice and shake for 10 seconds. Strain into a cocktail or martini glass. Garnish with a cherry.
4. Campari and Ale = Campari bitters + Ginger Ale
I love Campari in almost any warm weather mixed drink, and this simple cocktail is the perfect ratio of bitter to sweet. It's a good, simple cocktail party drink.
RECIPE: Use one part Campari bitters to two parts ginger ale. Fill a glass with ice cubes. Pour in Campari and then cover with the ginger ale.
5. Mint Julep = Simple syrup + Mint + Kentucky Whisky
RECIPE: Make a simple syrup by boiling 2 cups sugar and 2 cups water together for five minutes. Cool and place in a covered container with six or eight sprigs of fresh mint, then refrigerate overnight.
Make one julep at a time by filling a cup with crushed ice, adding one tablespoon mint syrup and two ounces of Early Times Kentucky Whisky. Stir rapidly with a spoon to frost the outside of the cup. Garnish with a sprig of fresh mint.
(Mint Julep recipe courtesy of kentuckyderby.com.)
---