Florida, Meet Scandinavia
Two clean, spacious styles were blended so triumphantly in a Morris Plains bathroom that the client couldn't help asking for more.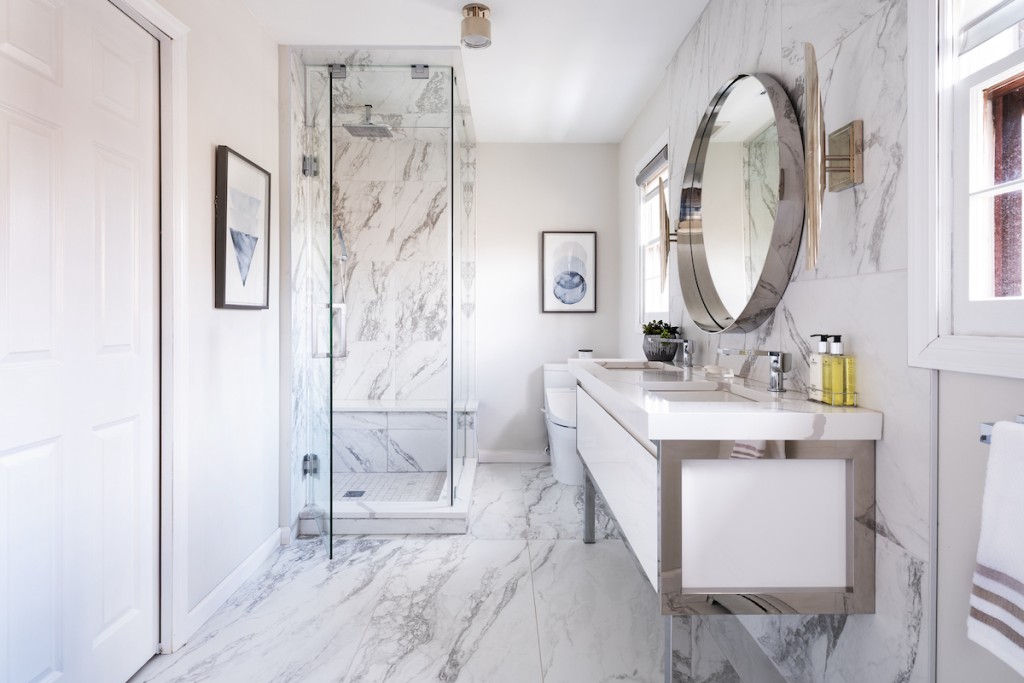 Angela Moore wanted a boutique, hotel-style bathroom with a spa-like energy in her Morris Plains master suite. The original 1979 design, with its tiny pedestal sink and claustrophobic shower to match the room's minuscule footprint, wasn't doing it. But a large unused vanity area just outside the space offered hope for expansion.
Moore entrusted Tammy Bolden, owner of Bold Interior Designs in Montclair, with her vision to redesign the outdated bathroom, and she quickly homed in on the vibe her client was after, combining the homeowner's Florida roots with her love of Scandinavian design.
"I wanted minimalist/modern inspired by Scandinavia—clean, crisp, white, bright light and not a lot of clutter," Moore says. "I'm also a native Floridian and wanted to bring that open, airy feel into my home."
Once a contractor gutted the space and took down the wall between the bathroom and the vanity area, Bolden—who describes herself as "visual to a fault"—captured the rich look Moore coveted by using porcelain tiles made to resemble marble throughout the bathroom.
"I wanted that elegant feel, like you're encapsulated in marble," Bolden says.
Moore had at first hoped for an all-white design, but in the end trusted Bolden's view that that could make the space feel "sterile." She is pleased with the interest the designer's suggested gray veining provides.
"Sometimes clients get gun-shy—they hired a designer to help them out of their comfort zone, but they don't want the designer to push them," Bolden reflects. "But Angela trusted the process and trusted me and realized I was not going to do anything that wouldn't be in her best interests."
A double-sink vanity with chrome accents "provides some sparkle but sticks with the sleek vibe" Moore wanted, Bolden notes. If it looks almost floating, it's because it was supposed to be. The piece came with a resin top that the pair decided to replace with quartz to give it a more high-end impression that would also match the tile. But the quartz ended up being far heavier than the resin and thus needed front legs installed to hold its weight.
"It looks intentional, so it worked out," Bolden says.
The space is finished with a chrome mirror set between polished nickel light fixtures, both by Regina Andrew Detroit, that Bolden fell in love with at High Point Market (a home furnishings industry trade show) and hoped she'd be able to use.
"I'm totally and completely in love with my space," Moore says. "I feel a serenity, peace and calm there." She especially likes the steam shower she requested and had installed.
The only problem? She now wanted an updated bedroom to match her "fantastic" master bath—but had a limited budget. Working with Moore's existing furniture, Bolden brought her vision for the bedroom to life after discovering a Hudson Valley Lighting fixture she knew her client would love.
"It's unique and modern, and Angela had to have it as soon as she saw it," Bolden says. Plus, its gold elements went well with the warm undertones found in Moore's dark-wood furniture. Gold side tables were added to tie in with the fixture, but Bolden used silver and white in the bedding, curtains and Thibaut wallpaper accent to coordinate with the bathroom.
"She worked with what I had and integrated new ideas into the bedroom using my existing furniture and still created a really nice space," Moore says.