Food for thought
Many restaurants are preparing dishes in a way that is seasonal, lighter and more health-conscious than ever before.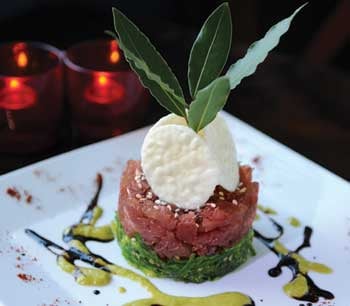 Sweet Basil's Café
This homey West Orange restaurant opened 16 years ago as a ladies' luncheon destination, and "ladies have always been health-conscious," says owner and chef Allan Platt. "We've always been fresh and healthy, and it's worked for us every step of the way as we've emphasized freshness and offered beautiful salads and high-protein foods." These days, breakfast, brunch and dinner are also popular, attracting men along with women. "People come from all over for our vegetarian and vegan soups," says Platt. The restaurant has an extensive menu for vegetarians, with dishes like a homemade veggie burger topped with avocado, chipotle aioli and cheddar, and a vegan tagine (Moroccan stew) served with couscous. "We're really a fresh house," says Platt. "We're constantly sourcing out local places, and we hand-pick as many products as we can." Platt and his staff go out of their way to make customers happy, and it shows with small touches like soy milk in any beverage for no extra charge.
Roasted Apple, Pear & Carrot Soup
(makes 4–6 servings)
INGREDIENTS
3 carrots
3 apples
2 pears
¼ of a white onion
1 shallot
2 tablespoons olive oil
1 teaspoon brown sugar
dash nutmeg
dash cinnamon
salt and pepper (to taste)
½ teaspoon chicken stock
2 tablespoons heavy cream
PREPARATION
Cut vegetables and fruit into large pieces. Toss them together with the oil, a tablespoon of water, brown sugar, cinnamon and nutmeg. Roast at 325 degrees until lightly browned. Add a touch of salt and pepper. Put mixture into a pot with 1 quart of water and the chicken stock, and cook until hot. Puree the mixture. When ready to serve, put the pureed soup back into a pot, add heavy cream and cook until hot.
Market Restaurant
Fans of the "slow food" movement have been flocking to Market Restaurant in Montclair for eclectic American cuisine that features locally grown, organic produce and meat that is free-range and steroid-free. "We want to support small farms, sustain small businesses and keep the product as healthy as possible," says owner Joshua Cederbaum. Chef Tre Ghoshal turns out dishes such as collard greens and green olive pesto bruschetta; chestnut risotto with baby kale puree and micro arugula; and Jail Island Salmon with a roasted beet medley and blood oranges in Thai pistou. Two seven-course tasting menus are available (one vegetarian) for those wanting to try a variety of flavors. Another popular way to try several offerings is the "Market Plate," a choice of mostly vegetarian, appetizer-sized dishes, one for $8 or four for $22. "Our Market Plate menu changes every day, and it's based on what we can get from the local farms," says Cederbaum. "We showcase the vegetables in creative ways, and it's one of the things that really make us special."
Farm 2 Bistro
"We try to make things the way our parents made them," says executive chef and owner Michael Madigan, "the way you remember
them growing up. It's back to basics. It's more real." Madigan's cozy, year-old Rockaway restaurant features local produce, naturally raised meat, sustainable seafood and fair-trade coffee. "Until about 20 years ago, most of the world shopped for food locally," Madigan explains. "This whole trend of manufacturing food is relatively recent, and I think the world is going to wake up and turn away from manufactured food. Your local farmer is your best bet for better health." Farm 2 Bistro's inspired menu options include rainbow chard with roasted red peppers; chicken coated in pumpkin seeds, then sautéed in a honey-lime mojo with Julienne vegetables and mashed yams; and a curried vegetable burrito, a mix of curried vegetables, cheese and rice rolled into a sun-dried tomato wrap. "We're a little hard to find, and I think people are surprised to find this restaurant on this road in this building," says Madigan. "It really is a destination. You have to come here and be prepared to be wowed."
Balsamic Chicken and Roasted Peppers Over Caprese Salad Al Fresco
(serves 2)
1 pound chicken breast cut into 1-inch cubes
1 cup 25-year-old balsamic vinegar
1 cup pinot grigio or your favorite dry wine
1/2 tablespoon chopped garlic
1 sprig of rosemary
1/2 tablespoon Bamf seasoning (TasteBamf.com)
2 tablespoons all-purpose organic flour
2 tablespoons high-quality extra-virgin olive oil
2 tablespoons chicken stock
1 tablespoon butter
2 fresh vine-ripened, thick-sliced Jersey tomatoes
6 slices fresh mozzarella cheese
2 tablespoons fresh basil pine nut pesto (no nuts is also fine)
2–4 fresh basil leaves for garnish
1 thinly sliced roasted pepper
Heat olive oil in heavy-bottom pan with the rosemary until oil forms a "wave" or "wavelike ripples" in the pan. Season chicken breast with Bamf Original Blend (dredge chicken in flour), saute in oil and brown slightly until a golden color, then add garlic and saute a bit longer until garlic cooks.
Add white wine to deglaze pan. Reduce a few minutes, then add vinegar and reduce by half again. Add chicken stock to taste, depending on how vinegary you favor, and simmer a few minutes longer. Finish sauce with butter and a little more Bamf Original Blend to taste and let rest a few minutes.
Arrange tomatoes and mozzarella on plate layered in a circular pattern alternating cheese then tomato. Place chicken on Caprese salad, drizzle with fresh pesto and garnish with fresh basil leaves and roasted peppers.
For information on how to make pesto and mozzarella, visit www.certifiedorganicchef.org.
Getting there
Sweet Basil's Café
641 Eagle Rock Ave., West Orange
973.325.3340
sweetbasilscafe.com
Market
12 Church St., Montclair
973.744.2244
marketmontclair.com
Farm 2 Bistro
100 Hibernia Ave., Rockaway
973.625.3276
farmbistro.com