From Nantucket With Love
No need to leave vacation behind. A Maplewood couple surrenders each day's worries to the serenity of an island sunset.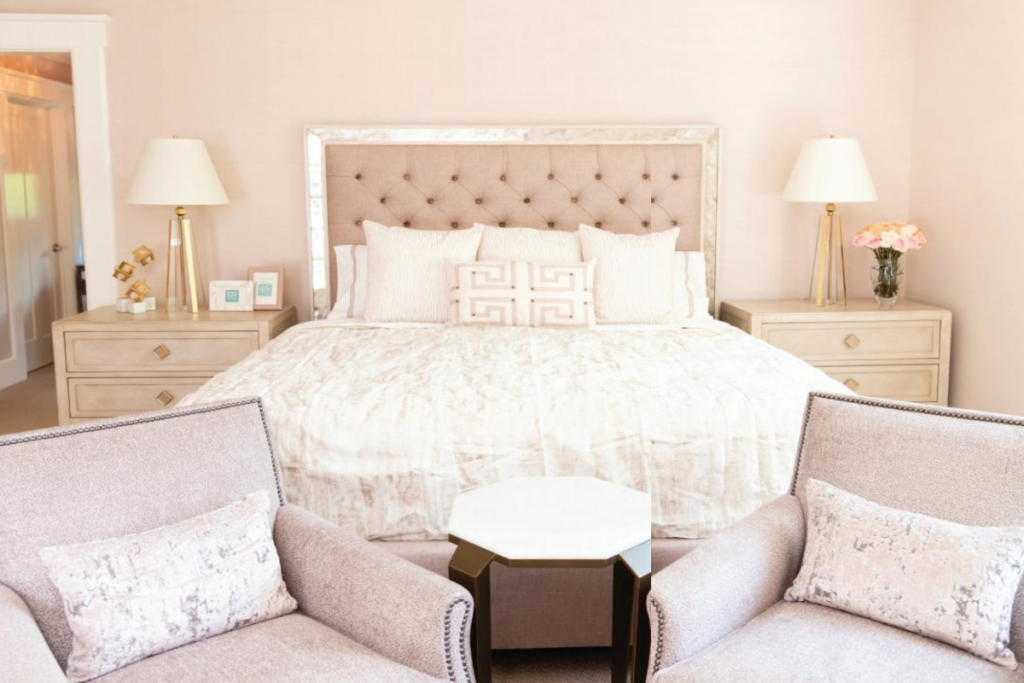 Hours of travel separate a Maplewood family's home from their beloved summer haunt on Nantucket Island. Yet each night in their master bedroom suite, Kit and her husband recapture the sense of calm associated with the sunsets they enjoy there.
"Nantucket has always been an inspiration," says Kit, who loves to spend summers at her parents' home on that island off Cape Cod—with her own family, including four children in high school and college. "The sunsets are beautiful," she explains. "You get a pink sky with oranges and purple."
When they hired Julie Liepold of Liepold Design Group in Millburn to redesign the master bedroom suite of their 1907 Roosevelt Estate home in Maplewood, they brought just enough of that island aesthetic to the mainland. Nantucket influences abound, from the mermaid collection to the paintings Kit found at auction.
The sanctuary centers on a custom Vanguard king bed with tufted headboard in Romo fabric accented with an Artisan Mica mirror. Because symmetry contributes to a sense of peace, the bed is balanced between two Vanguard tables topped with twin Circa Lighting crystal lamps. An Eastern Accents duvet in marble print and embroidered pillows complete the look.
Some might have turned to blue for an ocean vibe, but this homeowner took the road less traveled. "Blush pink is the perfect calming color scheme that relates to the coastal landscape of the setting sun and evokes soothing feelings of peace and comfort," says Liepold.
A blush-colored scarf with a map of the island, now framed as wall art, inspired the color story for both the bedroom and the dressing room, with its églomisé-accented vanity of white oak from Hooker Furniture. The dressing room is a suitable setting for Kit's seashell and driftwood mermaids, and the coastal theme is reinforced by the Maxim Ripple Collection ceiling light—it creates the effect of rippled water.
"The idea was to have a getaway within their residence in Maplewood," says Liepold, who completed the project in September 2020.
Early on, both Kit and Liepold realized that beachy décor, if not done right, could be a design pitfall. The fix? Let monochromatic hues in the blush-colored grasscloth walls by Phillip Jeffries and multi-layered lighting set the stage for the room's biggest punch: paintings by Nantucket artists.
Another nod to symmetry, the set of Vanguard Colette chairs upholstered in Zimmer & Rohde fabric creates one of Kit's favorite spots. They are nestled around a Gabby Home Marigold side table.
"I love sitting on these chairs and putting my feet up on the ottoman and just relaxing," says Kit.
And—even if you're not literally on vacation—isn't that what that "vacation" vibe is all about?