Fun on the Lawn
Outdoor games like croquet, bocce and badminton are making a major comeback.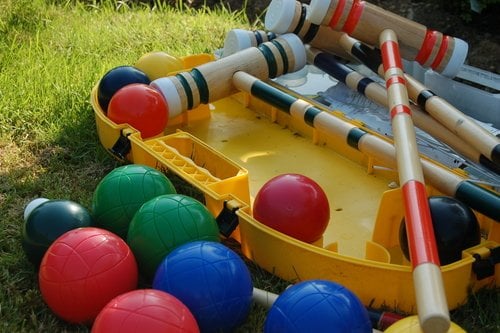 A kidney-shaped, in-ground pool isn't the only way to turn your backyard into an entertainment mecca. You can also give guests hours of fun with some mallets, a shuttlecock or a pallino (the small target ball rolled out first in bocce). Fact is, croquet and bocce courts are sprouting up on college campuses, fancy country clubs and in leafy suburban backyards, so you'd be right on trend.
"In the last two years, we've seen a big influx of clients looking for bocce and croquet courts," says Jason Lembo, owner of Passaic-based Fredco Landscaping. And clubs devoted to croquet, bocce and horseshoe pitching have been cranking up the competition. Why the resurgence? For starters, members of every generation—from tiny tots to great-granddads—can get in on the play.
Lawn games are easy to pick up, and you don't have to be an Olympic athlete to participate. If you're the competitive sort, however, even a friendly game of bocce can turn into a blood sport! That game, one of the oldest known to man (as early as 5,000 B.C. Egyptians rolled or tossed polished stones toward a target), has endured its share of controversy. Bocce became so popular during the Renaissance that some rulers believed it threatened state security. The problem? Would-be soldiers were spending more time on the game than on sharpening their archery and other military skills. Needless to say, bocce survived, and long before Italian immigrants popularized it in the United States, George Washington played bocce on his court at Mt. Vernon.
Even "veddy" proper croquet, which began in 1300s France as paille-maille ("ball-mallet"), later pall-mall, has a coy, if not controversial, side. Considered the only game appropriate for English women in Victorian times (after all, they could play while wearing an ankle-length dress!), it was thus played by men and women together, providing the perfect opportunity for a mixed pair to wander into the woods supposedly in search of a lost ball!
Like croquet, badminton came to America via the British, but its roots are Indian. In the 1860s, British soldiers brought the game (known as "Poona") back to England, but its name didn't follow. It was christened "badminton" when the Duke of Beaufort featured it at a party he threw in 1673 at his country estate in Gloucestershire called—you got it!—Badminton.
Though horseshoes may seem all- American with Old West associations, the game actually had its beginnings in ancient Greece, where a discus was pitched toward a stake in the ground. But the peasants, who couldn't afford luxuries like discuses, used worn-out horseshoes instead. Fast-forward a couple millennia or so to the U.S. Civil War, and soldiers used old mule shoes.
For a lawn game that is a U.S. of A. original, take your cue from tailgating parties coast to coast and set up a cornhole court. Also known as beanbag toss, cornhole involves tossing bags filled with feed into holes in a wooden platform. Or, for another way to take your target practice, give lawn darts a shot—the object is to get the missiles inside a ring placed on the ground. Of course, if you're looking to keep equipment, rules and regulations to a minimum, you could always toss a Frisbee. But no matter what lawn game you pick, you won't just have a blast, you'll give your body a boost, too. Any game that keeps you on your feet revs calorie burn, helps pump up your heart rate and sets you up for a good night's sleep. If you ask us, that makes lawn games a win-win proposition.
---
Join the club!
Ready to play croquet, bocce or horseshoes against a competitor or two? Find a club near you by logging onto one of these websites:
National Horseshow Pitchers Association of America
horseshoepitching.com
United States Bocce Federation
bocce.com
United States Croquet Association
croquetamerica.com
---
Considering your own court?
Jason Lembo, owner of Fredco Landscaping in Passaic, has some advice for choosing the perfect contractor:
Ask for references
"You want to make sure the candidate has successfully done a project similar to yours," says Lembo. "Go take a look and ask the homeowner how the project went."
Share a vision
"Today you might want a bocce court, but tomorrow you might want a pool, a patio, a fire pit. Your contractor should be helping you think about the elements you'll wish to have in your yard for years to come and planning accordingly."
Demand aesthetics
"Ideally, your contractor should have hardscape and landscape experience so your court doesn't become an eyesore. It should blend nicely into the landscape of your yard."
---
THE GOODS:

1 The beautiful craftsmanship of the Restoration Hardware croquet set practically makes it a backyard showpiece. The set includes six hardwood mallets, six water-resistant balls, nine steel wickets and two hardwood stakes that fi t neatly into a wooden wheel-around caddy. $229 at restorationhardware.com.
2 Get everybody "on a roll" with this colorful 9-piece bocce ball set including a carrying case. The bocce balls are made of PhenoTech resin. $38.29 at Target.
3 This L.L. Bean horseshoe set, solidly manufactured since 1927, includes four forged steel horseshoes, two solid stakes, a rule book and a monogrammed carrying case, so all you have to supply is a good pitching arm. $69 at llbean.com.
4 Make every backyard outing a bull's-eye with this lawn dart set. Its soft, rounded ends make it perfectly safe for kids of all ages. Sportcraft Soft Tip Sky Lawn Darts, $25 at Kohl's.
5 Wham-O's most versatile and durable disc, the Frisbee Pro Classic produced with a special technology that makes it softer and easier to grip, throw and catch. $7 at Walmart.
6 Beanbag toss, ladderball and washer toss—you'll get all three of America's favorite tailgating games in the new 3-in-1 Tailgate Game set from Sportcraft, the Budd Lake-based company that's been making games the whole family can enjoy since 1926. Play 'em one at a time or set up all three to turn an ordinary backyard barbecue into a great memory. $139.99 at sportcraft.com.
7 Easy setup and sturdy construction guarantee that the badminton set gets tons of use. Park & Sun Badminton Pro Set, $99.98 at hayneedle.com.
---
Related Read: Five Feel-Good Things to Do Right Now