Game On!
A long-awaited redesign turns a basement into entertainment central.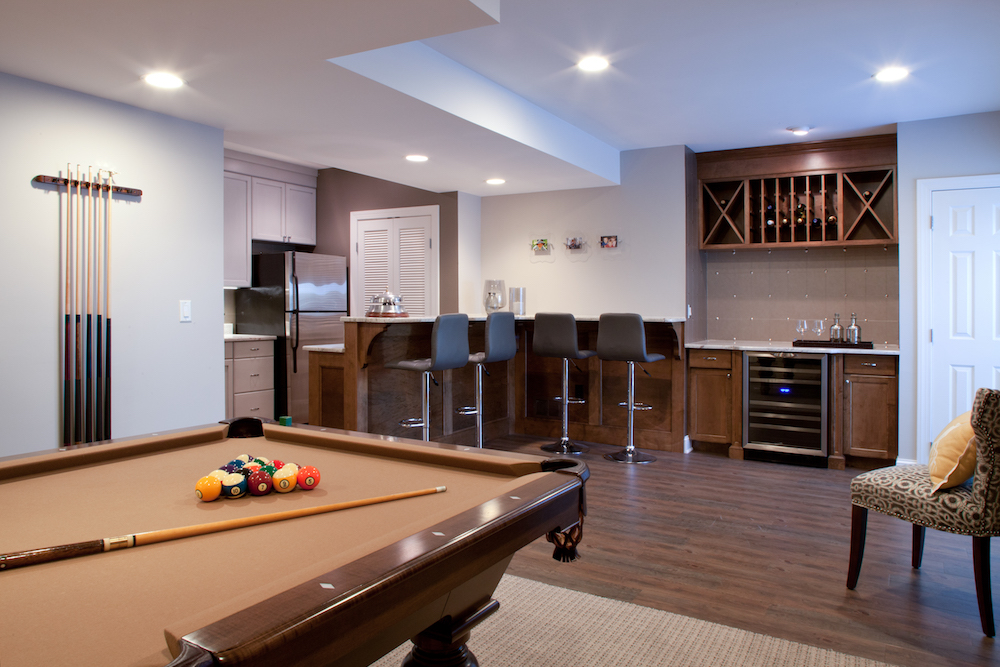 A FAMILY OF POOL AFICIONADOS FOUND themselves behind the eight ball with their DIY basement, but it was nothing that a designer couldn't fix.
After moving to a Clinton colonial 10 years ago, Lisa Woolhouse and her husband, Brian, needed a kid-friendly basement and tackled the job themselves. Their strategy? Utilize every bit of the 1,500 square feet. The problem? They aren't as good at decorating as they are at pool. Still their effort worked—that is until their three children hit their teens.
"As the kids grew, we needed a more grown-up room for a lot of different activities," Lisa says, describing her dream basement as "entertainment central," where pool tournaments, family game night, sleepovers and more all had a place.
They finally realized their go-to room when, in 2011, they invited Michaeline Fernandez, of Denville-based CYS Design, to work her magic with flooring of wood-plank vinyl and textured carpet, recessed LED lighting "to keep the space bright" and a color scheme of gray, white and warm brown with a pop of sunny yellow.
"It was very plain, nothing fancy, no character whatsoever," Fernandez says. "We changed everything, took a wall down and made it an open concept with a separate guest room." It's open, yes, but Fernandez recognized that a big space needs definition, so she split it up into a kitchenette/bar, gameroom/poolroom, guest room and TV area.
"She created very distinct spaces all the while keeping it open," says Lisa, who marveled at how Fernandez envisioned two pony walls to give the TV room its own identity. They struck a winning combo there by teaming up the existing camel sofa with custom pillows, recycled fruit wood for the media console and coffee table and film reels on the walls (lest anyone forget they're in the TV room). "It has a depth of grain, which is what we like about it," Fernandez says of the fruit wood.
Fernandez went beyond plain in the kitchenette by using high-quality material one might be surprised to discover in a basement. (We're talking Carrara quartz for the counters!) Adding a bar was kind of a natural, but she also repurposed space to build a wine cabinet—and the couple never missed its predecessor, a small window next to sliders that already let the sun shine in. Stained and painted maple for the cabinets added design interest. "She has that vision," Lisa says. "She was able to look at the space and bring a new dimension."
For the cherry-wood custom pool table that sees a lot of action, Fernandez discovered a "cool" fixture: brushed nickel track lighting that doesn't hang as low as typical pool­ lights, as this tall family appreciates. The cherry-wood game table is also custom made with four geometric-patterned upholstered chairs on casters (because living should be easy). There was no guest room for visiting in-laws before Fernandez transformed the basement. But she was able to bring dead space to life with French doors that gave the entrance a touch of class. And with yellow as a burst of color in pillows and bedding, the guest room can't help but be light and bright—a necessary component since there's just a small window there. Grays and whites provide a unifying thread with the main space, and custom-framed fabric "brings it all together," with gray carpeting for texture, says Fernandez. The remodel also transformed a small bath-room from what Lisa called "builder's special" into one of Brian's favorite spots in the house.
No longer bare-bones, white in color, with a tiny vanity and tub, Fernandez describes the new bathroom as "very natural with sand, cream and gray." But the most dramatic feature for Lisa was how tiles give the rich look of real stone. "The tile behind the (shower) glass is what really popped; it almost looked like a spa water feature," she says.
Look deeper than the beauty of this makeover, and you'll find sensible materials designed to fit an active lifestyle. "I didn't want to treat it like a museum," says Fernandez, who chose Teflon-treated fabrics, vinyl flooring and spill-proof carpet that are "good for living." "We wanted to make sure it was family friendly," she adds.
Mission accomplished: The family can get their game on without tip-toeing around the décor and whether they score big in a pool tournament or not, they come away winners.