Gatherings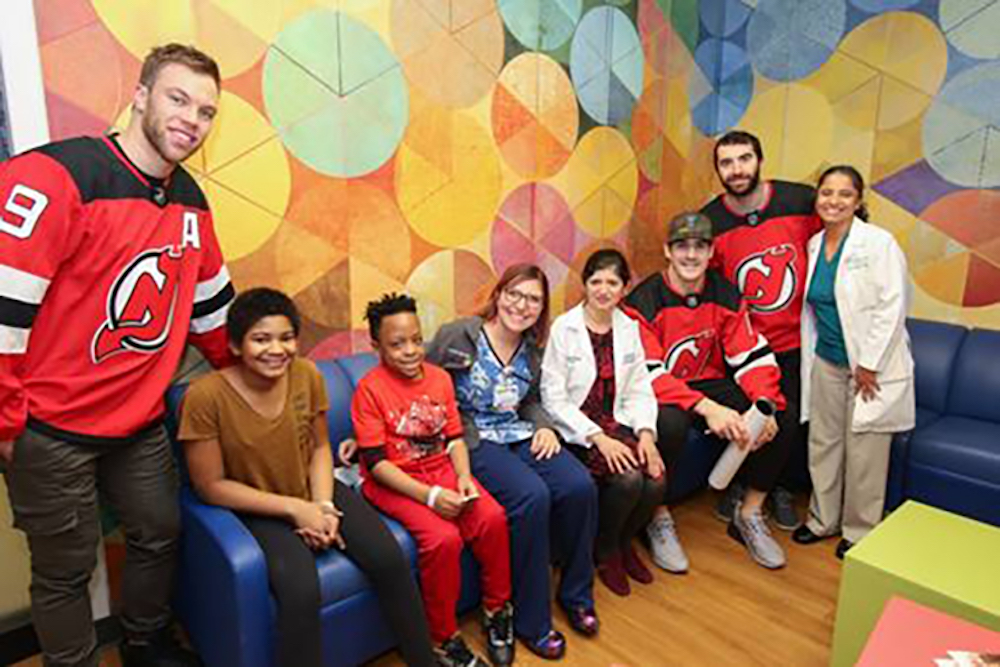 DEVILS FIGHT CANCER
RWJBARNABAS HEALTH, NEWARK, rwjbh.org
New Jersey Devils players and alumni spread holiday cheer to patients at 11 RWJBarnabas Health hospitals during the holiday season. To highlight the system-wide visits, 2018 NHL All-Star and cancer survivor Brian Boyle, 2018 NHL MVP Taylor Hall and NJD leading goal scorer Kyle Palmieri spent time with patients at the Valerie Fund Children's Center for Cancer and Blood Disorders at RWJBarnabas Health's Children's Hospital of New Jersey at Newark Beth Israel Medical Center. RWJBarnabas Health is the official healthcare provider of the New Jersey Devils.

CAPTAINS FOR A DAY
RWJBARNABAS HEALTH, PISCATAWAY, wjbh.org
Breast cancer survivors Ana Harper of Springfield and Lori Monaghan of Branchburg served as honorary captains at the Rutgers-Penn State NCAA football game in support of RWJBarnabas Health's fall breast cancer awareness campaign. The women joined Thomas A. Biga, President, Hospital Division at RWJBarnabas Health, and the Rutgers University football captains at midfield to participate in the ceremonial coin toss. Both Lori (RWJ Somerset) and Ana (Saint Barnabas Medical Center & Rutgers Cancer Institute of New Jersey) have been receiving treatment for breast cancer at RWJBarnabas Health facilities, in partnership with the Rutgers Cancer Institute of New Jersey. RWJBarnabas Health is the official healthcare provider for Rutgers Athletics.

BRIDGING THE GENERATION GAP
LIVINGSTON SENIOR, YOUTH & LEISURE SERVICES (SYLS), livingstonnj.org
The staff at the Livingston Senior, Youth & Leisure Services (SYLS) attended the New Jersey Recreation & Park Association (NJRPA) Annual Conference Awards Dinner in Atlantic City, where they received the Daniel M. Gasalberti Award for Excellence in Recreation Programming for the 2018 Intergenerational Prom. In collaboration with the Livingston Board of Education, the Intergenerational Prom brings 250 people of all ages together—from high schoolers to senior citizens—for a night of fun, food and entertainment.

WOMEN SUPPORTING WOMEN
NCJW/ESSEX, SHORT HILLS, ncjwessex.org
Mandelbaum Salsburg P.C., a law firm in Roseland, hosted its bi-annual Women's Initiative event at Loft Short Hills, where women from the community and the firm's female attorneys enjoyed a night of networking and shopping for a great cause. Guests donated to the Essex branch of National Council of Jewish Women (NCJW) and enjoyed goody bags, snacks and discounts.

DRINK AND GO PINK
SUSAN G. KOMEN NORTH JERSEY, WEST ORANGE, komennorthjersey.org
Susan G. Komen North Jersey held their first annual Pink Champagne Lunch & Fashion Show, hosted at Mayfair Farms in West Orange by the members of the Pink Champagne Lunch Committee. Sixteen breast cancer survivors modeled in the fashion show and were styled by Nancy Alfano of Style Solutions in Bernardsville and Fine Lines Salon in Chatham to look and feel their fabulous best. More than $36,000 was raised in support of Komen North Jersey's efforts to save lives.