Gatherings
Whether it's at a fundraiser or a volunteering event, Monmouth residents always show up to support their friends and neighbors.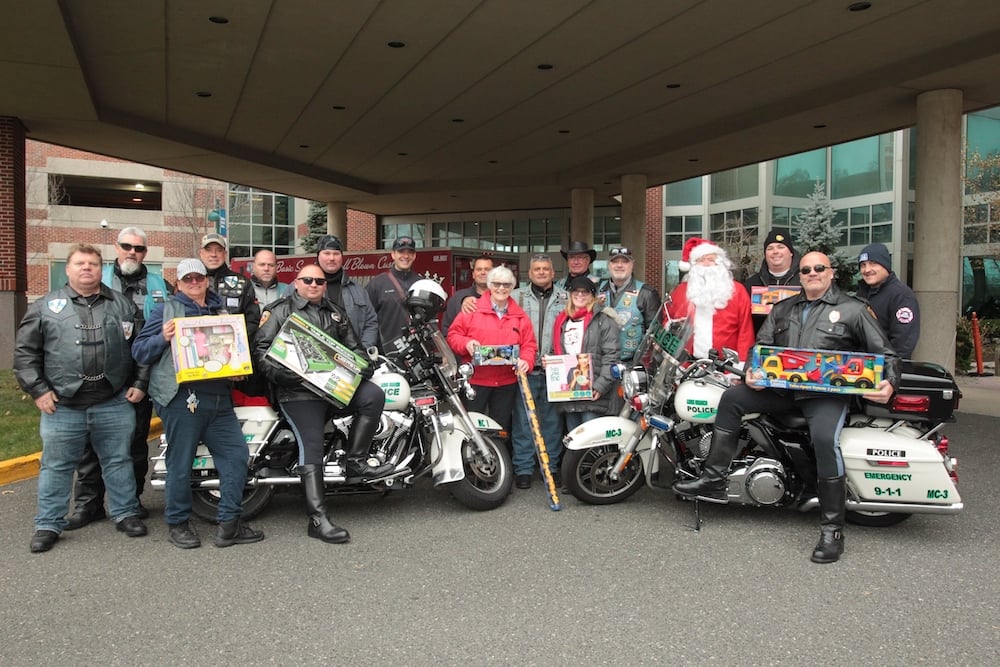 UCH Medical Director Dr. Meg Fisher (center) was on hand to welcome the riders and Long Branch Police and Fire departments, which together raised $4,000 for the hospital's Cystic Fibrosis Center.
UNTERBERG CHILDREN'S HOSPITAL
More than 150 motorcyclists from the Blue Knights NJ XV and Jersey Shore HOGs braved the cold on Nov. 17 to deliver hundreds of toys and brighten the holidays for patients at the Unterberg Children's Hospital (UCH) at Monmouth Medical Center. The ride began at the Shore Casino in Atlantic Highlands. When the motorcyclists arrived at the hospital, they gathered in the lobby for live music performed by The Black Ties, refreshments and a presentation from a representative of the hospital's Cystic Fibrosis Center about the impact of the group's donation on kids living with cystic fibrosis this holiday season. The event concluded with a visit to the hospital's inpatient pediatric unit by Santa Claus.

President and CEO of RWJBarnabas Health Barry Ostrowsky (center) poses with friends and mascots from various New Jersey professional and college teams. Members of the #JeffStrong team were among the top fundraisers.
RWJBARNABAS HEALTH
Hundreds of runners, walkers and supporters recently attended the annual Running With the Devils 5K Run & Walk. In addition to the 5K, participants enjoyed a mascot race featuring the New Jersey Devil and Shadow, the Monmouth University hawk, refreshments and free admission to the Turtle Back Zoo. Proceeds from the event benefit the programs and services at RWJBarnabas Health facilities, including Monmouth Medical Center. RWJBH is the official healthcare provider of the New Jersey Devils.
HABITAT FOR HUMANITY
Volunteers from Wells Fargo bank get to work.
As part of the Ramps & Rails campaign, volunteers at Habitat for Humanity constructed a wooden ramp at a building in Farmingdale. The program assists low to moderate income homeowners in need of a wheelchair ramp.
MONMOutH MEDICAL CENTER
The Unterberg Children's Hospital Council hosted its first ever Sunday Family Funday Event on Nov. 3 at Asbury Lanes in Asbury Park. The fun-filled day encouraged families to spend time together with activities fostering excitement, learning and fun. More than 100 people participated in carnival games, live music, bowling and activities for children ages 2-12 years old. In addition, parents were welcomed to participate in a silent auction with prizes geared toward children. In keeping with its mission to serve communities across Monmouth County, The Unterberg Children's Hospital Council will use the proceeds from this event to provide necessary items for our underserved families of the community over the holiday season.