Germ Warfare
A robot uses intense UV light to kill pathogens in hospital.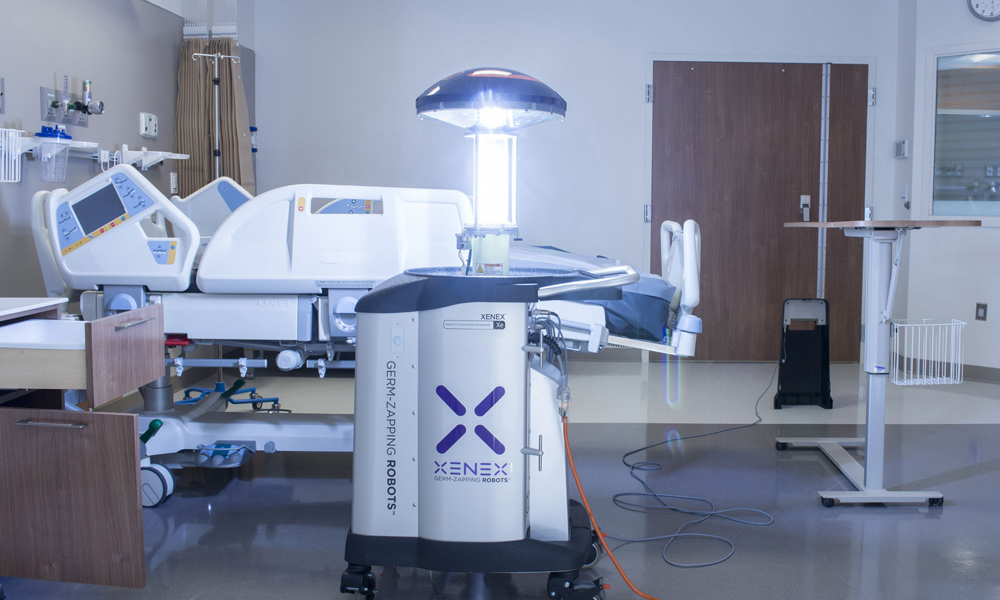 Safety is our priority at Saint Barnabas Medical Center, states Stephen P. Zieniewicz, FACHE , president and CEO. Reducing the potential for infection is at the top of our list, which is why Saint Barnabas Medical Center recently purchased a state-of-the-art robot to better disinfect hospital rooms, equipment and surfaces.
It's called the Xenex Robot, and it uses intense, pulsed xenon ultraviolet (UV) light to kill viruses, bacteria, mold, fungus and bacterial spores in just five to 10 minutes per room, without contact or chemicals. Broad-spectrum UV light penetrates the cell walls of these pathogens, causing their DNA to fuse and rendering the germs unable to reproduce or mutate.
The robot provides an extra layer of protection after the room has been cleaned using traditional methods. Housekeepers roll in the 5-foot-tall robot and position it on both sides of the bed and in the restroom, each time leaving the room and closing it off—the UV light is too intense for humans—before the machine goes to work. The machine is able to disinfect 99.99 percent of dangerous contaminants.
Studies have shown that the robot reduces hospital room contamination 20 times better than standard cleaning. "We already have a strong infection prevention program in place," says Mr. Zieniewicz. "This robot is helping us be more effective at stopping the superbugs that pose a threat to patients, their families and our staff."
Of particular concern in hospital settings is a spore-forming bacteria called Clostridium difficile, or C diff for short. It produces toxins that cause fever, abdominal pain and acute diarrhea or colitis, an inflammation of the colon, and it is highly resistant to antibiotics. Studies prove that hospitals that use the robot reduce health care associated with C diff by 53 percent, Mr. Zieniewicz says. Likewise, it has been shown to greatly reduce or eliminate other drug-resistant pathogens, including enterovirus, MRSA and VRE .
Along with patient rooms, the robot will be used throughout the hospital, including the intensive care units, medical/surgical suites and operating rooms.
"Our goal," Mr. Zieniewicz says, "is to eliminate all infection to become a facility with zero defects that is highly reliable. The Xenex is an important piece, killing spores and other germs to prevent healthcare-associated infections and keep our patients safe."
To find out more about programs at Saint Barnabas Medical Center, please call 973.322.5000 OR Visit barnabashealth.org/sbmc.