Get Outside!
Discover the rivers, lakes and ponds in Morris and Essex Counties.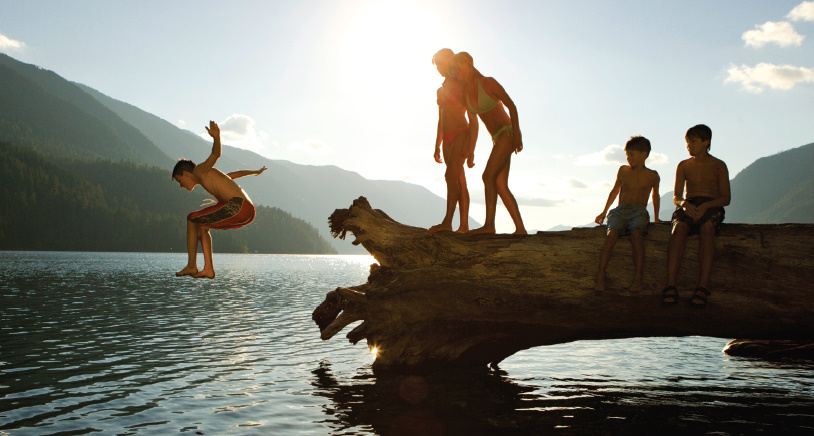 If I should be where I no more can hear
Thy voice, nor catch from thy wild eyes these gleams
Of past existence—wilt thou then forget
That on the banks of this delightful stream
We stood together; and that I, so long
A worshipper of Nature, hither came
Unwearied in that service.
William Wordsworth, "Lines Composed a Few Miles above Tintern Abbey," 1798
The famed British poet was onto something. Hearing the ripple of a babbling brook, seeing the sun reflect off a pristine lake, feeling the cool river rush under your toes—there is something about spending time by or in the water that revives the soul. Indeed, the Centers for Disease Control and Prevention (CDC) touts water-based activity for improving our physical and mental health. It notes that exercising in water can be more beneficial than on land because it takes less of a toll on muscles and joints. Swimming, says the CDC, "can improve mood in both men and women." Fortunately, we're blessed with beautiful water recreation spots right here in Morris and Essex counties. From contemplative walks around gorgeous lakes to swimming, fishing, canoeing, kayaking and extreme jet-ski adventures, "worshippers of nature" will find it all here.
Lake Hopatcong
6 Lakeside Blvd., Hopatcong
The claim that its Indian name translates as "honey waters of many coves" may be spurious, but Lake Hopatcong has everything. At nine miles long, it is New Jersey's largest lake. (It was originally two lakes that converged with the damming of the Musconetcong River in 1750.) You can rent boats (motor or otherwise) or launch your own, rent jet skis, swim from one of the two public beaches or any of the various coves, and even get waterskiing and sailing lessons from instructors based in one of the marinas. The lake, in which bass, trout, muskies and pickerel abound, is the place to fish in Morris County. It also boasts two public beaches and a campground on the Mahlon Dickerson Reservation. Call 973.697.3140 for camping fees. There are many restaurants on the lake, some of which you can sail right up to and some that offer live entertainment. Visit lake hopatcong.com for more information and for rental and lesson fees.
Sunrise Lake
270 Mendham Rd., Morristown
Got kids and want a simpler lake experience? Try Sunrise Lake in Lewis Morris County Park. You can swim for a $5 fee (children under 4 swim free) and rent paddle boats, kayaks and rowboats ($5 for 30 minutes). But it is the Wibit that is the attraction here. Sunrise Lake was the first U.S. location to have a Wibit, though they're already popular in Europe. No, it's not a new frog species; The Wibit is an inflatable jungle gym that floats on the water. Children age 7 or older, and even adults, can race each other to finish the course without falling in the lake ($3 for 30 minutes). You must pass a swimming test first. Call the beach club for more, including information about special events: 973.326.7616.
Randolph Park
Green Lane, Randolph
The beach at Randolph Park offers a great outing for the entire family. For a daily fee ($5/resident; $8/nonresident) you can take a leisurely swim or do laps in designated lanes. The kids will like the playground on the beach, which features fun water sprays and even a pair of buckets that work in tandem to dump lake water on their heads. You can rent paddle boats and canoes, or bring your own boat ($10 boating pass) and fish ($10 badge fee). There are picnic areas, a refreshment stand and a beach house with a changing room. Weekends and holidays are reserved for Randolph residents and members of the beach only. Seasonal memberships are available to the public. For information, call 973.584.1358.
Budd Lake
Sand Shore Rd., Budd Lake
At 375 acres, Budd Lake is the state's biggest natural lake. It is good for fishing (catfish, sunfish), boating and swimming. Rental boats are not available, but in case you have your own craft, "it makes for good sailing in a smallish sailboat," according to Morris Plains resident Tony Fanelli, who has been enjoying the lake for years. Launch your boat at the eastern end of the lake on Sand Shore Rd. or enjoy the beach located on the western end.
Verona Park
Bloomfield Ave. and Lakeside Ave.
Verona Park's crown-jewel 13-acre lake was a swamp until 1814, when the local grist mill owner dammed the Peckman River, creating a more robust body of water to generate power. In the years since, the lake has been an appealing destination for boating and fishing enthusiasts. You can rent two- or fourseater paddle boats (about $20/hour) and also fish for sunfish, catfish and rainbow trout. Branch Brook Park Park Ave. and Lake St., Newark Nineteen footbridges punctuate this historic park's system of ponds, brooks and lakes. The park is ideal for jogs and walks by the water, especially in spring, when its world-famous 4,000 cherry trees blossom. For good fishing, try Branch Brook Park Lake, a 24-acre fishing hole stocked with trout.
The Essex County Environmental Center
621 Eagle Rock Ave., Roseland
If canoeing is your thing, try this facility in West Essex Park. You can either launch your own canoe or register for one of the center's many guided canoe tours. The tours take you for a two-hour trip on the Passaic River. The cost is $30 per canoe, and each canoe holds two to three people. Call 973.228.8776.
Grover Cleveland Park
Brookside Ave. and Runnymede Rd., Caldwell
Fishing is the main lure of this park's pond, which is stocked with bass, catfish, carp and panfish. Roseland resident Jon Frey reports that this pond is one of the best local fishing spots. "People treat the fish with care—they always catch and release," he says. "And it's always stocked and cleaner than other places around here." Lifelong Essex County resident Barbara Hedstrom sits by the pond almost every day after work. "I come here to meditate and listen to the water," she says. "It's very calming and peaceful for me."
---
Related Article: Feel Good- 5 Things You Can Do Right Now