Get Snapping
Fill your home with the aroma of these festive gingerbread cookies. Your family and friends will thank you!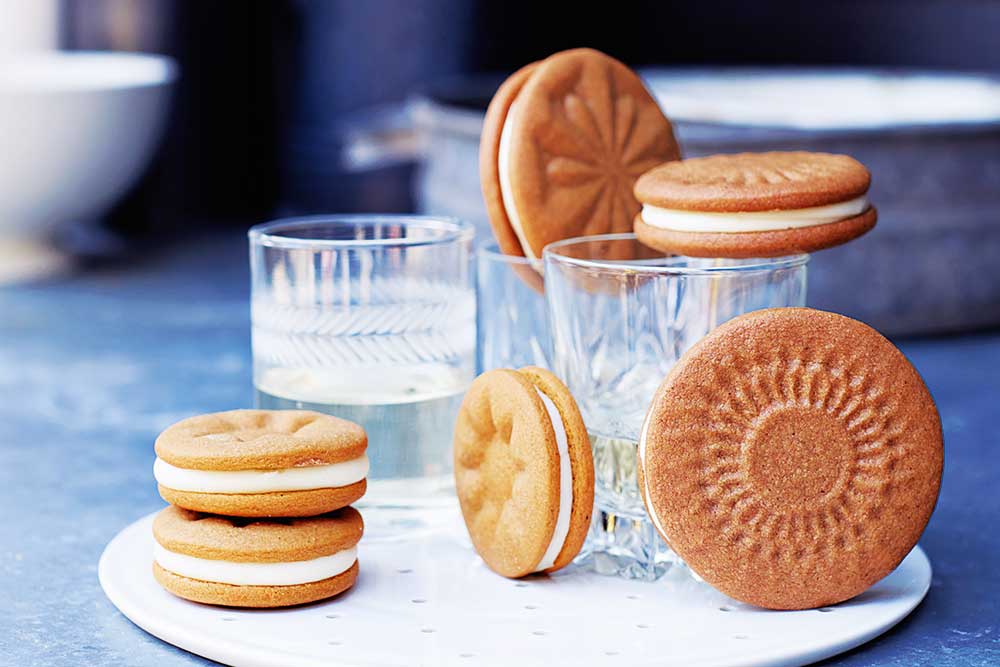 Glass-Pressed Sandwich Cookies
Yields: 20 sandwich cookies
Ingredients
For the Light Gingerbread Dough
½ cup light molasses, golden syrup or honey
1 cup light brown sugar
14 Tbs. unsalted butter
zest of one lemon
4 tsp. ground ginger
2 tsp. ground cinnamon
½ tsp. ground nutmeg
¼ tsp. ground cloves
1 tsp. baking soda
4 cups all-purpose flour
1 tsp. salt
1 lightly-beaten egg
For the Butter Frosting
14 Tbs. unsalted butter, softened
4 cups confectioners' sugar, sifted
1 tsp. vanilla extract
pinch of salt
Equipment
assorted drinking glasses with embossed bases
round cookie cutters of various sizes
Directions
For the Light Gingerbread Dough
Pour the light molasses into a large saucepan with the sugar, butter, zest, and spices and melt over low/medium heat, stirring frequently until the sugar has dissolved. Bring the mixture to boiling. Remove from the heat and beat in the baking soda. The mixture will froth up at this point as the baking soda reacts—mix briefly until combined, then let cool for 15 minutes.
Sift the flour and salt, then fold into the mixture in batches. Beat in the egg until just combined. Do not overwork the mixture, or the cookies will spread during baking. The dough will be very sticky to begin with, but do not add any flour. Scrape out of the bowl onto a clean surface and knead together until just smooth. Wrap in plastic wrap and chill in the fridge for 1 hour.
For the Cookies
Preheat the oven to 325°F. Line two large baking sheets with parchment paper.
Cut a large piece of parchment paper and roll out the gingerbread on top of it to ¼ inch. Now select from your drinking glasses the ones that have the most beautiful patterns on their bases. Press one at a time into the dough firmly enough to leave an imprint but not so hard that you squash the whole cookie!
Then use a round cookie cutter approximately 3 inches in diameter to cut around the imprinted patterns. Use a range of sizes to make your collection of cookies look more eclectic. Use a palette knife to transfer the cookies onto the lined baking sheets. Leave space for them to spread a little.
Place in the freezer for 5 minutes until hard. Bake in the oven in batches for 8 to 10 minutes until golden brown at the edges. Let cool for 5 minutes on the pans, then carefully transfer with a palette knife to wire racks to cool completely.
Beat the butter, confectioners' sugar, vanilla and salt together with a handheld mixer until light and fluffy. Pipe or spread the butter frosting onto the bases of half the cookies and sandwich together with the remaining cookies.