Getting Kids College-Ready
A physician helps high school grads prepare, physically and emotionally, for this new experience.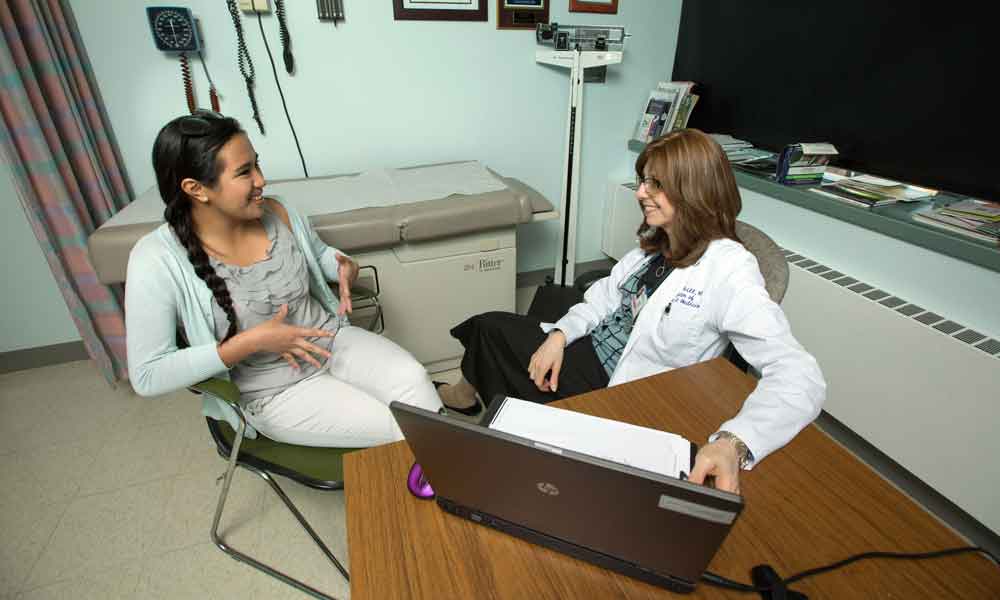 Each August, area high school graduates pack up their clothes and computers and head off to college. Whether they are traveling two miles or 2,000, they're moving from dependent teen to independent undergraduate. Susan Brill, M.D., chief of Adolescent Medicine at The Children's Hospital at Saint Peter's University Hospital, believes in preparing her patients for this change, both medically and mentally.
Most incoming college students need their physicians to fill out medical history forms, conduct a pre-registration physical exam and confirm that all required immunizations are up to date. Dr. Brill takes that occasion to go over anything the young adult may need to know about managing chronic health conditions such as asthma or diabetes. "If they are on medications, we talk about how they will obtain them at college and what to do if they have an acute health issue," she says. "Saint Peter's has an online portal with access to their electronic medical records, so I make sure the kids know how to use that if they need medical care at college. I also make sure they are able to reach me at any time, if necessary."
While most 18-year-olds don't have serious ongoing physical health concerns, almost all have some anxiety about leaving home. (And even students who will live at home and commute to class will face new challenges and new freedoms.) "Some can't wait to leave; others feel more uncertain," says the doctor. "Some have never been away before. Most are a bit ambivalent, feeling excited about taking the next step and at the same time a little scared. And that's healthy."
Dr. Brill takes the time to discuss several "big topics" regarding college life. The first is alcohol and drug use. "The data around first-semester freshman alcohol use is astonishing," she says. "Many kids are completely unprepared to handle the amount of drinking that is routinely encountered at college." She gives her patients a brochure detailing facts about drinking and the dangers of alcohol poisoning and sexual vulnerability that come with it.
"Sexuality is also big," she says. "Many young people are surprised at how open hook-ups are in college. There is more pressure to be sexually active. I counsel them that college can be a time for sexual exploration, but that it should be done safely and without compromising one's values." With openly lesbian, gay, bisexual or transgendered patients, she discusses making sure there is a like-minded community on campus where they can feel comfortable.
She also talks about basic health issues such as getting enough sleep, eating well, exercising, stocking a first-aid kit and even personal hygiene. "Kids often get so caught up in college life that they forget these things," she says.
Dr. Brill finds that most of her college-age patients are well prepared, but she sometimes refers more anxious patients— and parents—for counseling. "Parents may need help with their feelings and expectations too, especially for the first child they're sending off to college—or the last," she says.
She calls her college-prep counsel a "value-added service I provide. My patients are not coming in for this, but it is stuff they should hear," she says. "Most of the time all is fine, and I tell them, 'I think you're ready.' But sometimes they need a little extra help to prevent a crash landing."
To find out more about services available for you or your family at Saint Peter's University Hospital, please call 732.745.8600 or visit saintpetershcs.com.