Getting to… The Heart of the Matter
When it comes to cardiovascular care, we offer everything—from new medicine to new treatments—a patient needs.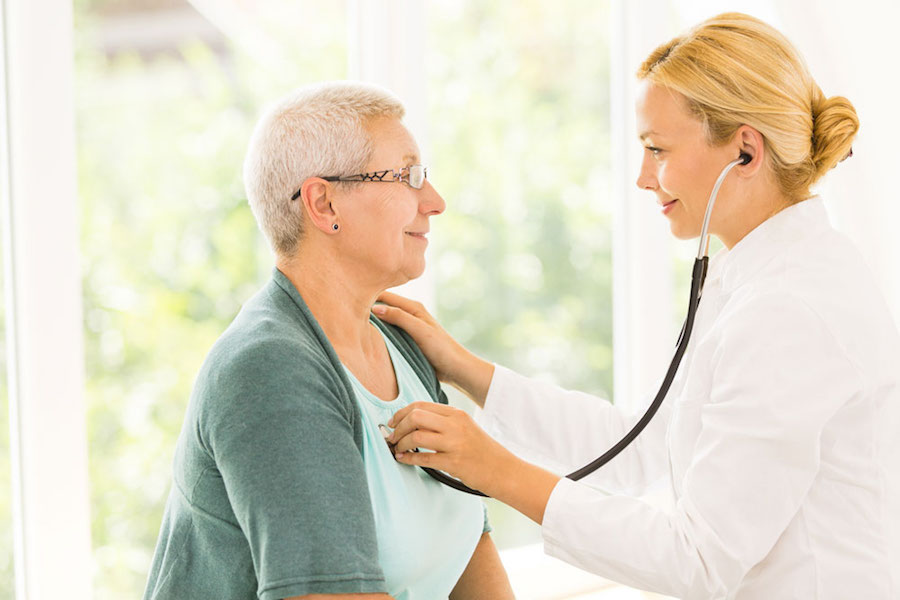 Heart disease is still the number one one killer in america—that hasn't changed. But just about everything else involving the heart and cardiac care has in the past decade. "Ten years is ancient history in cardiac care," says Gary Rogal, M.D., chief of Cardiology at RWJBarnabas Health and at Saint Barnabas Medical Center. "We are seeing a big shift in how we deal with cardiac disease. There is a lot of movement to outpatient care, new medicines and treatments are being discovered that really work, and the bottom line is dramatic: mortality from heart disease is dropping significantly."
Barnabas Health Heart Centers provide every option for cardiac patients of all ages, he says. "Even if it's not in the four walls of the medical center, we integrate with our sister institutions, like newark beth Israel Hospital, to offer everything from basic cardiology to full heart transplants."
Indeed, as a tertiary care center, Saint Barnabas receives patients from other area hospitals who need specialized diagnostic or therapeutic procedures that those hospitals don't offer.
The comprehensive list of services includes:
Emergency care. When the medical center receives patients showing symptoms of heart attack, specialists on call rush to diagnose and open blocked arteries within an hour (and no later than 90 minutes) to restore blood flow as quickly as possible.
"The team effort among EMS responders, the ER staff and the cardiac catheterization lab to make that all happen is very successful," says Sabino Torre, M.D., an interventional cardiologist. "We have all the latest devices, including stents and tools to open blocked arteries, all available in the lab."
Cardiac imaging and diagnostic testing. The cardiac catheterization lab uses the the most advanced noninvasive cardiac and coronary computed tomographic (CT ) angiography with a CT scanner, comprehensive cardiac ultrasound echocardiography and the most advanced MRI scanner to provide sophisticated images of the heart.
"Soon we'll have a 256-slice CT scanner to image coronary arteries and valves even better," Dr. Rogal says. These imaging systems help Barnabas Health Heart Centers perform more diagnostic imaging and treatment, such as angioplasty procedures, than any other program in New Jersey.
Heart failure treatment and heart transplantation. RWJBarnabas Health's heart transplant program is the third largest in the nation with survival rates that consistently meet or exceed national benchmarks. "The program performs about 300 cases of open-heart surgery a year," notes Frederic Sardari, M.D., vice chair of the Cardiothoracic Surgery Department. "But in the past five years or so, more procedures are performed minimally invasively."
Surgeons now work on a still-beating heart in many cases, avoiding the high risk heart-lung machine. The most common is coronary artery bypass graft surgery. "Beating heart surgery is more complicated, but it works very well," Dr. Sardari says.
Mechanical ventricular assist devices (VAD). For patients waiting on the transplant list, surgeons now offer implantable VAD s as a bridge to transplant. These devices give patients a better quality of life until transplantation becomes available.
Structural surgery. Advances in heart valve repair and replacement have been dramatic in recent years. Transcatheter aortic valve replacement (TA VR) can be done without open heart surgery, a blessing for the older patients who suffer aortic valve disease most often, says Dr. Torre. A similar procedure for mitral valve repair, called the MitraClip, will be offered beginning this year, he says.
To treat atrial fibrillation, a new device called the Watchman helps prevent blood clots from leaving the heart and potentially causing a stroke.
Clinical trials.The Barnabas Health Heart Centers participate in more clinical research trials than any other cardiac program in New Jersey. This cutting-edge research helps patients gain access to promising new treatments and technology.
Integrative Cardiac Wellness Center. The center is led by two Certified Advanced Practice Holistic Nurses who are specially trained to care for cardiac patients using complementary medicine and therapies. They teach patients how to heal their integrated "whole" selves, in mind, body and spirit.
Cardiac rehabilitation. After treatment, cardiac rehab is critical in restoring full heart health. Professionally supervised programs teach exercises and nutrition, and provide education and counseling that can increase physical fitness, reduce cardiac symptoms, improve health and reduce the risk of future heart problems.
The entire heart health program uses the latest evidence-based care protocols, says Dr. Rogal. "It is all structured around the evidence accumulated with each patient. We monitor all outcomes so they are where we want them to be and give them the right medicines, the right tests, all the things they need to do to maintain their health."
To find out more about cardiac services available at Saint Barnabas Medical Center, please call 973.322.5244 or visit rwjbh.org/heart. To share this article with a friend or to recommend it on your Facebook page, visit msxhealthandlife.com.