Gifts for teens
One man's wish to help terminally ill sick teens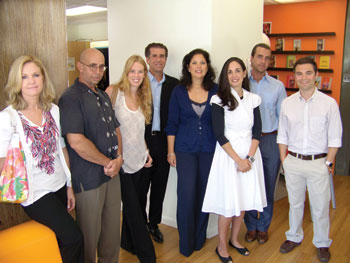 It's hard enough to be an adolescent fighting cancer without the indignity of being treated like a small child. That's what Michael Shweky decided.
Shweky wasn't a sick teen himself. He didn't even have one in his family. But the Oakhurst businessman, a married man of 50 with three grown children, is someone who looks for chances to do a good deed for others—a mitzvah, his Jewish faith calls it. And today, thanks in part to his efforts, teens at The Children's Hospital at Monmouth Medical Center have a special room where they can relax, hang out and get away from that hospital-patient feeling. They're not consigned to the "kiddie room."
Shweky's opportunity came in 2005 at the funeral of a family acquaintance, Ezra "Eddie" Abraham, who'd been diagnosed at 16 with rhabdomyosarcoma, a rare pediatric cancer, which claimed his life seven years later.
I noticed many people wearing green bracelets and asked Eddie's parents, Irwin and Susan, what they were," Shweky recalls. He learned they were symbols of the Ezra Abraham "To Life" Foundation, which Eddie had founded during his treatment as a way of raising funds for several charitable organizations—including a summer camp for sick kids.
"I was touched by such a sick boy finding the strength to 'give back,'" Shweky recalls.
Experience had primed Shweky to spot hischance to help. Growing up in Brooklyn, he'd seen his father, Jack, visit area hospitals to raise patients' spirits as a member of a religion-based group that practiced bikur cholim—a Hebrew phrase that translates as "visiting the sick" but actually encompasses many ways of providing comfort and support to people who are ill, homebound or otherwise in distress.
"My father was a self-made man who struggled to create a business, but he was always good to people," says Shweky. (Jack, now 82, founded Regent International Inc., an apparel company now run by Shweky and his brother, Richard.) "Visiting sick people was just part of his kindness. And he liked that it was hands-on, not just giving money."
Not surprisingly, Shweky bought a green bracelet and joined the late Eddie Abraham's foundation. Discussing ways to honor Eddie by helping other teens in his name, he and other members realized that while many hospitals have rooms for children, a teen hangout is rare.
"In the hospitals that treated him, Eddie often had nowhere to go to relax that felt right for his age," Shweky says. "He had to sit at a little kids' table or on a little couch surrounded by blocks and coloring books. That's insulting. I am very passionate about people's self-esteem. I believe it's important in fighting illness."
With Shweky's help, the "To Life" Foundation raised money through fashion shows, basketball tournaments, cabarets and other events. These funds were then given to the Monmouth Medical Center Foundation as part of its Pediatric Unit capital renovation project. An existing room was split, one side remaining a young children's area and the other outfitted with computers, a TV, couches, an age appropriate library and other teen-friendly amenities.
The Living Room, as it's now known, was officially dedicated on August 25—Eddie's birthday. Eddie's parents and four siblings were there. "It was a tremendous feeling to finally see the end result," says Shweky. "I gave a speech, but I could barely get through it."