Given a Second Chance
When faced with health challenges, two patients turn to the hospital's colorectal surgery program.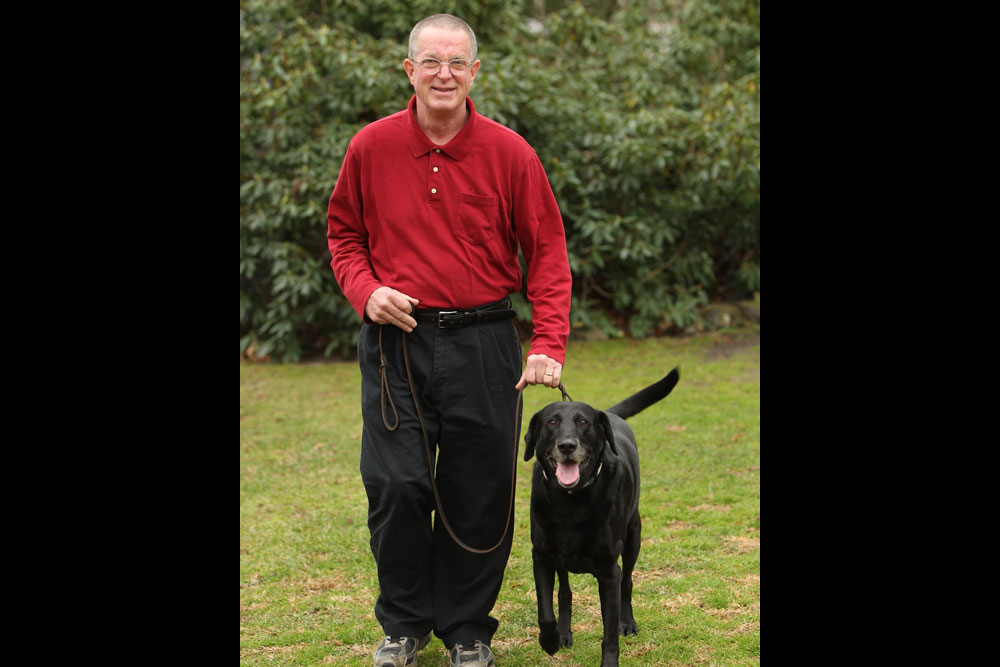 Above: Michael Feindt is now cancer-free following colon resection surgery at Monmouth Medical Center.
Colon cancer runs rampant in Michael Feindt's genes—affecting multiple people on the same side of his family, including his grandfather, father and uncle. Michael's grandmother and older sister succumbed to uterine and ovarian cancer at young ages. Twice, in his 40s, the Jackson resident was diagnosed with colon cancer and underwent partial colon resections. After being cancer free for 15 years, Michael underwent a routine, annual colonoscopy at age 60 performed by gastroenterologist Joel Kurtz, M.D. A polyp, detected on the screening, was tested and pathology confirmed it was cancer.
It's in the genes
Genetic testing confirmed Michael tested positive for the mutation in the MSH 2 gene, which is associated with some cancers, especially with hereditary nonpolyposis colorectal cancer (HNPCC ), and Lynch syndrome, an inherited condition that gives a person a higher risk of cancers of the digestive tract and other organs. And like Michael, people who have Lynch syndrome have a significantly increased risk of developing other cancers, including colorectal cancer. Additionally, the average age for colorectal cancer to be diagnosed with someone with Lynch syndrome is 45 compared to the average age of 72.
Michael turned to Roy M. Dressner, D.O., FACS, FACCRS (pictured above), a practicing board-certified colorectal surgeon at Monmouth Medical Center for colon cancer surgery. He appreciated Dr. Dressner's diligence in doing everything possible to perform a successful colon resection and avoid attaching a colostomy bag—a prosthetic medical device that collects human waste. Prior to surgery, Dr. Dressner brought Michael's case to the hospital's tumor board. "At these meetings, all of the specialists work together to review the cases and come up with a consensus of how we can provide the best possible treatment approach," notes Dr. Dressner.
Surgery yields excellent results
Dr. Dressner performed a colon resection surgery via a laparoscopic or minimally invasive approach. He removed the cancerous part of Michael's colon, located near one of the previous resections and meticulously incorporated the previous surgical sites. Dr. Dressner notes that the surgery was further complicated due to scar tissue and a previous hernia from the two previous colon resections performed through "open surgery" rather than a minimally invasive approach. Michael's wish came to fruition: Dr. Dressner performed a colon resection surgery without the use of a colostomy bag. Since Michael is high risk, he remains on close surveillance and has follow-ups every 3–6 months for three years. "I'm feeling great now and am confident that Dr. Dressner and the team at Monmouth Medical Center are providing me with the best care possible," Michael says. "While I can't control my family history, Monmouth is helping me fight colon cancer and stay on course."
Pictured above: A series of colorectal surgeries at Monmouth Medical Center has given Christopher Settles, 21, a normal life again.
Christopher A. Settles was losing his three-year battle with ulcerative colitis—a chronic disease of the large intestine that causes severe stomach pain and diarrhea. Medications were no longer helping, so the 21-year-old needed to have his colon removed. The good news: the Neptune man is now symptom-free and living a normal life, after a series of successful colorectal surgeries last year at Monmouth Medical Center (MMC). "I feel like I have a second chance. It's a whole new perspective," says Christopher, who recently returned to college and his job. He was not alone in this struggle: About 10 percent of patients with ulcerative colitis will need surgery to eliminate the disease.
Emergency care
Diagnosed three years ago during his first semester of college, Christopher had been able to control his condition most days with medications. Then one night, he suddenly felt worse than ever. "I couldn't eat, I couldn't sleep, I couldn't lie down, the pain hurt so much," he recalls.
Christopher's father took him to the Emergency Department at MMC, where he was admitted and put on intravenous (IV ) antibiotics. But when his symptoms didn't subside, doctors determined he needed most of his colon (large intestine) removed. That operation would be the first in a series of three planned surgeries that would lead Christopher back to a regular, healthy life. After the initial surgery by MMC surgeon Ernest Ginalis, M.D., Christopher's colitis pain was gone. But he would need to live with an ileostomy bag—an external bag that collects waste through an opening in the abdomen—for several months while his body healed.
Three months later, Michael Arvanitis, M.D., FASCRS (pictured above), section chief of colon and rectal surgery and acting chair of surgery at MMC, performed the second procedure—an intricate operation that included creating a "J-pouch" inside Christopher's body, from part of his small intestine. The J-pouch would replace the ileostomy bag once the surgical areas had healed. For the interim, Dr. Arvanitis made a temporary detour in Christopher's intestines, enabling waste to exit his body "upstream" from the J-pouch. That required creating a new stoma—the opening from the intestine to the ileostomy bag— through a different site on Christopher's abdomen. "My partner Dr. Roy Dressner and I are the only surgeons in the area who regularly perform these procedures," notes Dr. Arvanitis, who is double board-certified in both colon/rectal surgery and general surgery, and is a clinical associate professor of surgery at Monmouth's teaching affiliate, Drexel University School of Medicine.
Final battle
In October, Christopher had his last surgery. Dr. Arvanitis closed the ileostomy, directing waste to the J-pouch and enabling the young man to empty his bowels normally again. Christopher returned home just three days later, with help from MMC's Colorectal Surgery Enhanced Recovery Program. An MMC nurse came to his house every day for a month to check and re-dress his surgery wound until the site was completely healed. Christopher is grateful to be freed from his painful disease, as well as the ileostomy bag. He also appreciates the staff's efforts to help him stay positive and minimize stress, which interferes with healing. "The first few times I was in and out of the hospital, I was very down and I barely smiled," recalls Christopher. "The nurses were very lively and tried to make me smile and laugh. They were very understanding, patient and kind."
Colorectal Surgery Enhanced Recovery Program
Patients are benefiting from an innovative Monmouth Medical Center program that helps them recover more quickly from colorectal surgery and ensures fewer complications. Monmouth established the Colorectal Surgery Enhanced Recovery program to improve outcomes for patients undergoing colorectal surgery. This program involves a minimally invasive surgery when indicated, and pain management protocol, which decreases the use of narcotic medications.
Results include:
– Quicker discharge
– Extremely low complication rate
– Very low readmission rate
For more information, call 732.923.5030.
For more information about colorectal surgical services at Monmouth Medical Center, visit rwjbhinfo.org/Monmouth.