Giving Children Their Best Chance
A new program gets more aggressive and inclusive in helping kids with special needs.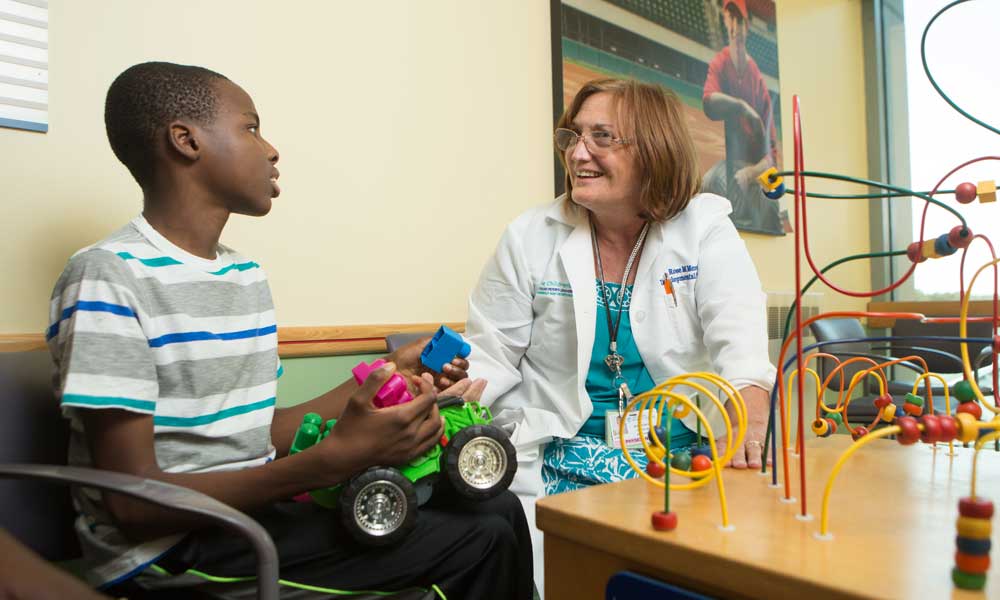 Sometimes youngsters require extra help. And for parents, nothing is more vital than recognizing and providing the assistance their children need.
Fortunately for families, the diagnosis and understanding of pediatric developmental disorders have grown significantly in the past few years, and The Children's Hospital at Saint Peter's University Hospital recently took steps to provide the best possible care to those children and their families. In June it launched the Developmental and Behavioral Pediatrics Program under the direction of Rose Mary Merola, M.D., a specialist in neurodevelopmental disabilities with more than 30 years of experience in the field.
The program offers treatments for a wide range of children, adolescents and young adults with an array of learning, behavioral and neurodevelopmental disabilities, including autism spectrum disorder, attention deficit hyperactivity disorder (ADHD), language and communication impairments, learning disabilities, Tourette syndrome, genetic syndromes, sensory impairments and fetal alcohol syndrome. It also provides access to other medical professionals, including pediatric neurologists, sleep specialists, pediatric gastrointestinal doctors, geneticists, child psychologists and nursing and family support coordinators.
Dr. Merola is expanding the special needs program at Saint Peter's, which previously concentrated on younger children with autism, to include adolescents up to age 21 with many of the other special-needs designations that have been recognized. "We have broadened the diagnoses of these conditions in the last 10 years," she says. "There is better understanding of them. And as parents and schools have become better at recognizing them, the needs of the community have increased."
The program conducts neurodevelopmental assessments and coordinates with specialty clinics at Saint Peter's Children's Hospital that offer speech and language, feeding, audiology, and physical and occupational therapies. Other specialists in the hospital's High-Risk Neonatal Follow-up Program, Adolescent Program and Pediatric Neurology Program add their expertise to this multidisciplinary approach to specialty care. The team is further augmented through affiliations with the New Jersey Institute for Disabilities in Edison, Rutgers University's Graduate School of Applied Psychology and Douglass Developmental Disabilities Center.
All care is coordinated with the child's primary care physician and other medical specialists. "We also work alongside local schools, consulting on the individualized treatment plans for these students," says Dr. Merola.
One of her primary goals is to diagnose these health issues as soon as possible. "I would like to identify more children early, so we can intervene with therapeutic approaches that may be intensive at the outset but can become less intensive as the child grows," Dr. Merola says. "Early identification leads to greater progress and the possibility of reduced needs in the future."
Hints that a child may need special help
Signs of intellectual and developmental disabilities vary among particular conditions, according to the Eunice Kennedy Shriver National Institute of Child Health and Human Development. Some of them include:
Sitting up, crawling or walking later than other children of similar age.
Learning to talk later or having difficulty speaking.
Finding it hard to remember things.
Having trouble understanding the rules of social behavior.
Having difficulty "seeing" or understanding the outcomes of actions.
Having trouble solving problems.
If you notice any of these signs, have your child assessed by your doctor.
Source: The Eunice Kennedy Shriver National Institute of Child Health and Human Development
To find out more about developmental and behavioral pediatrics services available for your family at the Children's Hospital at Saint Peter's University Hospital, please call 732.339.7045 or visit saintpetershcs.com/developmental-pediatrics.