Giving Every Patient Hope
Inspired by their families long ago, these doctors now inspire special confidence in those they treat.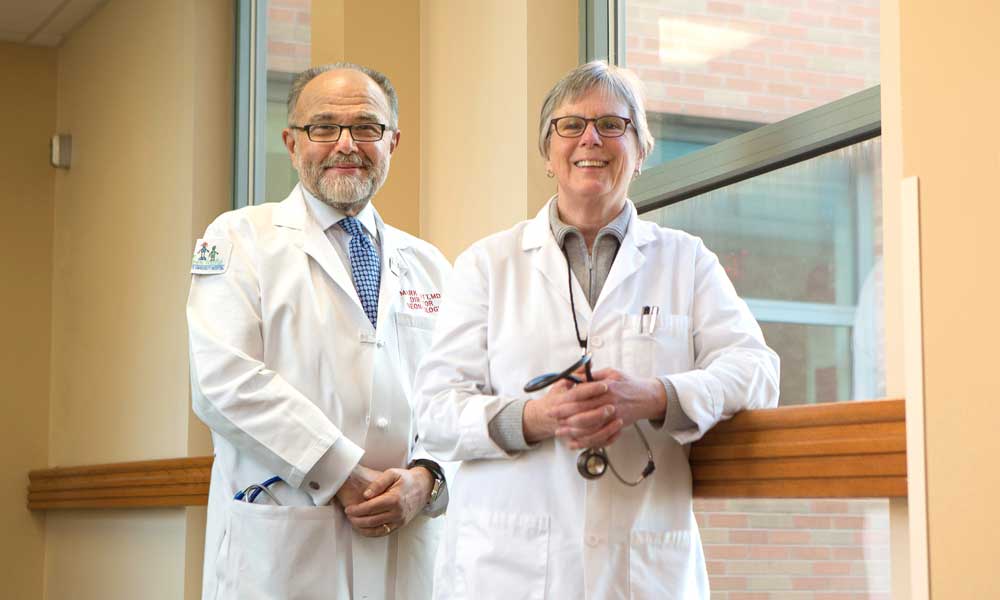 The finest physicians have an extra quality that can't be derived from a medical textbook, and a hospital that finds a doctor of this sort can consider itself a fortunate institution. Saint Peter's Healthcare System has found two special physicians of this kind in Mark Hiatt, M.D., director of the Neonatal Intensive Care Unit (NICU ); and Susan McManus, M.D., director of the Saint Peter's Breast Center.
These doctors oversee two of the system's clinically top-rated programs. Also, says Michael Loch, director of annual giving for the Saint Peter's Foundation, "they both make sure their patients and families always believe there is hope." That's why they're being feted at this year's Spring Saint Peter's Foundation Gala on April 16 at the Heldrich Hotel in New Brunswick.
Dr. McManus, 64, grew up in New York. "I come from a long line of doctors—my father, grandfather, uncle, brother—and was naturally drawn to medicine," she says. "But it was my mother, a nurse, who thought I would be a good doctor."
After a surgical residency at New York City's Beth Israel Hospital, she began as a general surgeon at Saint Peter's University Hospital, but switched her focus to caring for breast cancer patients.
She has served on almost every committee at Saint Peter's, feeling a duty to the hospital community. But her passion is caring for patients. "I love surgery, and love even more taking care of my patients for a long time," she says. "Breast disease and cancer is the right field for me. Thank God, we have such good survival rates now that I know patients for 10, 20, 25 years. Those relationships I treasure."
Dr. McManus says she is proud to be the first female physician at Saint Peter's to receive this award, although as the number of women physicians increases, she is sure she will not be the last. She is also the first female doctor honored at the gala. "There are many women in medicine now, but when I started at Saint Peter's there were only eight or 10 of us here," she says. "I consider my receiving this honor symbolic for all the women physicians." She and her husband, Robert Pickoff, M.D., a cardiologist, have three grown children, one of whom is a physician.
Dr. Hiatt, 69, was born in a displaced persons camp in Germany just after World War II . His parents were Eastern European Jews who survived the Holocaust and came to the United States in 1949, when he was 2. "Education was prized in our family and culture," he says. "My mother thought doctors walked on water and I can't remember wanting to be anything else. I recall doctors making house calls and they seemed to have a magical aura about them."
He grew up in Syracuse, attended Cornell Medical College and did his residency in pediatrics at what was then called Cornell New York Hospital, then a fellowship in neonatal/perinatal medicine at Columbia. "As a third-year med student, I had an epiphany," he says. "I walked into the neonatal unit at New York Hospital— the memory is vivid to this day—and I saw an incubator with a premature baby inside. Taking care of tiny infants like that was something I wanted very much to do."
Dr. Hiatt lives in Rumson with his wife, Doris, a psychologist and professor of psychology. They have two grown sons and two granddaughters. Having worked at Saint Peter's for 36 years, he is "thrilled and humbled" to be honored, he says. "To be on the same platform as Susan McManus, who is a magnificent physician and a wonderful person, just magnifies the honor. I love Saint Peter's and have spent almost all my professional life in this NICU . I love what I do and I have the best job in the world. I can come in to work every day and see a brand new baby. That is still a miracle to me."
To attend the Spring Saint Peter's Foundation Gala or to learn more, call Michael Loch, director of annual giving, Saint Peter's Foundation, at 732.565.5465.
To find out more about services available for you or your family at Saint Peter's University Hospital, please call 732.745.8542 or visit saintpetershcs.com.