Giving Thanks for Their 'Miracle Boy'
After repeated unsuccessful fertility treatments, a freehold couple delivers their second child at Monmouth Medical Center.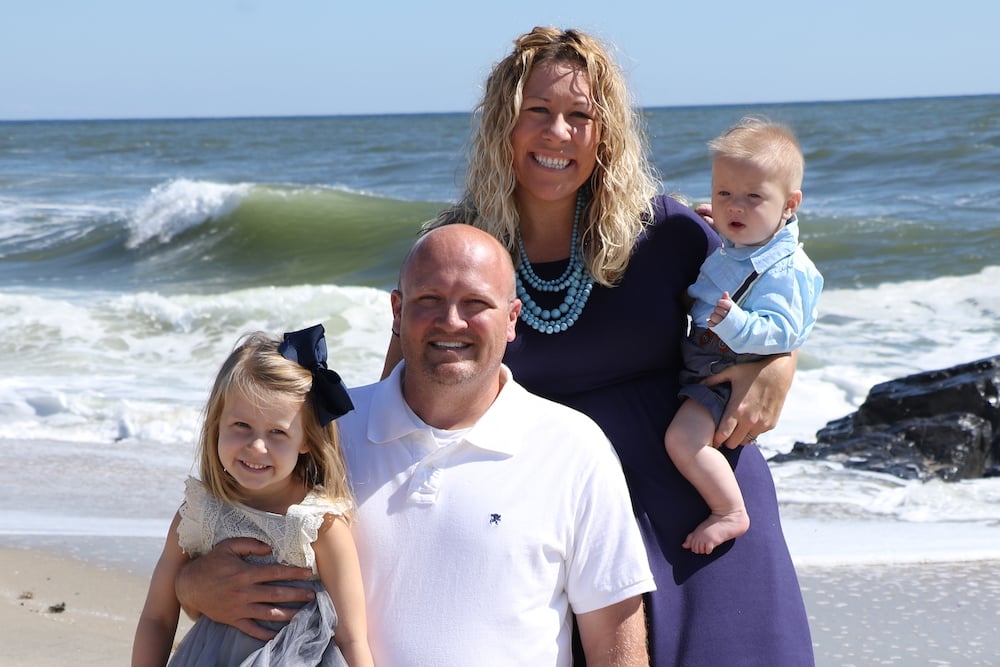 NEARLY 5,500 BABIES ARE BORN EACH year at Monmouth Medical Center, more than any hospital in the region. And the parents of one of those babies, Michael Dilworth, have nothing but praise for the doctors, nurses and staff who helped bring their second child into the world on March 12, 2018.
Mike and Laura Dilworth of Freehold had delivered their first child, daughter Amelia, five years prior at another hospital. They had trouble conceiving again, and underwent fertility treatment that was, for a long time, unsuccessful. Several pregnancies ended in miscarriage, and they were down to the last embryo they had created via in vitro fertilization. "We went through a lot to have him," says Laura, a kindergarten teacher at Freehold Learning Center. "It took us a long time." By then they had relocated to be closer to Monmouth County. "We had heard great things about Monmouth Medical Center," says Laura.
Mike, a first grade special education teacher at West Freehold School, was working his summer job on a boat when he met some folks who happened to work at the hospital. "I said we were delivering there, and they told us to give them a call when it comes time," he says.
The couple planned a cesarean section because the baby was measuring too large for a natural delivery, and called a week before the date of surgery. "We just walked in, were greeted by security, got our ID bracelets," Mike recalls. "It was absolutely terrific from start to finish. Everything from security to the nurses to the delivery, we couldn't have been happier with our experience there."
Even though Michael is the couple's second child, having a C-section made the experience brand new. "We had no idea what we were doing," Laura laughs. "But the nursing staff answered any questions, with no judgment on anything." They also made sure to make "a big fuss" over big sister Amelia. "That was a big deal to us," she says. "That was my favorite part."
The Dilworths were the first birth on the schedule that day, and the delivery went off seamlessly. "They took us in [to the operating room] three minutes after the hour and in the blink of an eye he was here. We were like, 'That's it?'" Mike laughs. "The first birth took a lot longer."
Little Michael wasn't so little, tipping the scales at 10 pounds, 5 ounces. Six months later, "he's the happiest baby I have ever seen," his proud mom says. "It doesn't matter if he has diaper rash, he's tired, he's hungry—he is always smiling." Even Amelia is happy. "She definitely wanted a younger brother, and if it wasn't a boy we were going to have issues," Mike says. "So it worked out best for everyone." And they credit everyone at the Medical Center for their good fortune. "We are so grateful to the staff for giving us our miracle boy," Laura says.