Gourmet GORP
This is not your mother's trail mix.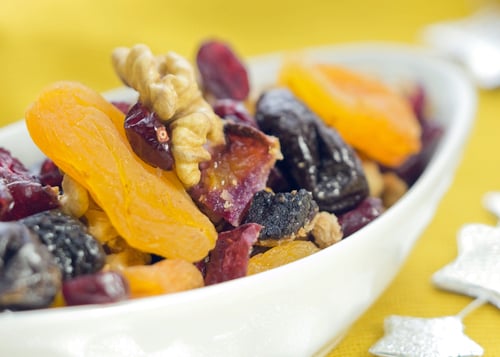 Trail mix (or GORP) is the perfect food for hiking, biking and the beach because it's light and portable, filling, nutritious and delicious. It also provides short and long-term energy boosts from the mix of carbohydrates and fats (fruit and nuts).
I love peanuts and raisins in many foods, but I prefer other fruits and nuts in my trail mix. In my search for the perfect gourmet GORP, I've experimented with countless mixtures and ingredients. Although these recipes are not technically GORP (which may be an acronym for "gobs of raw protein" or" granola, oats, raisins and peanuts"), they will definitely be a delicious alternative to your average store-bought trail mix.
When making GORP or trail mix at home, exact proportions are not as important as the flavors and textures that you like, so feel free to experiment. You can separate individual portions in snack bags.
High-Energy GORP:
cashews + dark chocolate covered coffee beans + dried cherries + Corn Chex cereal
Sweet and Spicy GORP:
wasabi peas + dried mango + dried papaya + unsalted almonds
Everyday Crowd-Pleaser Trail Mix:
peanut M & Ms + dried banana chips+ dried apricots + dried cranberries + Cheerios + unsalted walnuts
Sweet and Tart GORP:
candied lemon peel + chocolate covered almonds + unsalted hazelnuts + Honey Nut Chex
---
Related Read: Your Backyard Survival Guide