Grace Under Fire
Sharmine Brassington, MMC's Director of Emergency Services, earns high praise for her leadership throughout the pandemic.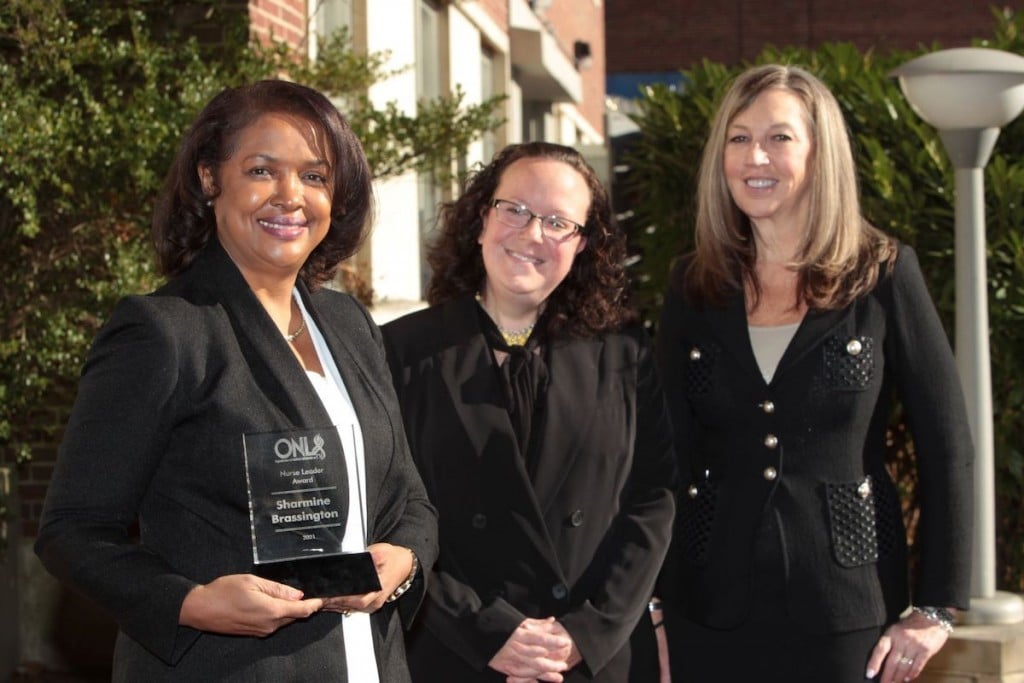 Sharmine Brassington, MSN, RN, Administrative Director of Emergency Services at Monmouth Medical Center (MMC), was recently honored with the Organization of Nurse Leaders New Jersey (ONL NJ) Nurse Leader Award in recognition of her ability to lead with integrity and grace during the challenging times of the COVID-19 pandemic.
The award was presented December 3rd during ONL NJ's Annual Award Ceremony held at Forsgate Country Club in Monroe Township. For MMC, it was the third consecutive year that a hospital nurse leader was honored with this statewide award. In 2020, Nicole Keegan, DNP, RN, APN, Director of Pain Management Services, was honored with the ONL NJ Excellence in Advanced Practice Nursing Leadership Award. Diann Johnston, MSN, RN, NEA-BC, Regional Chief Nursing Officer, RWJBarnabas Health, was honored with the organization's Nurse Executive Award in 2019.
At MMC, Brassington leads a team of more than 100 staff members who deliver complete adult and pediatric emergency medical care. In nominating her for the Nurse Leader Award, her colleague, Magnet Program Director Lauren Fleming, MA, BSN, RN-BC, noted that "the often chaotic, breakneck speed of the Emergency Department (ED) is what she has always thrived on, since 1999 when she embarked on her fulfilling career as an ED Nurse."
"Sharmine maneuvers through the hallways of the Emergency Department (ED), heels pounding the linoleum while running to another code, quickly donning the necessary personal protective equipment swiftly—smoothly—as it has been done countless times before," Fleming wrote. "This leader is happy to be in the trenches, on the frontline alongside her team. She understands that she is accountable for her team's outcomes—that her vision and inspiration drive the results, and her approach as a reality-based leader empowers her nurses to be productive, successful and motivated."
Fleming adds that Brassington's team members support each other, decreasing the staff turnover to its current rate of zero percent, and that she leads by example in an accountable environment.
"Sharmine empowers through autonomy and the shared governance model, resulting in a team that strives to deliver culturally competent care, with patient care prioritized from the time of arrival," she says, adding that MMC's ED has maintained consistently high patient satisfaction scores for nearly 10 years.
Within the ED, a Monoclonal Antibody Suite—a designated space to administer monoclonal antibody infusions—was created in direct response to the needs of the community. COVID-19 patients are expedited to the suite where a nurse administers the infusion and observes throughout the process.
"This implementation has decreased wait time and improved patient satisfaction with an impact on public safety by decreasing hospitalization and death, particularly with high-risk populations," Fleming says.
As a reflection of the work ethic of the ED team's successful implementation of the Monoclonal Antibody Suite, the MMC ED received the 2021 Crisis Response Team Award from the New Jersey Emergency Nurses Association (NJENA). The award, presented during the NJENA Virtual State Council Meeting last spring, was in recognition of the team's significant contributions and response to the challenges of the public health crisis of COVID-19.
Currently a doctoral candidate at Rutgers University, Brassington is actively involved in the ONL, as well as the NJENA and New Jersey Hospital Association. She joined MMC in January 2014 as assistant clinical director for the ED and was promoted to administrative director of Emergency Services earlier this year. She previously worked as an ED nurse for MMC's sister hospital, Cooperman Barnabas Medical Center.
"We are so proud to announce this well- deserved recognition of Sharmine's expertise and leadership, which ensure the consistent delivery of the highest quality emergency healthcare services and continued success of our Emergency Department," Johnston says.
---
To learn more about nursing excellence at Monmouth Medical Center, visit rwjbh.org/Monmouth.