GRADE A CARE
MMC OFFERS EASIER ACCESS TO HEART FAILURE AND COPD TREATMENT.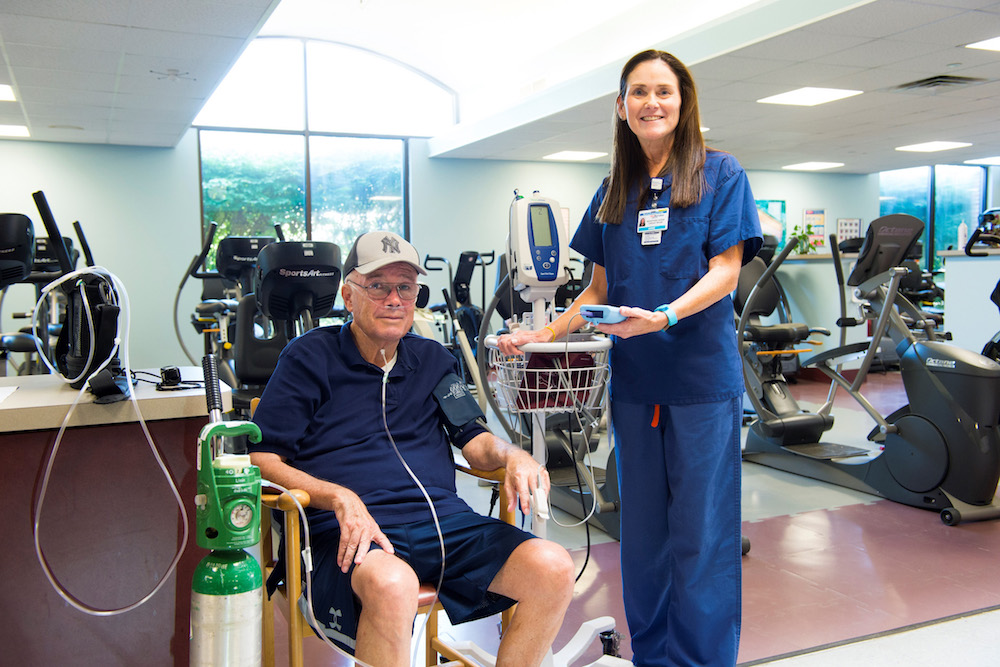 THIS PAST SUMMER, Monmouth Medical Center claimed a top-10 spot among all New Jersey hospitals in the U.S. News & World Report rankings for 2019-20. The report specifically recognizes MMC's heart failure and COPD specialists for earning the top honors as "high performers." Taking into account nursing staff, the number of patients with the specific conditions, any need for readmission after a hospital stay and patient survival, the hospital was recognized in these areas compared to more than 4,600 healthcare facilities across the nation.
A Middletown couple is hardly surprised by the rankings.
"When you go to your doctor, you're in and out," says Dennis Bulmer, 68, who's part of the hospital's Healthy Lives program. (See sidebar.) "But the specialists in this program, they spend time with you and guide you in the right direction. I even have their own personal cell phone numbers so I can call to ask questions—even on the weekends."
The personal attention is important to Dennis, as well as to Linda, his wife of almost 50 years. Dennis suffers from chronic obstructive pulmonary disease (COPD) as well as heart failure, and Linda also has COPD. Both participate in Healthy Lives.
"For five years or more, I've been meeting at least once a month with the specialists there," he says. "It's made a huge difference for me."
Linda began going two years ago.
"Today, I go there for her, and she goes there for me," he says with a smile.
Like U.S. News, the Bulmers volunteer their own "top rankings" for MMC. "We give them five stars," he says. "The staff encourages both of us and helps us stay out of the emergency room. They've been excellent."
COPD CARE ON THE ROAD
For some people with COPD, health can change in the blink of an eye. Serious symptoms and simple worry can lead them to repeat visits to the emergency room and to days in the hospital.
"We found that many people with COPD had a very difficult time getting healthcare or getting care before symptoms got so bad," says Sharon Holden, R.N., assistant vice president of Cardiopulmonary, Critical Care and Emergency Services at MMC. "Travelling to appointments can also be difficult for some, so we created the Home COPD Program to complement our Healthy Lives Program and Cardiopulmonary rehab services."
Unlike programs that require patients to visit the medical center, MMC's home program takes care on the road—house visits by respiratory therapists with daily monitoring by nurse practitioners and other specialists as needed. They also make regular phone calls to patients to check on key symptoms. And the innovative "telemedicine" system allows patients to report weight, blood pressure and oxygen levels via blue tooth monitoring, all without leaving home.
"When our staff and monitoring system identify areas of concern, we can schedule additional tests or visits to specialists quickly and easily for the patient," Holden says. "All this helps them to stay on top of their symptoms—and avoid a trip to the hospital."
The Home COPD Program is an integral part of the Healthy Lives Program and has had great success reducing unnecessary hospital readmissions and keeping our patients home.
Many patients seen in Healthy Lives and the Home COPD Programs are also referred to the comprehensive Joel Opatut Cardiopulmonary Rehabilitation Program at MMC, which is the first in the county to earn national certification from AACVPR (American Association of Cardiovascular and Pulmonary Rehabilitation) for cardiac rehabilitation.
HEALTHY LIVES, HIGH-QUALITY LIVES
If you need care for heart failure, chronic obstructive pulmonary disease (COPD) or other heart or lung conditions, a dedicated multidisciplinary team from Monmouth Medical Center's Healthy Lives program wants you to know it has two important missions: to help you avoid the need for a stay in the hospital and to help you have a great quality of life at home.
"Some patients can't walk from chair to chair when they first meet with us, and many think they can't get better," says Sharon Holden, assistant vice president of Cardiopulmonary, Critical Care and Emergency Services at MMC.
"Education is one of the best things we give to patients because it gives them their lives back." Heart and lung conditions can cause weakness, fatigue, shortness of breath and other difficult symptoms, as well as anxiety, she says.
Through Healthy Lives, patients and medical staff work together to identify symptoms early, plus the tools to help avoid and improve them. "We also let participants know what symptoms to report to us and what steps can get them under control," Holden says.
In between visits, patients also have team members' cell phone numbers that they can use anytime, anywhere.
"Our staff has gotten calls from people on vacation in Atlantic City, when they have a questions or concern," she says. "One even called us from a cruise!"
Besides travel, patients often resume other activities they enjoy after they have started the Healthy Lives program. One recently returned to regular rounds of golf, and another resumed playing in a band.
"Our goal is to empower them to get healthier and stay healthier," Holden says. "It's very satisfying to see how their lives improve."
Healthy Lives offers:
Education and support for patients and caregivers
Help for patients to manage symptoms and risk factors (cholesterol, blood pressure and diet)
Reduced visits to the emergency room
Prevention of hospitalization
Increased patient activity level and quality of life
Access to clinical research trials
Access to social services, clinical nutrition, cardiopulmonary rehab and ancillary testing