Great Team, Great Outcomes
With a little help from A+ patient reviews, the chair of the Department of Surgery at Monmouth Medical Center explains why patient satisfaction and outcomes are paramount.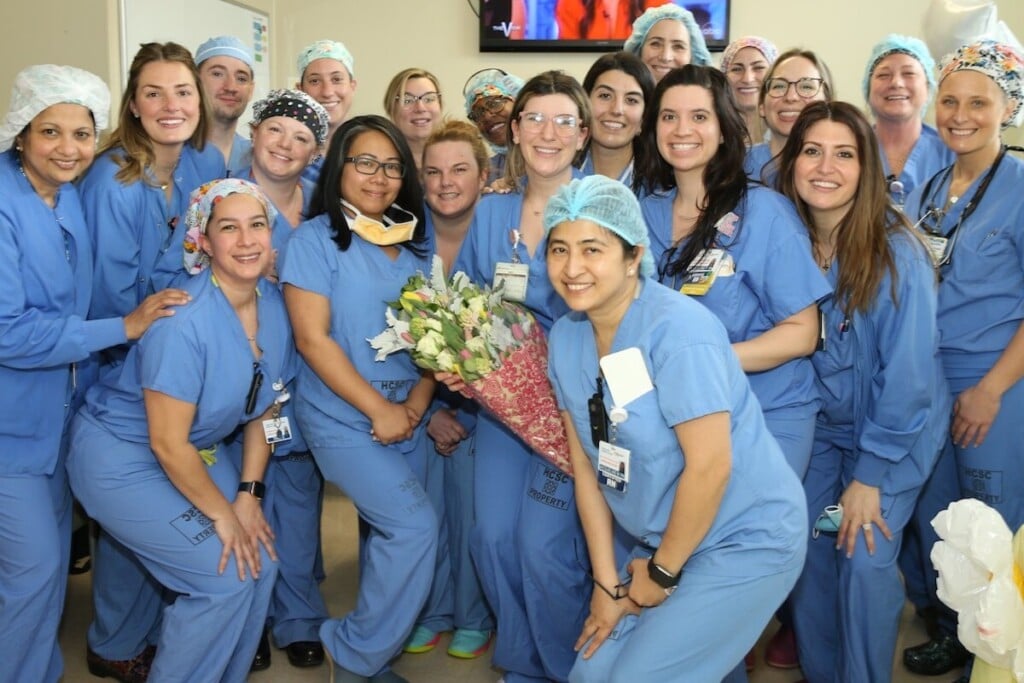 Year after year, Monmouth Medical Center (MMC) is proud to receive an "A" grade from The Leapfrog Group Hospital Safety rating. But the hospital is also the recipient of many accolades from the community it serves, particularly surgical patients who have great experiences because of MMC's Surgical Services' team, which emphasizes top-notch, personalized and research-based surgical care.
MMC's team of 140 surgeons is led by RWJBarmabas Health Medical Group surgeon Dmitry Oleynikov, M.D., Chair of the Department of Surgery at Monmouth Medical Center since 2020. "Monmouth Medical Center is one of the oldest surgical residencies in the state of New Jersey," he says. "We have a culture of academic learning and improvement. Our Department of Surgery can perform cutting-edge procedures in a safe way to focus on patient outcomes and safety."
In fact, MMC utilizes technologically advanced systems for surgeries across all disciplines—performing primarily robotic and laparoscopic procedures, which require only small incisions—and applies cutting- edge technology to tackle the most difficult clinical cases. "One of the areas where we've done really well is the entire operating room experience," Dr. Oleynikov says. "The nurses, anesthesiologists and surgeons are all focused on getting it right every time, and caring for patients with the utmost care."
Says one recent patient of their surgical experience at MMC: "My preoperative team and post-operative staff were exceptional in treating me with dignity and professionalism." Dr. Oleynikov emphasizes that this team effort is a major part of MMC's patient satisfaction rates. "I can't underscore how important it is to have that team approach, because that's what ensures the safety of our patients," he says. "That's my greatest source of pride and joy at MMC."
Another pleased patient shares, "I can't state enough how amazing the entire staff was. Every single nurse and staff member couldn't have been nicer, caring or more pleasant. I'm still amazed at the great treatment I got at Monmouth Medical Center."
At MMC, there's no such thing as "general surgery." Dr. Oleynikov notes that the physicians treat each case as part of a specialty surgical group, whether you're getting an operation to repair a hernia, surgery as part of cancer treatment or to treat gastrointestinal disorders at the Comprehensive GI Motility and Reflux Program. As a result, many of MMC's nurses are specialized just as the surgeons are and work within "nursing pods" in the operating room to provide care for each discipline. "Our baby had surgery here," says "K.G." of the Pediatrics Department. "The surgeon, anesthesiologist and nurses were amazing!"
To streamline the surgical process, Dr. Oleynikov notes that MMC employs surgical liaisons, in addition to clinic team members, to help patients navigate the process. "Everything is integrated, from scheduling to the pre-op calls to the day of surgery," he says. "All of these pathways are really thought out, so the process is seamless."
Depending on the procedure, surgery will either be performed in the main OR or in the hospital's Cranmer Ambulatory Surgery Center. "You walk in, you get surgery, and you go home a couple hours later," Dr. Oleynikov says. "Very few places in the Northeast can say that they can do advanced robotic surgery in an outpatient setting, including procedures such as hernia repair."
Dr. Oleynikov describes his bedside manner as that of an experienced physician who "listens to my patients' wants and desires and really impresses upon them that the surgery is a journey we'll take together," he says. A recent hernia repair patient knows this firsthand, recently sharing:
"Dr. Oleynikov took the time to thoroughly explain the procedure and made me feel extremely comfortable," he says. "The surgery went off without a hitch, and any residual soreness was gone in a few days."
Again, Dr. Oleynikov credits MMC's success to the surgical team as a whole. "Nobody wants to stand in line at the Post Office and have a grumpy person at the end of the line," he laughs. "A nice experience is extra important in medicine, and we have a systemic approach to really personalize the patient experience, whether they're my patient or a patient of the 140 surgeons in my department."
---
To learn more about the Monmouth Medical Center Department of Surgery, call 732.222.5200 or visit rwjbh.org/monmouth-medical-center/treatment-care/surgery/.